Day 1 – Friday, January 27, 2017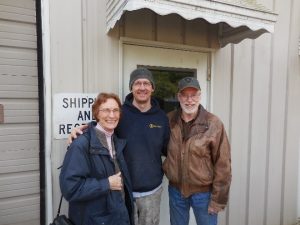 What an incredible day!  Dad had arranged to stop at First Quality Music in Louisville to continue his build-a-banjo project that began in September 2007.  This is the home of Sullivan Banjos, some of the best in the world. He could mention names of professionals using them but you likely haven't heard of them.  But we had a very cordial visit with Eric Sullivan, son of the founder and heir to the trade in his workshop surrounded by banjos in various stages of completion.  He taught Larry everything from how to cut and install the fret wires to how to clean the bindings after staining to tricks to get a mirror finish on the wood.  In the process he took down the order for everything that Larry needed to finish the project and will have it waiting for us on our return trip.  Larry's birthday present.  To set the mood we listened to banjo music most of the remainder of the trip.
Arrived at the cabin in the dark at about 6:45pm after a stop at Kroger and getting lost – Chili Bear is its moniker.  Small and cute and hopefully not easily snowbound if we get any.  Mom fixed dinner.  One thing we forgot is the snow shovel.  So the directions said to turn right on Alf Ownby Road.  No mention that there is also an Ownby Road to the right 2/10 mile before it, no kidding, that was an entirely different road.  It took about 10 minutes and a couple of tries to figure this out.
Day 2 – Saturday, January 28, 2017 – Subtitled Our 46th Anniversary
We did not go into the park today because of two reasons:
we got up really late for doing a hike – Dad got up at 9:10
it was car rental and car maintenance day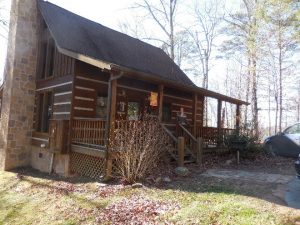 We don't need any excuse for the late rising.  You may be jealous, and rightly so.  Tough toenails!  The Jetta was acting up on the way down under heavy acceleration, like going over Jelico Mountain from Kentucky to Tennessee.  After consulting with Nate it seemed that the problem might be the fuel filter, which Dad last changed, well he's done it once in 10 years.  Seeing that we had decided to rent a second car for the week so as to drop a car at one end of the trail and hike end-to-end as much as we can this trip, we decided to do all this stuff today.  So after breakfast we headed to Enterprise to get the car after reserving it online.  And the car they gave us was a……………..2016 Jetta.  What a hoot. So now we have two Jettas.  Then it was off for lunch to a KFC and as we figured we passed all three auto parts stores on the way, about a ¼ mile from the restaurant.  So Dad got the fuel filter at Auto Zone and we headed back to the cabin.  Upon taking the old filter out he discovered the new one was the wrong one (he didn't remember what the old one looked like so couldn't tell the countergal that it was the wrong one).  But first he went to Advance Auto to get a set of star (torx) sockets to take the old filter out.  So by now it was too late to go back for the right part before church.  We changed plans to leave early for church, exchange the part, go to church and then out to Calhoun's for anniversary dinner.  As it ended up after dinner we stopped back at Auto Zone a third time, because they didn't have it in stock when Dad took the wrong one back before church, and ordered the right filter to be delivered on Tuesday afternoon. So there you have our day.  A big plus was that it was sunny and 50° –  oh yeah.  And another other plus is that we are still lost in love for each other.
Day 3 – Sunday, January 29, 2017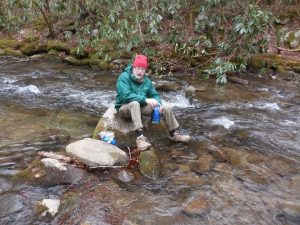 First day of Year 47 of wedded bliss.  Hope y'all make it this far, and pass us up.  Now there's a goal.  Today it was a brisk moderate hike in a snow shower using our two car end-to-end system.  It worked very well.  We went from the Schoolhouse Gap trailhead on the Bote Mtn. and West Prong trails through Campsite 18 (the one Anna painted for us) back to the other car at Tremont, and then drove home.  Discovered that somehow the Sawyer Squeeze water filter got left home but the collapsible bottles made it. Not good when we were counting on filtering the creek water for lunch.  So we went to our backup plan of just boiling the water for hot tea anyway.  The threat of Giardiasis is such a pain.  But the hike in the lightly falling snow was neat.  Even neater was that nothing was sticking on the roads and we made it back up to the cabin no problem.  Also neat was that our Jetta ran just fine with the partially cleaned fuel filter while we wait for a new one on Tuesday. The only remaining problem is finding Dad's driving gloves – we narrowed it down to the car rental office.  Being old is such a pain.
There are always some unique quirks in these cabins we rent. In the online description of this cabin, it states that there are two recliners, one at either end of the sectional sofa. It is not immediately obvious how to make them recline, so much so that we were almost convinced that they were not recliners. However, this morning Mom noticed that the back cushion was definitely attached to a piece of wood separate from the back of the chair. So Larry sat in it again and finally found the lever hidden down between the cushion and the arm. Mystery solved!
After the hike Dad went into Walmart to get another Sawyer Squeeze filter.  While he was gone Mom figured out all the TV channels available on the cable here.  We were going to grill burgers tonight, but not in the snow, so we went with pork tenderloin brought cooked from home.  Then before and after dinner we were able to watch the NHL All-Star game thanks to Mom's list of channels.
Day 4 – Monday, January 30, 2017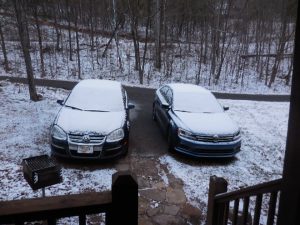 Looks like it's going to be a partial snow day.  It's 31 degrees but the sun is rising.  Our driveway is clean but the tract down the hill is slightly slick.  Patience is the best action right now.  So on to the scrap book.  Well, wait a minute.  It's 10am and Mom just came in from checking out the roadway, saying it looks to be melted.  Sure enough the sun is out and the early morning glaze is gone.  So off we go to Turkeypen Ridge (gotta love the name) for another Jetta-to-Jetta hike.  The temperature got up to 45° with light clouds – a perfect day for a hike.  We did 4.7 miles on the Turkeypen Ridge trail from the Finley-Cane trailhead back down to the Schoolhouse Gap trailhead.  We ate lunch in a little grotto on the trail and used the new water filter.  It took 3-1/2 hours to hike the route including lunch (we do about 2 mph) but only 3 minutes to drive between the trailheads.  Feeling kinda small.  Back at the ranch it was naptime, then grilling burgers for dinner with the sun setting.  First sunset we've seen in a couple of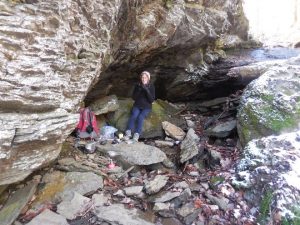 weeks living in South Bend.  We have been rearranging furniture to fit our style here.  There are no (or were no) end tables or coffee table by the couch.  We brought in the side tables from the front and back porches to solve that.  Lighting is an issue, and we carry 100W bulbs for that, but their looow wattage lights have either candelabra bases or are too high in the ceiling to get to.  We moved a lamp down from the second floor and got one of our bulbs in it on the provisional end table so we can read.  Or is it just that our eyes are growing dim with age?  We know the answer.  The family blog is up and running, and you may be reading this there (www.blog.grauvogelfamily.com).  Pretty cool.  Thanks Will.
Day 5 – Tuesday, January 31, 2017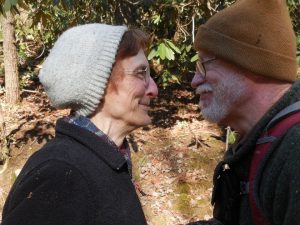 End of the month.  We went on our longest hike so far – 6.4 miles.  Woohoo!  And Mom's back handled it.  We have sore legs.  We hiked from the Schoolhouse Gap trailhead back down to the Townsend Wye on the Schoolhouse Gap and Chestnut Ridge trails.  The temp hit 60 degrees under sunny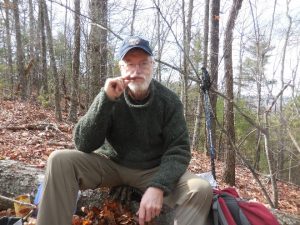 skies.   Perfect.  For most of the hike the Appalachian Trail ridge was visible afar off on our right in splendid Smoky Mountain haze.  There were more folks on the trail than expected for a Tuesday.  After the hike we drove back home through the park and stopped to look over the Sinks, reassuring ourselves that the water level in the Little River was back to normal after seeing it very dry in October.  A beautiful drive.  We decided to go out to dinner and use up the last of our Calhoun's gift certificate since we had to go into town to Auto Zone to pick up the fuel filter anyway.  A great dinner, then to Kroger for a resupply.  Now its Pens vs. Predators on the computer (Pens win 4-2).  Mom took a shower and then the water went out as she started a load of laundry.  Called the service guy.  We will see what gives momentarily.
No water update:  Gene the service guy was here.  The well is 800′ deep with a submersible pump that is throwing the overload switches.    Long story short – we are moving in the morning to Acorn Ridge, and Gene brought us some water to get us through this evening and breakfast.  We like Acorn Ridge, where we were last October.  So time to get packing here.
Day 6 – Wednesday, February 1, 2017
We were up and at 'em early today.  Operating the toilet by filling the tank with bottled water fit right into our resourceful nature and seemed normal enough for the campers we are at heart.  You know the rule – if it's yellow let it mellow but if it's brown flush it down.  We got all packed up last night and after breakfast and prayer we arrived at the Timbercreek office just after they opened at 8:30. Got the key to Acorn Ridge and were unloaded by around 9:30. Then we headed for today's hike over on the North Carolina side.  Our Jetta-to-Jetta hike today was from Newfound Gap Road on the Thomas Divide trail just down from Newfound Gap to the Kanati Fork trail and back to the road.  We figure it's a divide because it's the end of the hollow at the high end.  This is one pair of trails that you do not want to hike from the low end to the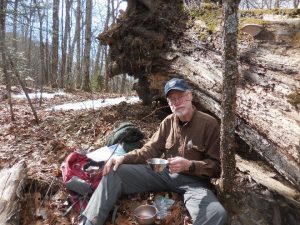 high – it drops 2000' in the last 3 miles.  Gotta have your boots laced tight for that if you don't want to lose a toenail.  There was maybe 6" of snow at Newfound Gap, all plowed to the side, but the temp was 47° and sunny when we started at 11am.  At lunch at the trail junction it was 54° – it just couldn't have been any better.  When we got back down to Jetta #1 at 3pm it was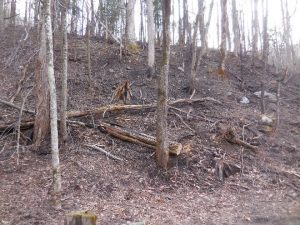 56°.  We drove to and from our hike through the forest fire area today.  Dad wasunderwhelmed at the damage.  Expecting to see nothing but blackened stumps and rocks it looked rather like someone had brought in a big vacuum and sucked away all the leaves.  Of course it is winter but the trees look for the most part untouched – a few have blackened bases.  The grass is green along the roadside.  The burnt acreage is confined to a corridor going down from the Chimney Tops along Newfound Gap Road.  It ended on the northwest side of Gatlinburg, but didn't get into the heart of town.  Some trails are still closed, but not where we wanted to hike this trip.
So back at the cabin we grilled buttermilk marinated chicken and had a fire in the fireplace.  You know, each cabin has its own pluses and minuses, none is perfect for us.  Dad says, "Give me a hammer and we can change that".  We liked Chili Bear for its larger kitchen and storage but the lighting is too dim with no coffee table or end tables and a useless gas log fireplace .  Acorn Ridge has great lighting, a real fireplace, a better grill but a micro-kitchen with no shelves for foodstuffs.
As this day draws to a close we are having a frank but cordial discussion on where to hike tomorrow and whether Dad should put the new fuel filter into our Jetta tonight or in the morning.
Day 7 – Thursday, February 2, 2017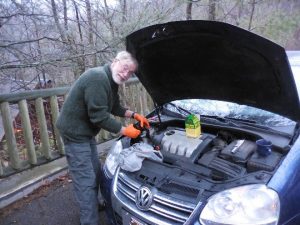 Woke up to dreary skies, 47 degrees and a light rain.  Rats, Dad shoulda worked on the car last evening when it was warm and dry.  But the mist stopped before breakfast and Joe Mechanic got the new fuel filter in before Ma got her hair finished.
Dad is a great guy but if he is one thing he is intense about hiking – pushing for the toughest available trail every day.  We balance this with Mom picking and presenting the possibilities for discussion and selection.  Dad's choice was to cast out another ghost from the past – the infamous Lead (as in bullets) Cove night hike.  For those new to Grauvogel family lore, in January 2001 we agreed to do the Finley-Cane trail, a gently sloping trail that shares the trailhead with the Lead Cove trail.  When we got to its junction with the Bote Mountain trail, Dad not liking to backtrack pushed to make the loop, going up Bote Mountain (2.5 miles) to Lead Cove and back to the car (another 1.8 miles downhill)  Finley-Cane was a mere 2.8 miles downhill back to the car.  There were two problems with the idea: 1) it was raining and 2) it was an hour before sunset.  But sweet Mom agreed and off we went.  The Bote Mountain trail is actually an abandoned roadbed built in the mid-1800's as a business venture but never finished – the slope of the trail uphill is very challenging even when it is not raining and getting dark.  By the time we got to the Bote Mountain-Lead Cove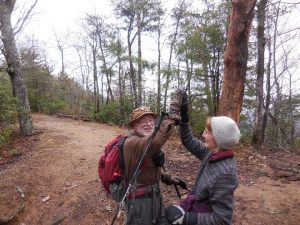 trail junction in 2001 the sun had set.  By the time we came to the creek crossing ½ mile from the end of the Lead Cove trail we were in the dark and without a flashlight.  It was an exciting time (in hindsight).  We knew we were at the end of the trail from the headlights of the cars on Laurel Creek Road.  We put this ghost away the first time in 2006, when we hiked it in reverse order in daylight but 20 degrees (there is always something wrong).  Well today was to be different.  First we started at 10:30 am, second we again started out on the toughest part going uphill on the Lead Cove trail to the high end of Bote Mountain trail and then down the entire rest of the way back to the car, and third it had stopped raining.  We also had dropped a Jetta at the end of the Bote Mountain trail, which cut 1.3 miles off of the original 2001 route.  The 1.8 mile uphill on the Lead Cove trail was challenging 10 years later.  The creek crossing was much easier in the daylight.  We stopped every 1/10 mile to rest. Dad has his pace down and so can count paces and know the distance travelled.  We find this eliminates the "when will is uphill every end" anxiety and makes for a better experience when the trail is tough.  The downhill on Bote Mountain was challenging itself, steep with lots of loose rocks in stretches.  Well we lived through it again, all 5.8 miles of it.  Mom's back gave her some trouble, however.  The weather today after the wet start this morning was overcast but mild, in the high 40's and low 50's with no more rain.  At lunch up on Bote Mountain ridge it was 51.
After that hike everything else today has been kinda ho-hum.  We built a nice warm fire and had Cincinnati chili for dinner.  Mom also got the clothes laundered.  Tomorrow's hike will be much less rigorous and we need to have the rental car back by noon.  It's our last day.
Day 8 – Friday, February 3, 2017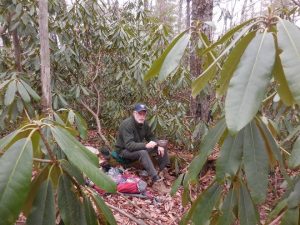 We got an early start because we needed to turn the rental Jetta in by noon.  So we were up, showered, fed and prayered by 8:30 and on the road to Enterprise.  That took an instant once we got there, so we took 10 minutes to try and find Dad's gloves at the nearby Auto Zone. No luck.  So then we drove back to the Finley-Cane trailhead in the park and hiked this very gentle out and back route.  This trail ends at its intersection with the Bote Mountain trail, where we were yesterday.  We met three pairs of folks on the trail.  We prayed with a father-son pair for healing of their knees and a foot.  People are usually happy to be prayed with, and these guys were. At trail's end we found a comfy spot above the trail in the rhododendron for lunch.  It was overcast and in the mid-40's, so it was comfortable for us all heated up by the hike.  We got back to the car at 2:30 or so and drove back to the cabin for a rest and snacks.  Then it was on to fixing dinner and packing.  We need to be out of here by 6:00 am to make our meeting with the Sullivan banjo guys and pick up Dad's parts around 11:00 in Louisville.  So this at least makes Dad a little less sad about leaving the mountains.  Used the last of the firewood to build a last fire, plus some dry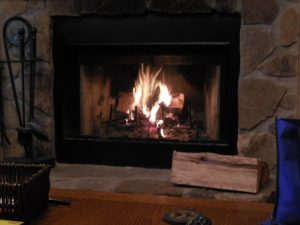 stuff from a tree down across the road to keep it going.  The firewood was free at the rental agency office, but turned out to be unseasoned and hard to keep burning.  The fires the last two nights have been a nice touch, though.  Spent the evening packing and watching the Pens beat Columbus in overtime.  A good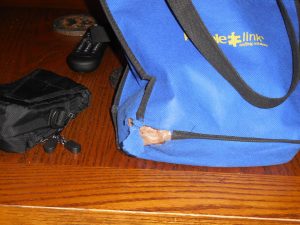 ending to the week.  Mom spent some time looking into new places for next time.  We have been noticing that Timbercreek Realty has fewer and fewer places for rent, and she is shopping around on a website with rentals listed by their owners.  She found some nice looking ones.  Also, about mid-evening, we made a surprise discovery – we have a mouse in the house.  Mom found the snack bag sitting in front of the microwave on the kitchen counter chewed through, some almonds missing and a Larabar partly consumed.
Day 9 – Saturday, February 4, 2017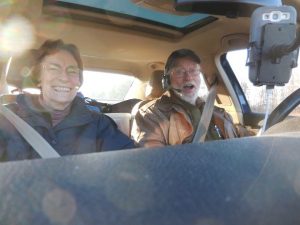 Travel day.  Dad had an appointment with Jeff Sullivan at the banjo factory in Louisville set for the morning so we were up at 5 am and in the car at 5:55 after breakfast.  The one problem was that the camera was still sitting on the coffee table and we were down the mountain.  So we had a 15 minute double back.  What we had was a failure to effectively communicate.
Getting through Pigeon Forge at 6 am on a Saturday was not a problem.  The day dawned crisp, dry and clear.  It was a perfect day for a 12-hour drive (with stops).  The highest point for the day was confirming that Nate's diagnosis of the rough acceleration and missing under heavy load was indeed a problem with the fuel filter.  There was not one hitch in the giddy-up.  What a blessing to have this talent in the family.  Whatever part Dad had in giving Nate his first tool or aiming him toward auto maintenance, he'll accept full credit.  Bless you, my boy!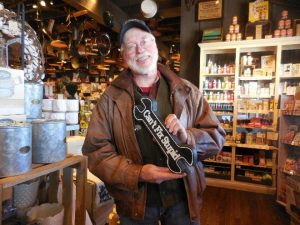 Dad finally made connections with the Sullivans once we were on the road and it wasn't too early.  We met up with Jeff Sullivan, older brother of Eric, at precisely 11 am in Louisville and picked up the banjo parts, including a very nice new case.  Then we noticed we were only 5 minutes from a Wal-Mart, so swung by there for sunglasses to replace the beat up ones Dad left in the rental car (oops), and then another 3 minutes to the Cracker Barrel for lunch – you just knew it had to be.  Then back into the TDI for a trip up the Indiana meridian on I-65.  We checked in with Anna as we blew through Indy and were home for dinner at Applebee's.  We had to go to the one in Elkhart to avoid the Mishawaka crowds on a Saturday night.
We left most of the unpacking for Sunday.  After all, there was a hockey game to watch.  We didn't do any scrapbooking while away mostly because the weather was so nice, so that is near the top of our list as we re-enter normal everyday life.  Time to start planning the next trip.  Hope you've enjoyed these ramblings.