Days 1 & 2 – Saturday/Sunday, January 27-28, 2018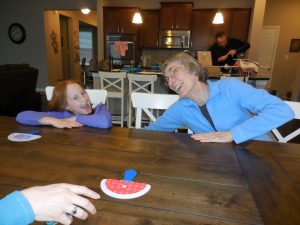 This year we sneaked out of town early to celebrate Larry's 70th birthday with Anna and family and Will & Kasey in Avon.  We got to Avon/Indy in time for lunch.  We just hung around and played Sleeping Queens with Sarah and Tommy.  Larry opened his presents and then off to City BBQ for dinner and back home.  Not a lot to report here.
Sunday was our 47th anniversary.  We got an invite to breakfast from Will & Kasey at Cracker Barrel in Whitestown, and Jon & Anna and the gang came too.  We went to 7:30am Mass at St. Malachy in Brownsburg and then to breakfast.  We had some great conversation, plus a checker game on the porch in the cold on the way out that was called in Sarah's favor due to everyone freezing.  Back at the homestead Larry opened his other birthday present – a BBQ apron made to order by Mary Ann embroidered with "St. Lawrence – Patron of BBQ", in honor of the martyr who was grilled to death by Roman Emperor Valerian.  Larry then ran errands to get s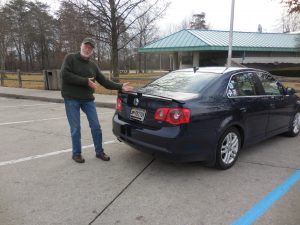 ome new brown shoes, his birthday gift from Menard's and a car wash, forgetting to get the anniversary card he owed Mary Ann.  Not a good move.  Anna made burgers for dinner and they went out for ice cream while we oldsters enjoyed some quiet time back home (with ice cream).
Day 3 – Monday, January 29, 2018
Well we are here at the Tennessee Rose, but not without drama and adventure.  Weather was not the issue this year, thank goodness.
First off the car sounds like it has something loose and rubbing metal on metal that will fall off at any moment – then magically it disappears until it is stationary for 10 minutes and then it's back.  We're driving it till something breaks or we get home, whichever happens first.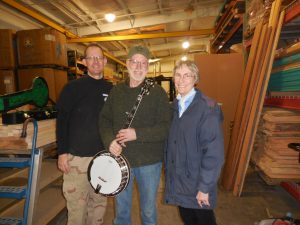 Second the visit with Eric Sullivan, Banjo Man, was totally outstanding.  He was so excited to see  my work and said, and I quote, "This is really good.  I don't have time to get this artistic (referring to the maple/walnut stained bullseye back)".  Yesterday Dad noticed that the bindings in the back and around the resonator were raised up very slightly above the wood – Dad figured they were coming loose and he would have to re-glue them and start over.  Eric said. "O, this just happens – the wood and plastic expand and contract with moisture and temperature differently, and in fact if you are looking at an old banjo and they are not raised, then something fishy is going on."  What a relief.  Then I picked his brain on how he built his buffing wheel and other tricks of the trade.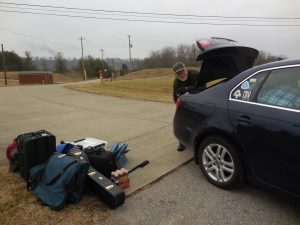 Then the real adventure began.  Pulling out of Eric's parking lot at 11am we scraped bottom on the drive, which was at a bit of an angle so no worries, but then 200' down the road there was something wrong.  Yep, the left rear tire was flat.  Unloaded the whole trunk, got out the spare, which is full sized, and the spare was flat.  Crap.  But a gas station with compressed air was right across the street (50₵) so over Larry went and back.  Got the car jacked up and the tire off.  A good 'ol boy stopped and was a big help.  Thanked him, reloaded the trunk, googled a Discount Tire (the spare is a bit worn) 15 minutes away and were there.  We walked in and all the guys were just standing around – we have never been in a Discount Tire without anyone else there (it was about noon).  Bingo, the car went into the stall.  Then Larry had the sickening realization – he had left the lug bolt key on the bolt after he finished installing the spare tire and hastily drove off to Discount.  Crap, crap.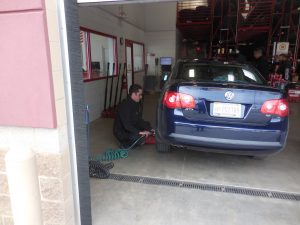 Need a lug bolt key.  Where is the nearest VW dealer? – 1.5 miles down the same street, same side of the road.  Left Mom and all the baggage as collateral and was at Huffman Automotive Group in 5 minutes.  Explained his problem to the service guy and in under 10 minutes they had removed the locking bolt and put the regular one he gave them in its place (he doesn't remember how he got 5 extra lug bolts, but they are in the car).  Back at Discount they had the tire already mounted on the rim, ready to go.  The old tire had a 1" gash right in the center of the tread, and miraculously Larry had bought the road hazard guarantee.  So we got a new tire for free.  This was very welcome news.  It took Larry longer to repack the trunk than it did to get the wheel installed, and we were off.  By now we had spent about 90 minutes and were hungry so we headed, you guessed it, to the Cracker Barrel that we had been to last year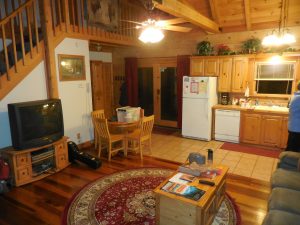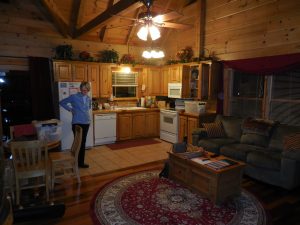 right at our expressway entrance.  The worst result of this whole affair was that we had to find the Tennessee Rose rental house in the dark.  As is typical down here, the driveway sort off disappears from view over the edge of the hill until you work up enough nerve to go over the edge the first time.  Dad had to get out of the car to check it out before he could do it.
All's well that ends well.
By the way, Eric Sullivan's wife Marsha was a veteran waitress at Cracker Barrel.  She was  wearing her 4-Star burgundy apron (the burgundy color is recognition beyond the 4-Star level) when she came out of the office to take our picture.  We just can't get away from that place.
Day 4 – Tuesday, January 30, 2018
All situated in this wonderful house owned by our friends Kent and Christine Voisin, who we met at Holy  Cross Catholic Church last fall.  Check out the pictures at the other half of the site.  One cool feature – a first floor heated garage.  Another good aspect – this is about the closest to a no problem location for snowy weather we've found.  Leeland Ridge was the best.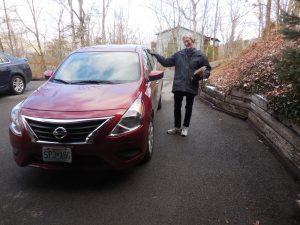 We picked up the rental car this morning at Enterprise, a red Nissan Versa, for our spotting car so we can again hike point-to-point and cover more trail.  Then we went to Rick's Auto to see if they could ID the mystery noise.  And no, since they are so good and people flock to them, the earliest they could get to it would be Friday.  It wasn't making very much noise, so we decided to drive it till something fell off.  Larry's current theory is that it is a dragging or loose brake pad.  These two errands shot the morning, but after lunch and answering some emails we sere off on our first hike, from Little Greenbrier trailhead down to Metcalf Bottoms with a snack and tea at the Walker Sisters cabin.  It was sunny and brisk, around 40°.  Larry found out how much he was out of walking shape.  Man.  No problems with either car.  Then back to the ranch for a pot roast with broccoli dinner.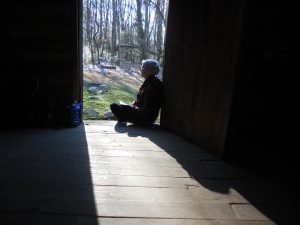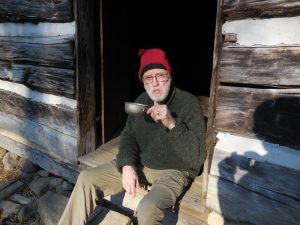 And it was a hockey night in Pittsburgh – the Pens beat the San Jose Sharks 5 – 2 for their 5th straight win as they continue to climb up in the standings.  During the intermissions Larry took apart the upstairs shower faucet to see why the water wouldn't get hot this morning.  He found the problem but couldn't get to the water shutoff for the house to disassemble/reassemble the faucet for the fix.  Thankfully the first floor tub shower works fine.
We learned that Newfound Gap Road through the park and Laurel Creek Road were both closed by snow and ice today.  Tomorrow we have picked a higher and lower elevation hike, and will pick the one we can get to.
Day 5 – Wednesday, January 31, 2018
It was a lower elevation day as the Newfound Gap road was closed again.  Ity opened later however, so tomorrow looks like a higher elevation hike.  The weather today was perfect – it got to 53 degrees and was sunny.  We got our usual later-than-desired start and were at the Finley-Cane trailhead at 10:45am.  It was a great. predominantly downhill trek to the Versa at the end of the Bote Mountain trail.  Lunch today was Cincinnati chili.  At first we were had the trail to ourselves but after lunch a local hiking club caught us from behind – about 15 folks.  We let them pass, no problem.
It was bound to happen sometime – at lunch Larry bumped the tea water boiling on the "pocket rocket" stove and we both had a bit less to drink.
The interesting sight today was the discovery of wild hog rooting along a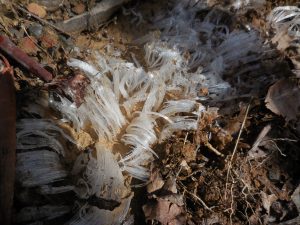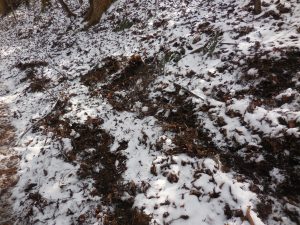 goodly section of the trail.  There are wild hogs in the park, escaped from the farms years ago, and on the loose they do a lot of damage.  The rooting was to deep to be squirrels or deer and then Larry .located definite cloven pig footprints at one site.  The Park Service could issue hunting permits and solve this problem.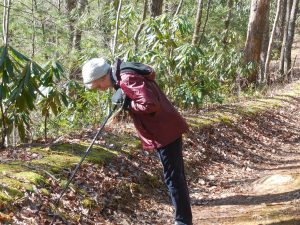 We stopped at the Smoky Mountain Heritage Center in Townsend on the return trip and bought some very nice paintings and a DVD on the .Elkmont area, the first of 5 installments.  So a little history lesson to take on the rec room big screen.  We were back at the ranch by around 3:30pm and had grilled buttermilk chicken for dinner.
Day 6 – Thursday, February 1, 2018 – Adventures with Mom Episode 1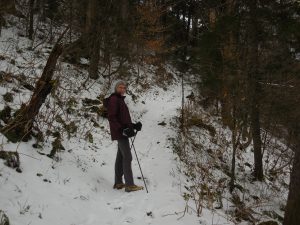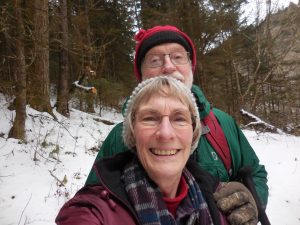 This was day 17,700 of our marriage.  One to remember as we'll elaborate on below.  We got up earlier because we had a long drive to the trailhead this morning.  This episode is brought to you by Mom because the Newfound Gap – Road Prong Trail hike for today was her idea.  We dropped the Versa at the Chimney Tops trailhead and continued with the Jetta up to Newfound Gap.  The weather was cloudy with , 50° at the cabin and 38° at the Gap.  This was a 5 mile hike with the first 1.7 on the AT from Newfound Gap up to Indian Gap and the rest more or less downhill to Chimney Tops and the other car.  We had almost given up on the way to Indian Gap like the earlier group in front of us who we were tracking.  When "Appalachian Trail up to Indian Gap" is the phrase one needs to read "steep".  From their tracks in the 4″ snow the earlier group got to the base of one of the uphills, stopped, had a snack and turned around.  On we went though.  We were encouraged knowing we were going to Indian Gap, which implies that eventually one goes downhill to the Gap.  And that was what happened just about when we started to despair.  To say the rest of the trail was downhill is a gross understatement.  It was painfully downhill.  But that wasn't the real challenge.  And to gain an "Adventure with Mom" status it has to be much more than just painfully downhill.  Did we mention that Road Prong refers to the Road Prong of the Little Pigeon River?  Yep.  The trail guide describes it as "wet, rocky, steep and beautiful", and it was painfully accurate especially on the first tree counts.  The worse part was we had been on it several years ago from the bottom end and could attest to the wet and rocky part.  Did we mention there was 4″ of snow? Another important fact is that water is slipperiest at 39°, a fact the VW engineers continually remind Larry of when the Jetta display bings its warning at this temperature.   This will become important shortly.
So down, down we went.  Heck it was only 3.3 miles and downhill at that.  No worries, that is until we came to the first creek (prong) crossing.  It was 20′ across with plenty of water and ice, and the trail basically disappeared on the other bank under two gigantic blown down tulip poplars.  Dad went first to "test the waters", which literally (this is for Anna and Jon) he did as his first choice of hopping rocks was poor and he ended up in rather than across the 39° water.  No so bad, just one boot full of water and the rest of him dry.  Then it was Mom's turn.  Not hearing Dad's caution warning she chose the same hopping rock and was not as fortunate – both boots in the drink and wet up to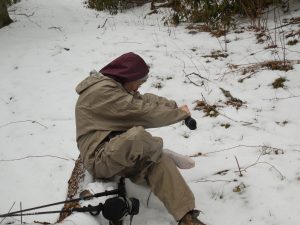 her buns on her right leg.  Sorry no picture or if Larry had taken one we probably wouldn't be married anymore.  Hypothermia became an immediate concern.  Miraculously her outer coat shed all the water and her hat, which Dad fished from the opposite bank with his hiking pole was wet in only one small spot.  We broke out her rainsuit and put it on her as an outer layer.  Rainsuits are good as windbreakers and holding the body heat in.  This left her feet to deal with.  She rang out her right sock, the worst of the two and we pressed on.
Well actually we had to figure out where the trail went so we could press on.  After a quick prayer for inspiration Dad determined that it was down the prong, rock by rock to start with.  A little downstream exploring from a small island located the next trail shard.  We repeated that a second time and the trail reappeared, of course, on the other side.  Man what an adventure.  So there we were with wet feet and a couple miles to hike.  Not long afterward we came into the part of the trail we had been on for our last visit here and things were getting better, aside from the steep. rocky path.  Now we were discussing when to stop and eat lunch.  Maybe we could use the "pocket rocket" to dry our soaks before we heated up the soup.  We were reticent to stop for very long for fear of freezing off our feet.  So down, down we went.
Now the crown jewel.  It became obvious that we were going to be crossing the now very big prong one last time before intersecting with the lower third of the Chimney Tops trail.  Wasn't there a foot bridge there?  The trail guide said yes, but reality said no.  Are you kidding.  Must have washed away.  See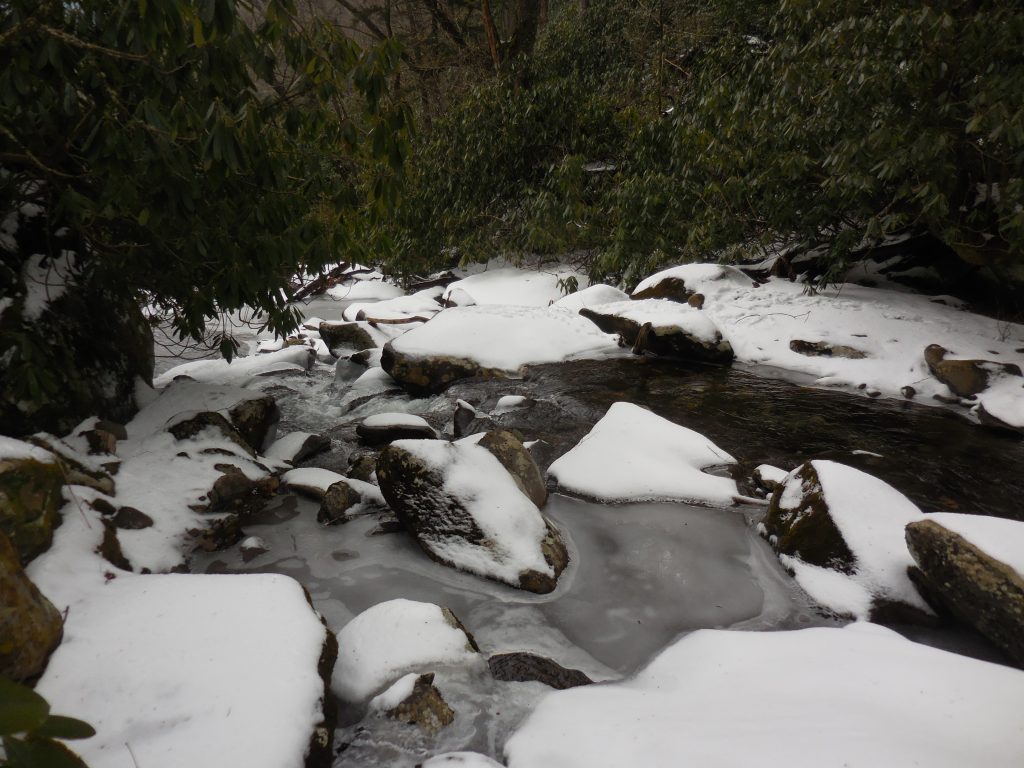 the picture.  A pretty mountain stream shot.  But look closer.  See the footprints on the rocks in the distance leading out into and across the stream.  That's where we crossed.  At both ends we had to crawl and break our way through the rhododendrons.  That was the most creative stream crossing of our lives (so far).  And we didn't dip into the water at all.  Dad crawled the rocks.  Mom hopped.  Fortunately the snow on the rocks was so wet it added traction, but one had to avoid the ice covered ones.  At the end was the snowy log and grabbing the hanging rhododendron limbs trusting they would hold.  Don't wanna do that again ever.  Whew.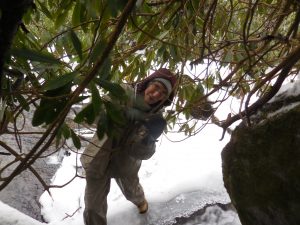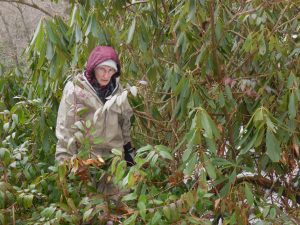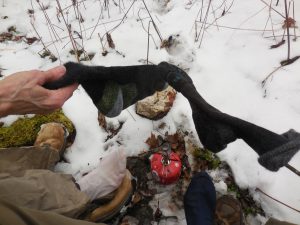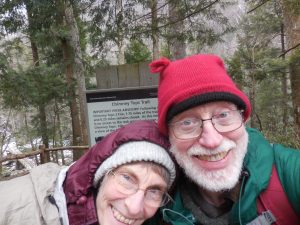 The fact that we are writing this means that we survived.  We retrieved the Jetta up at Newfound Gap and got home.  The freezing rain and snow started after dinner.
It was burgers and beer for dinner.  Tomorrow appears to be building into a snow day.
Day 7 – Friday, February 2, 2018
More about the Road Prong trail:  So all along we were thinking that Road Prong referred to the present Newfound Gap Road (US 441).  But on closer reading of the trail guide we discovered that the Road Prong trail itself was the road in the 1800's.  It ran over the pass from Pigeon Forge to Cherokee NC.  This explains why the trail was so rutted and eroded.  Cattle, pigs, horses and wagons traveled this original roadway.  Now if they can only replace the bridge at the bottom.
Before lunch Larry went into Sevierville to the post office to try and get something arranged for delivery of the lug bolt key we lost earlier. Back on Tuesday he found one on eBay and ordered it but in a brain cramp move had it shipped home instead of here.  He was able to contact the seller and give him the address here before he shipped it.  Only problem was that on Wednesday he discovered that the Tennessee Rose has no mailbox down at the main road and the mail can't be delivered.  The key is coming first class USPS.  The fella at rhe Post Office was helpful but the probability of it being caught by the postal carrier and held for us is slim.  Then after getting back from town Larry checked to see if the envelope had a tracking number, and it did, so great.  The only problem was that it is at the Granger PO already despite the address change.  So we can kiss that delivery goodbye for now.  It was marked as mis-delivered in Granger, which means it will come to Sevierville, be undeliverable and get sent back to the seller.  Larry will have to pay another $4 to get it resent when we get home we guess.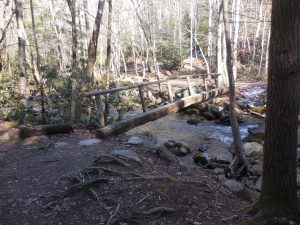 Today was a bonus day on the trail.  With yesterday evening's forecast for today indicating that all the park roads would be closed at least early wee woke up resigned to a scrapbook day.  But this mornng we found that the road down from the house to the valley was clear of snow and ice, and then we checked and Laurel Creek Road had opened.  So after lunch we saddled up and headed back to Bote Mountain for a trip in the opposite direction and back down the West Prong trail to Tremont.  A very nice hike with a powdering of snow and blue skies.  Best part was that the foot bridge over the West Prong was still there.  Given our luck yesterday we had to see it to believe it.  Had a snack at Campsite 18 then strolled back to the Versa spotted at Tremont.
Back at the ranch it was stroganoff over boiled cabbage for dinner followed by hockey with the Pens beating the Caps 7-4.
Just a couple more days.  The Versa gets turned in tomorrow afternoon since Enterprise is closed on Sunday.
Day 8 – Saturday, February 3, 2018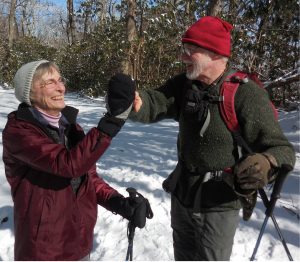 The challenge for today was to do a long hike and finish in time to return the rental car before 4pm and get to church by 5pm.  The Newfound Gap road was closed again today so we went to Cades Cove to hike the Antony Creek-Bote Mountain-Lead Cove trails loop.  This is a 6.5 mile circuit with the first 3.5 uphill and the last 3.0 miles downhill.  The trudge uphill got a bit tedious, especially when Larry/Dad's pace counting came up 4/10th's short of the top.  He needs to recalibrate for steep uphills behind Mary Ann/Mom's pace.
All of the Anthony Creek crossings of serious depth were nicely provided with foot logs, which was nice for keeping our anxiety level down.  The temperature at the start around 9:20am was 31° and by 2:00pm at the end was 34°.  This gave us plenty of time to go directly to Enterprise and turn in the car before going back to the cabin to change for church.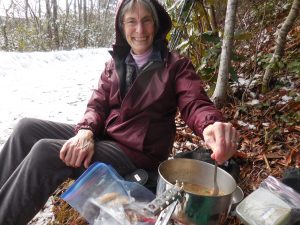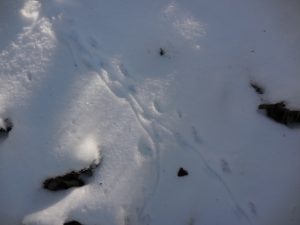 Holy Cross church is conveniently located in Pigeon Forge   close to Calhoun's restaurant where we like to eat and next to the Kroger where we do our grocery shopping.  Yes there is a Cracker Barrel about a mile up the street, too.  The owners of Tennessee Rose do the music at he 5pm Mass, so we got up to the balcony to talk with them beforehand and then had a long conversation with them after church.  We have several things in common:
+ they built the house themselves from a kit, so Larry and Kent have all those house construction skills in common
+ Kent shares same mechanical skills that Larry has; he retired after he sold his hardware store in Louisiana
+ Christine and Mary Ann both have only one kidney – Christine donated hers to a woman she heard about on the local news
+ we all love and play acoustical church music ; Christine sings and plays guitar and cello, Kent plays violin
Then it was off to dinner at the nearby Calhoun's, sponsored  by our wonderful children and their gift certificate to Larry for his 70th birthday.  We managed to burn even last cent of it.  Mom had salmon and Dad had marinated steak.  Mom's spinach Maria was too spicy for her so Dad bartered some of his green beans and broccoli for it – it is what he secretly wanted to order in the first place but was afraid of the wheat that might be in it.  Screw the wheat this once.  Mom had wine and Dad had beer, then hot tea and coffee.  All this to get the bill with tip up to the gift certificate total.  In the end we had to leave an extra $1.25 cash to make the tip for Tonya appropriate.  What a sweetheart she was.  And this time of year one gets the real professional waitstaff instead of the seasonals that are hired in for the peak summer traffic.  After dinner a quick stop at Kroger and home for hockey with no complains from the Jetta.  The Pens lost to New Jersey 3-1.  Rats.
Another word about the Jetta – it is becoming clear that the noise is a wheel bearing, and Larry is not really sure which one.  It is still intermittent.  The plan for Monday is to prayerfully limp it home (at 75 mph of course), hoping that the cold weather as we get further north will help hold things together.
One more day in paradise.  Waiting at home – a broken washing machine (new drive belt), truck front end repairs, Jetta bearing repair and trying to track down are mis-delivered lug bolt key.
Day 9 – Sunday, February 4, 2018 – Adventure with Dad Episode 17,800
Today we have been married 17,806 days.  Of those 6 have been classied as "Adventure with Mom" days (the recent Road Prong Trail incident plus the births of each of the 5 children), the rest have been a daily "Adventure with Dad"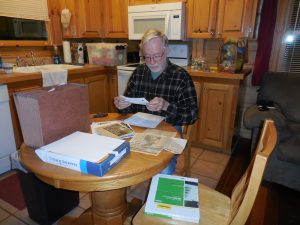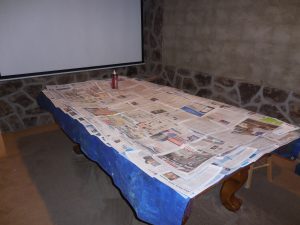 Today started uneventfully enough – we knew was going to be rainy so we planned on a full day of scrapbooking for last years momentos.  We got through January – June before lunch, then after lunch realized that the rain had left the area and the temperature was in the 40's.  We quickly consulted on a short trail to cap off the week and Larry prevailed, never a good idea, for the Sugarland Mountain trail up as far Larry decided to not carry any wateras Mid's Gap – 1.2 miles with an initial 0.8 but mile uphill.  To make it challenging  to instead take the water filter and get some at the Gap from the nearby stream shown on the map.  2# that didn't need to be carried all that way uphill.  So the stage was set for adventure.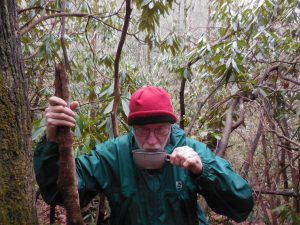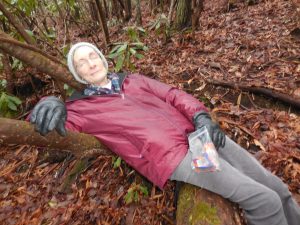 The trek to the Gap was maybe more than we both wanted with the uphill, but the last 4/10's were very pleasant.  Once at the gap it was obvious that the stream was not immediately adjacent, nor could one actually hear it nearby, but we knew from the map that it was to the west.  Larry noticed something that looked rather trail-like and said, "Wait here and I'll go scout this out".  After about 50 yds he could definitely hear, but not see, the stream.  He backtracked to retrieve Mary Ann and convinced her to follow on down the trail.  At about 2/10's he left her at a log across the trail, took the filter and went down in pursuit of the creek.  Mary Ann was not thrilled about being left on the trail with no guarantee that the creek was even accessible.  However, Larry, although not completely convinced himself, pressed on and the sound of the creek grew closer.  Another 200 yds and there it was, about 5′ wide with a perfect little cascade to put the bottle under.  He returned triumphantly and proceeded to prepare the tea.  He was so pleased with himself that he forgot to filter the water – oopsie.  So before drinking a drop we put it back in the pot to let it boil some more to be sure to get all the Giardia cysts.  We'll know for sure in 4 days.
The other issue was time till sunset.  We finished our snack at 4:10 with dusk at 6:30 and a 1.2 mile return trip.  It took us about 90 minutes to get in and another 30 minutes for snacktime including the water adventure.  As it turned out we were back at the car at 5:30 with plenty of daylight.  But we did have a flashlight just in case.
Back at the ranch it was time to pack it up.  We did watch another portion of our history of Cades Cove video after dinner with another snack in the theater room, and Larry did another 3 months of the scrapbook.  But we were running out of time.  Tomorrow comes with a new challenge – limping the Jetta back home.
Day 10 – Monday, February 5, 2018
We got off to a good start at 8am and the Jetta was cooperating.  The weather was cool and clear.  The road perfect for driving.  No problems really except something is slowly going bad with the CV joints in the front axle.  We are grinding when we turn left and right, and when we start up after a stop.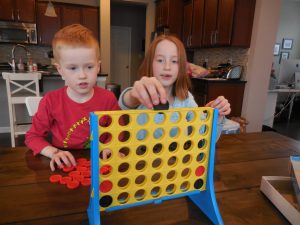 Ate lunch in Dry Fork KY at the Cracker Barrel, using the remainder of our gift card.  Without that we were likely going to go to Jimmy John's.  We are going home on I-75 to make our annual Goetta Run through Cincinnati.  We got to the Harrison OH Kroger at about 3pm and bought enough for Anna and ourselves.  We were planning on swinging by Avon to drop off the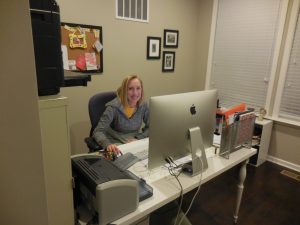 Goetta to Anna.  But as we drove on we looked seriously at the weather forecast for snow up north and decided to invite ourselves to Jon & Anna's for the night.  We don't have to be anywhere tomorrow.  So we came for dinner and some games with the grandkids, and here we are.
Day 11 – Tuesday, February 6, 2018
Got up to see the kids off to school and Jon off to work.  There was about an inch of snow and the temperature was 19°.  We got off at 8:45 or so.  The drive was uneventful – the same car noise seeming to come from ther front axle, but nothing falling apart.  As it turn out there was no snow on the pavement all the way home.  On the way into town we swung by to pick up some Troop T-shirts and to the Granger post office to attempt to straighten out the lug bolt key shipment.  It has been bouncing around between Sevierville and Granger.  Yesterday it was in Granger.  This morning it was in Knoxville and this evening it was in Indianapolis on its way back to Granger.  So hopefully the instructions Larry left with the counter attendant for Sanders Elliot, our mailman, will do the trick.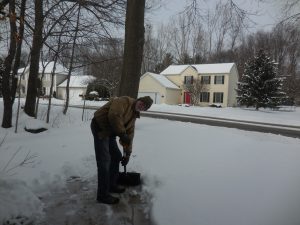 Welcome home meant shoveling 6″ of snow from the drive and relighting the woodstove.  Forethought had the log holder full on the deck, so no trapsing through the snow to the woodpile.  Also took time go get some more page protectors to finish up this year's scrapbook and some birdseed to refill the birdfeeders and help out our little buddies.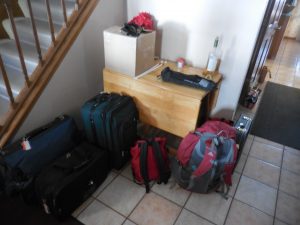 It occurred to us that until we totally unpack we are technically still on vacation.   Larry's next thought was that being retired is actually like a continuous vacation, but the environs are too familiar.
And so this year's trip comes to an end.  already making plans for next time.