Day 1 – Tuesday, February 5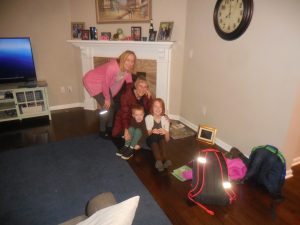 We left for our 48th honeymoon trip after Larry's cardiologist appointment at 9:30 this morning.  It was a regularly scheduled annual checkup but he has been having some issues with lightheadedness.   He is scheduled for a carotid ultrasound on our return to check things out.  So we pressed onward for our overnight in Avon at Anna's.  The trip was overcast but balmy, in the 40's.  A good stirfry and a game of Mouse Trap before bed with Sarah and Thomas.  Jon was working overtime on a project at Lilly, so we didn't even see him – came in after we were in bed and was gone again before we got up.
Day 2 – Wednesday, February 6
As expected we awoke to rain.  There was some serious lightning and thunder overnight.  Ate breakfast, gave Sarah and Thomas hugs and were on the road at 8:05.  Then we turned around to retrieve Mary Ann's water bottle after Anna called and were back on the road at 8:20.  Rain all day, all the way except for the last 30 miles.  Lunch at a Jimmy Johns in Lexington KY.  We took the I-65/I-64 route.  The upside of the rain was two-fold – first, it wasn't snow and second, the temperatures were in the 60's.  On arrival at the Pigeon Forge Kroger it was 73ºF.  We'll take it.  Got to the Tennessee Rose around 4:30 after collecting a few groceries and set up house.   It was a very pleasant ride, albeit wet.  We listened to Bob Dylan's Christian albums and Larry's latest, plus some Allison Kraus and banjo tunes to get into a "mountain" mood.  Passed our hosts, the Voisins, on the road in doing litter patrol.  We'll be having dinner with them Friday evening.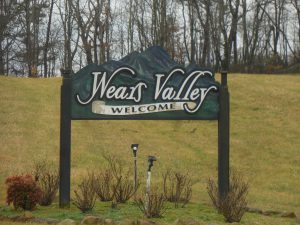 This picture answers one of our continuing questions, "What do you call this place?  Wear Cove, Wear Valley or what?"  So it is Wears (as in what are you wearing today?) Valley.  Finally an answer after ten years.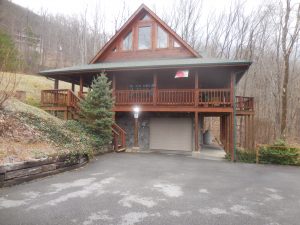 Before dinner we sat out on the deck.  You could hear the tree frogs in the distance.  Larry took a few minutes to rent the car from Enterprise that we'll use to spot at the end of the trail each day so we can hike point-to-point.  Dinner tonight was chili and chips.  Then after dinner we went back out on the deck with our dessert – a blueberry crumble that Mary Ann whipped up after we got settled in.  Very tasty indeed.  This weather is easy to get accustomed to.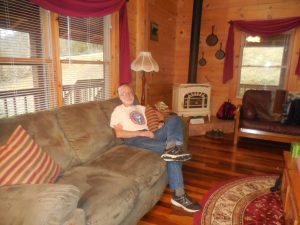 very balmy for FebruaryAfter dessert we planned tomorrow's hike and then played a round of our new "Trekking the National Parks" game from Christmas.  Mary Ann won again.
Caught up on the blog and hit the sack.
Day 3 – Thursday, February 7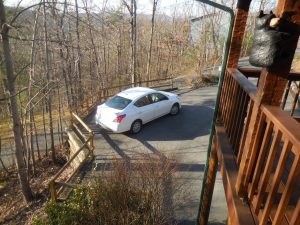 Time to get up and go get the rental car at Enterprise.  Our showers were taken care of yesterday, so it was prayer, breakfast, pack the lunch and out the door.  It really helped that it was already 68° and mostly sunny when we were leaving.  After getting the car in Sevierville (2019 Nisssan Versa) we dropped the Jetta back at the cabin and headed for Elkmont.  Today's hike was from the Little River Trailhead up through Daisy Town on  the back way to the Jake's Creek Trail, then to the Meigs Mountain Trail and a short jaunt to the Cucumber Gap Trailhead.  We've been down here alot and know all kinds of trail connections.  The Cucmber Gap Trail ends back at the Little River Trail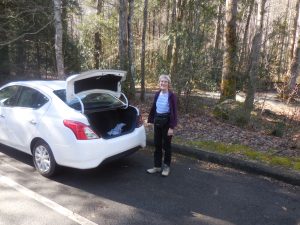 2.4 miles upstream from its trailhead where we started.  A total of about 5.8 miles.  And we've lived to tell about it.  It has one medium difficulty stream crossing over Huskey Creek, but when the air temperature is in the low 70's what's to worry about.  At lunch at the crossing and since it was so warm we just had sandwiches and tea/water.  Hiking in t-shirts in early February was fun.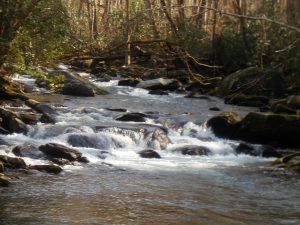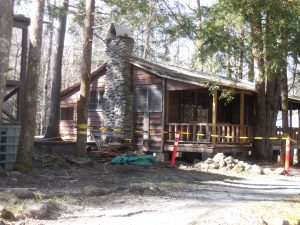 After the hike we took a drive on the newly completed section of the Foothills Parkway from Townsend over to Wears Cove.  It features a series of  "flying" curved bridges with a marvelous panorama of the Appalachian Ridge to its south.  We took pictures, backtracking to two overlooks to get them.  We have been driving under the overpass built for this at least 10 years ago, if not longer, and to find it finally finished was super.  So the Foothills Parkway runs from the west side of the park around to about the north center at Wears Cove, and then picks up again at the northeast corner and runs over to I-40 on the east side.  No right-of-way available through that good-as-gold real estate at the park entrance.  We still have to drive on the state routes from Wears Cove through Pigeon Forge to get to the northeast part of the park.  We go in the back way to get to the heart of the park and bypass Gatlinburg.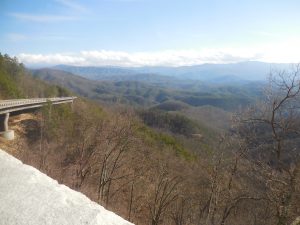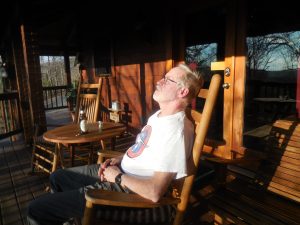 Back home we have the windows open and are grilling buttermilk chicken on the deck after cocktail (beer with nuts and water) hour. 
And it's a hockey night as the Pens take on the Florida Panthers.  The Pens lose in OT 3-2.  This is getting routine.  The team hype isn't clicking with the reality, although they are still in the playoff picture.  Larry picked up hockey as a diversion from the Cincinnati Reds being so poor.  To be entertaining a sports team needs to be winning.  Oh, well.
Tomorrow another day, another hike.
Day 4 – Friday, February 8
Another beautiful, sunny day, but not quite as warm – like 45° chilly.  But sunshine makes a big difference.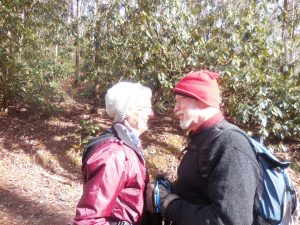 We decided on a point-to-point hike from Schoolhouse Gap uphill on the Turkeypen Ridge trail to Lead Cove.  Last time we did this was last April and we went the other way, more or less downhill.  Really we couldn't tell much difference in exertion level and that was good.  Our lunch spot has become "the Rock", a rock overhang with a small creek running beneath it.  For snowy or rainy weather this is rather ideal, but on a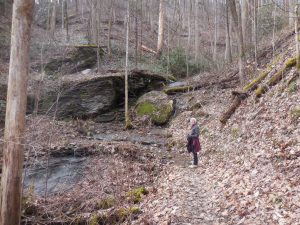 sunny 45° day it kept things a bit brisker than sitting in the sun.  Tradition, however, won out over comfort.  The 4.7 miles took us 4 hours including the lunch stop.  We took our time.  And this time we managed to keep from leaving all the keys for the car at trail's end in the car at the  beginning of the trail.  On the way back to the cabin Mary Ann took the direct route while Larry wanted to drive the new Foothills Parkway again.  It took him an extra 20 minutes and the vistas were worth it.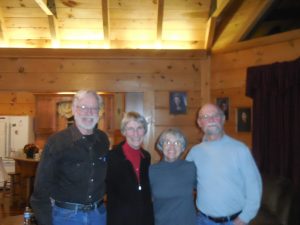 Our treat for this evening is having dinner with Kent and Christine Voisin next door, owners of this rental and fast becoming good friends.  They do the music for the 5pm Saturday Mass at Holy Cross church in Pigeon Forge, which is where we met them two years ago.  As we suspected we share so much in common we were instantly bonded.  We talked about our music ministries over wine, which carried into a wonderful dinner of shrimp and gumbo.  And not just any gumbo.  Since they are both from Houma, LA, it was about as authentic of a gumbo as you can get.  My was it good.  And the shrimp were from Christine's side of the family, who are shrimpers.  They built a fishing camp recently in Dulac LA, which is south of Houma, which is south of New Orleans, and might as well be in the Gulf.  We talked about Mary Ann's kidney cancer and Christine's kidney donation to a complete stranger.  We found out they had been part of a country-western band for 12 years and Larry regaled them with tales from his Oblates of Blues days.  Kent is very handy and built the rental we are in, their house up the hill and another rental cabin below ours.  They have been making a living managing their rental properties, but are really ready to fully retire now.  We are all committed Catholic Christians and music is a big part of our lives.  The ancestral and cultural backgrounds are completely different – Cajun French versus German immigrant.  We arrived at 5pm and left to walk back down to the cabin at 11pm.  It only seemed like a couple of hours.  We hope this relationship continues to grow.  We'll see them playing at Mass tomorrow
evening.
Day 5 – Saturday, February 9
Today was a repeat of yesterday weatherwise – sunny and brisk.  We did a point-to-point hike up Bote Mountain and then down the West Prong (of Laurel Creek) back to Tremont Institute.  The total hike was 3.9 miles, a shorty today.  This route starts from the same parking area as yesterday's trek.  There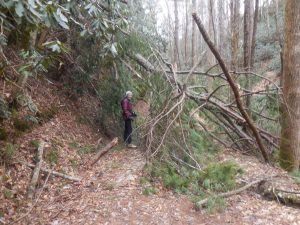 were some interesting blowdowns to negotiate through.  This was our experience of the US government shutdown in January.  The trrail maintainers were not working apparently.  We had a leisurely lunch at Campsite 18 and then a somewhat challenging stream crossing shortly after getting back on the trail.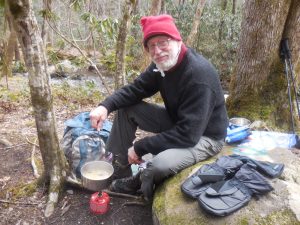 This was to be church day and we got back to the cabin with plenty of time for Mary Ann to get her shower in and to get ourselves in to Holy Cross church in Pigeon Forge for Mass.  The Voisins were doing the music and did their usual great job.  Next day they were leaving to go back home to their fishing camp in Louisiana.  We gave them a copy of Larry's latest CD recording, Songs From the Heart – Volume 3, to see what they thought about it. We'll wait and see.  Franciscan Father David Mary gave a rousing sermon on the Eucharist that moved us.  Larry realized afterward that he had heard him preach at one of the Rekindle the Fire conferences in South Bend several years ago.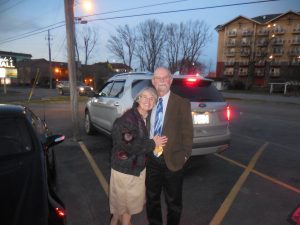 We celebrated our 48th anniversary with dinner at Calhoun's after Mass.  Conveniently the church is about 2 blocks from the restaurant.  Then we made a quick stop at Kroger for a couple items before returning to the cabin.  After that not much happened, except that the Pens lost again, before bed.  Rain is coming in tomorrow and probably for the duration of our stay, so we'll see how it goes.
Day 6 – Sunday, February 10
As predicted the day dawned gray and wet.  It was trying hard to rain but was mostly spitting at us.  We decided to take a major hike today.  Actually no one had a better argument or hike to trump Larry's idea, so we were stuck with it.  We dropped a car at the Sugarland Mountain trailhead and then started from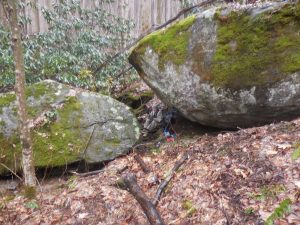 the Little River trailhead at Elkmont.  The circuit ran 7.9 miles up Little River, across the Husky Gap trail and then down the Sugarland Mountain trail to the car.  The rain never did come in full force and we were blessed by a rocky shelter fro lunch, which we will call "the Rock #2", on the Huskey Gap trail.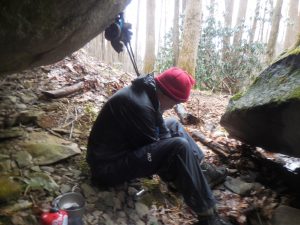 The rain was on and off all day.  We did the 7.9 mile hike in 5 hours 15 minutes including lunch.  Not bad for a couple oldsters.  The compromise with Mary Ann was that we would not hike tomorrow but do the scrapbook.
Back home we grilled burgers for dinner and nursed our sore legs.
Day 6 – Monday, February 11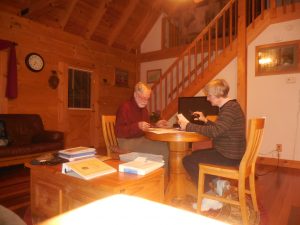 The weather prediction for today was correct – warmer but rainy.  Our plan was at least to start into the a scrapbook work and then see how the weather panned out after lunch.  So Larry had eggs & bacon and Mary Ann had oatmeal and sausage links for breakfast, and then we tore into our memorabilia accordian file for 2018.  This cabin only has one table, so it encourages one to clean up before moving to the next event.  That meant cleaning up after breakfast.  Then we bunched the coffee table and extra dinning chair around to set stuff on.  We didn't seem to have as much as in earlier times or maybe we are just more efficient, and perhaps more ruthless about what to pitch, but we worked up everything through October before lunch.  At that point the weather looked to be clearing in the afternoon so we picked a short hike for after lunch and packed a snack.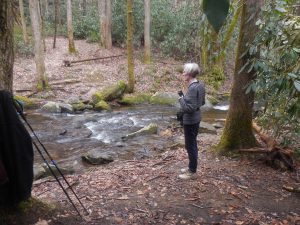 We headed off to the Sinks and did the first 1.5 miles of the Meigs Creek Trail.  That is over the ridge and down to the first crossing.  As we expected with the wet season there was no easy way to cross the creek there, so we were content to brew our tea and have our snack on the near bank.  The sun even came out and the temperature was a balmy 52°.  Very pleasant.  It was 45 minutes out and a bit less back to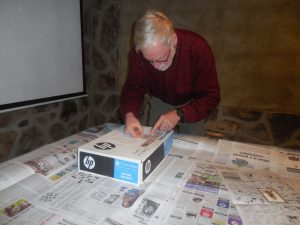 the car since there was more downhill than uphill on the return.
Back at the cabin we had about an hour before having to fix dinner so we started gluing up the scrapbook pages on the billiard table.  We are sure glad all these cabins have billiard tables.  Where else could we spread out the newspaper and use the spray glue?  These cabins all have hot tubs, too, but these are way less useful.  We always laugh about the billiard tables and hot tubs.  What wastes of space ad energy to us.  We are who we are.
It's another Hockey Night in Pittsburgh.  Larry was ready to chuck it all and start watching baseball spring training games after Saturday's loss, but son-in-law Zach sent an insightful email that softened his heart enough to tune in tonight.  And, hey, the Pens won.  Twenty-six more regular season games left now before the playoffs.
Into bed at 2330 (11:30 pm).
Day 7 – Tuesday, February 12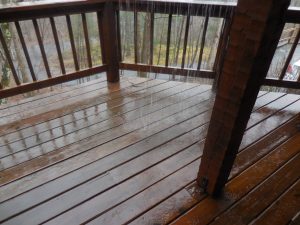 And the rain came.  And plenty of it starting about noon.  By then we had already finished up what remained on the scrapbook and were sitting down for lunch.  It was almost warm enough to eat out on the deck under the eave but a mite too windy.
Before that Larry had time to practice his banjo pickin'.  You can only practice so long before there is no further improvement for the day.  Then it's time to put the instrument down, go on to something else (i.e. this Blog) and let your muscle memory do its thing.  A little bit of repetition every day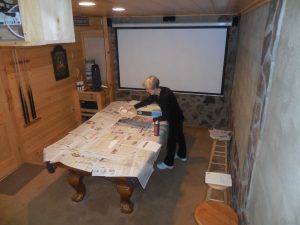 does the trick.  He has a song that he has been working ever since finishing building the banjo.  It is sounding good (enough) and close to recording quality.  He also has an invite from the Voisins to put a banjo track onto one of their songs to use at church.
Now it's time to run some errands and return the rental car, preparing for departure tomorrow morning.  We need some eggs.
Day 8 – Wednesday, February 13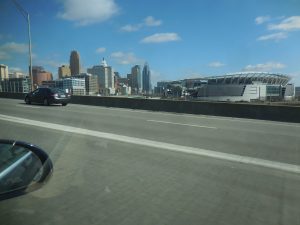 Travel day.  All good things come to an end it seems in this life.  Sigh.  The alarm went off at 6:00am.  Dad gives Mom at least 30 minutes headstart 🙂 So around 6:30 Larry is up and around.  We had gathered stuff pretty much together last night and so were loaded and on the road at 7:45 under a cloudless sky.  The route today is through Cincinnnati for our annual goetta and leona sausage run.  We made good time and decided to eat lunch at the West Harrison Skyline before going to Kroger to stock up on goetta and leona for Anna, Emma and ourselves.  At lunch Larry called his brother Bob,  who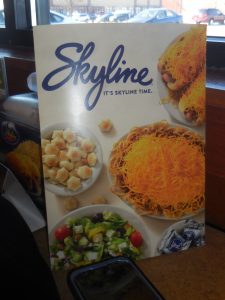 lives just up the road, and as they were talking he recommended Langen's Meats just down the road past Kroger for these items.  So we got most all the goetta at Kroger plus a pound of the leona (all they had) and then had a nice visit with the guys at Langen's who have their own goetta and leona sausage.  We got the other half of our leona there and the rest of the goetta for Anna and ourselves to try.  Then we were off to Avon,
Arrived in Avon just after the school bus at around 4:10 and unloaded what we needed.  Dinner was pulled pork and cole slaw.  After dinner Larry went with Jon to Thomas' Cub Scout meeting.  It was about recycling and first aid.  OK but too lame for kindergarteners, who need to be running around.  Or maybe wrapping each other up in gauze.  Larry has been doing that kind of crazy stuff for a long time.
Jon was home and while Larry was watching hockey (Pens won again over Edmonton) he demonstrated his new vinyl cutter/plotter making an OSU logo for his RC toolbox.  Nifty.  
Then off to bed.
Day 9 – Thursday, February 14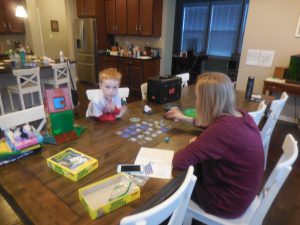 Happy St. Valentine's day!  Up pretty early again today.  Cooked and ate our breakfast, loaded up and were on our way around 8:30.  Another rain-free, but overcast day with temperatures in the high 30's – low 40's most of the way.  Drove straight thru and were home by 11:00.  There were around 4″ of slushy snow on the drive to welcome us.  Unloaded and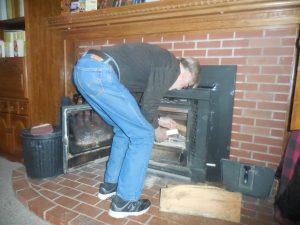 ate lunch.  Larry fired up the woodstove.   And so it ends for another year.  We may be down that way again in May if Larry's plan to hike his last section of the AT in Tennessee materializes.