It is now late March 2019.  I have been planning to write out the details of this BSA Troop 325 High Adventure since we finished in July 2018, but my map was misplaced and I need it for details.  Actually, my brother John Lee had it, buried in a box of stuff left from the trip and finally found it last week.  So that is my impetus to start.
Our destination was the Cloud Peak Wilderness Area of the Bighorn Mountains in north central Wyoming.  The trip ran from July 13 through July 22, including two days of travel in each direction.  The nearest town is Buffalo WY, and it is fair sized.  The contingent was divided into three Crews of 6 persons – 4 Scouts and 2 adults.  My Crew members were John Lee (adult), Ian Kurdelak (15), Peter Loughran (15) and brothers Henry (15) and Liam Lee (13).  Our Crew leader was Henry Lee.  The other two Crews were:
John Loughran (adult), Brian Peterson (adult), Liam Peterson (13), Michael Loughran (13), Josh Rose (13) and Nick Kottkamp, Crew Leader (14)
Dave Niswonger (adult), Pete Sgroi (adult), Andrew Berzai (15), Eddie Sgroi (14), Peter Rossi, Crew Leader (16) and Owen Linczer (16)
We traveled by van from South Bend IN to Buffalo WY via I-90 over two days.  Our stop en route outbound and on the return was at Lake Vermilion State Recreation Area near Mitchell SD.  We tent camped from the vans here in good weather, thankfully, and made good use of their showers and running water.  Driving came close to two 13 hour days.  The Lees came directly from their trip to Oregon and met us at the trailhead.  Outbound our timing was perfect for getting to church in Buffalo WY at St. John the Baptist CC on our way to the trailhead.
Day 1 – Friday, July 13 – Driving, Driving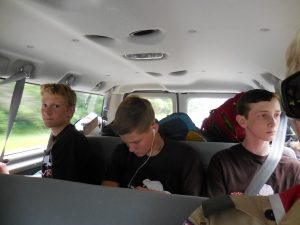 We divided into our two vehicles – the Sgroi and Peterson vans – and off we went onto I-80/90 westward.  Dave, Pete and me with 6 of the guys and the rest of the troops with Peterson.  I arranged for and brought four 3′ subs from Wal-Mart for lunch, which turned out to be even too much for 12 teenage Scouts, but we made do at a rest area on I-90 somewhere in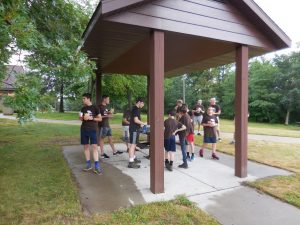 Wisconsin.   We drove upwards to 13 hours to Lake Vermilion SRA just before the Mitchell SD exit, my pheasant hunting Mecca.  This turned out to be a bit buggy but comfortable, including a shower house and running water.  It was classic tent camping.  Peter Rossi's Crew brought the in-transit food for dinner and breakfast and the Scouts whipped it up into something edible in reasonable time.  Just have to let them handle it, which is best done with all the adults distracting themselves with something else, keeping an ear open for grease fires and such.  The group had grilled hamburgers with the usual sides.  For my Crew since the Lee's were coming from Oregon, and bringing the Loughran boys with them, it was just Ian and I for meals on the way out.  So things were simple – I just had Ian eat with the other Crews and I had my freeze dried trail food.  Tonight it was Italian pepper steak and sub leftovers from lunch.  Weather was clear and balmy with a heavy dew in the morning.  All the campsite arrangements worked their ways out well on this first night.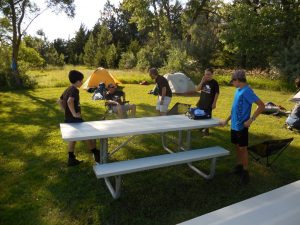 Day 2 –  Saturday, July 14 – More Driving, Driving and Presto Church
We made a quick breakfast of instant oatmeal, bagels and such with minor cleanup and hit the road again.  I had my breakfast skillet freeze dried eggs with sausage.  We had a stop at the Mitchell SD Wal-Mart for a second round of sub sandwiches, only three 3′-ers this round, and kept heading west.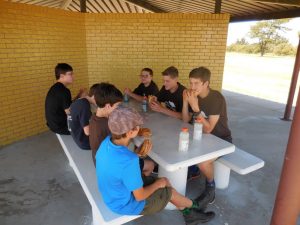 This is one big country we live in, really.  The miracle today was that we pulled into Buffalo WY in perfect time for the 5pm church service at St. John the Baptist CC.  Everyone was Roman Catholic except the Petersons, but Brian was delighted to be there.  I sat next to Rev. Brian and he was singing his heart out.  The priest was a native of Long Island judging by his accent but his theme for the sermon about how the Apostles were just all common "schmucks" like us when they started out, without the Holy Spirit, still inspires me today.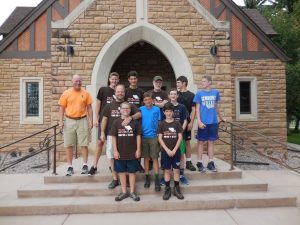 After church we had a bit of a drive, maybe an hour, but I wasn't driving so I don't remember, to the Hunter trailhead camping area at the edge of the wilderness area off of US Route 16 and USFS 19.  This was primarily a horse camp and it was already pretty full of trailers and horses.  But the tent area was separate and attractive, along French Creek.  The only problem was that it was 1/4 mile away and seriously uphill. The water was back downhill where we parked of course.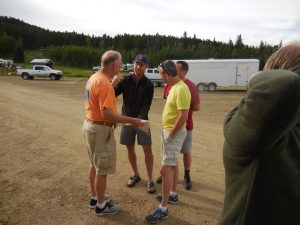 My main concern was finding two trees 12′ apart for the hammock, which were easy to find.  We camped in a pine forest that was fairly new growth.  The Lee's with the Loughran boys were there to meet us and had established our campsites up the hill.  We had plenty of time before dark to get the tents (hammock) set up and cook dinner.  The Lee's were in charge of our in transit dinners but I had my own menus as you can tell throughout.  I had a chicken fajita bowl (freeze dried).  There were no subs leftover today.  We had a brief shakedown talk from John Loughran and hit the sack.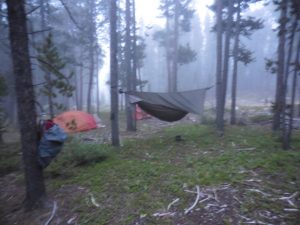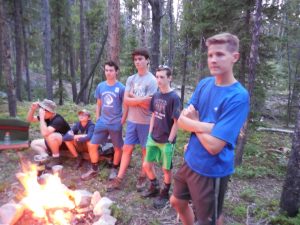 Day 3 – Sunday, July 15 – Finally on the Trail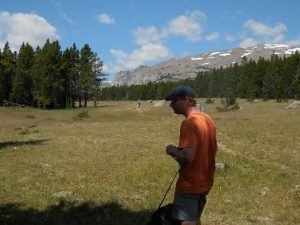 It was an instant oatmeal morning for everyone but me – I had the second half of my Breakfast Skillet FD meal.  We picked our routes for the assault on the Seven Brothers Lakes. We had two choices:  along the Ditch Trail through Soldier Park on USFS 394, into the wilderness area on USFS Trail 024 then up into the Seven Brothers Lakes plateau on USFS Trail 044 from the northeast (5.7 mi); or west on USFS 395 through Buffalo Park to USFS Trail 045 and up to the lakes from the east (6.7 mi).  It didn't take very long to realize that these were all horse trails, and that Wilderness Area should be read Horseback Area.  Soldier Park was named for the two Civil War era soldiers graves on the trail side outside of the Wilderness Area.  And out this way valleys or coves are called parks.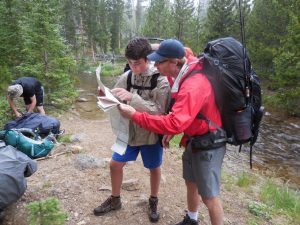 The USFS roads were four-wheeler gravel quality that were fine for hiking.  The trails were horse paths, however, with all the attendant rutting and loose stones and rocks, steeper than a good footpath should be.  Hiking these was a real chore.  And since horses don't need them there were also no bridges or even foot logs over the streams.  Our route required two boots-off crossings, one at French Creek Ditch and the other through North Clear Creek.  The other route had one for the less nimble through North Clear Creek near its junction with Seven Brothers Creek further south.  The other two Crews chose this route.  You skipped a creek crossing and had a more gradual but longer climb up to the seven lakes plateau.  So going was slow.  The weather was partly cloudy and on the cool side.  But with a starting elevation of 8,000′ the sun was intense.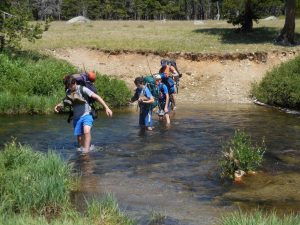 The final climb up to the Brothers Lakes was 500′ up to a plateau, but once up it was beautiful.  Our campsite elevation at the northernmost lake was about 9,700′, a gain of 1,770′ in about 6 miles.  Campfires were prohibited above 9,200′.  Later in the trip we concluded we could use a stick-fired cooking stove that we had along for a respectable and technically legal fire, however.
We generally retired at dusk, except that a rather spirited poker game broke out in the tent next to my hammock.  Obviously we didn't run them hard enough today.  But the day ended well.
Day 4 – Monday, July 16 – Rest and Regroup Day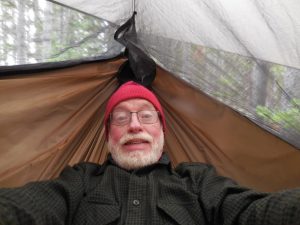 Yesterday the three Crews arrived in sequence.  We (Lee Crew) were first in and took a site up a couple hundred yards from the first lake.  The Kottkamp Crew was next and camped a little further along the trail next to us and finally the Rossi Crew took a site a bit further up the trail.  We were in a line with a path between us that paralleled the main trail that ran down past all the lakes.  The main trail dead ended into the beach at the last of the Brother lakes.  There were plenty of trees for the hammock and nice clearings for the common areas.  We were basically out of site from each other.  The weather was about as perfect as you could have.  It was obviously a dry climate and the wet season was the winter judging by the snow that was still at the higher elevations.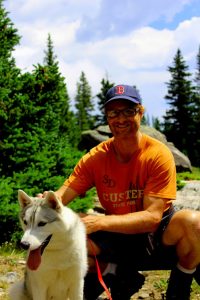 Our Crew was distinctive in that we had Suka, the Siberian Husky, with us.  She kind of eliminated the need for a bear bag, ya know, at least for early warning.  A great dog – never barked, carried her own food, wasn't wont to chase every critter she caught scent of.  She managed to catch and eat a bird that made the fatal mistake of landing in the bush to which she was tied.  I was apprehensive of taking a dog at first and John Lee at first decided against it, but then showed up on Day 1 with her.  As it turned out it was perfect.
It also became clear early on that yours truly had not thought seriously about the number of calories hiking at 9'000 to 13,000′ required, especially for teenage boys.  God bless Dave Niswonger and Peter Rossi, whose Crew brought enough food to feed us all once over with leftovers.  His cooks attracted a lot of attention and finally our Crew's allegiance away from our humble offerings.  Everyone knew where the seconds were.  With my no wheat and low sugar choices I was, in hindsight, under fed for most of the trip.  More on this later.
So Day 4 was spent exploring the chain of lakes and trying our hands at fishing.  The lake chain involved about a mile of trail, so John L,  I and some of the others hiked it to the end just exploring.  We found a lone guy with his hammock camped at the end of the trail at the last lake.  I learned some things about hammocks from him.  He slept in a hammock even at home, which I found interesting.  His was also slung very close to the ground.  As I surmised from our conversation Hennessey hammocks like mine don't hold up too well when you weigh about 250# and when they fail you fall.  Not one of my problems.  The Rossi Crew discovered that the far end of Lake #7 had a sand/gravel beach.  As any good Scout would they tried a very brisk wading.   The fishing was fair to poor.  As I expected only the Master Angler John Loughran had enough success to eat, but it was meager.  His biggest catch was while we were away at Mistymoon Lake and Cloud Peak.  All of our fishermen's expectations were much higher.  
Overnight a storm rolled down Soldier Park from the west, with wind, thunder and lightning.  As I normally do I was timing the delay between flashes and thunder, tracking the storm's progress.  Sound travels at 1100 feet per second, so a mile takes roughly 5 seconds.  It was clearly coming our way.  This is why one battens the hatches regardless of what the sky looks like on retiring for the night.  My stuff and our food were well stowed.  So on it came – 25 seconds – 5 miles, 20 seconds – 4 miles,  15 seconds – 3 miles 2 miles, 1 mile, flash-bang and then off it went to the east.  I gauged it out to about 5 miles the other way before falling asleep.  And amazingly not one drop of rain hit our assembled campsites.  I'd never experienced that before.  God's creation is so fascinating.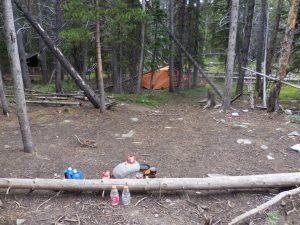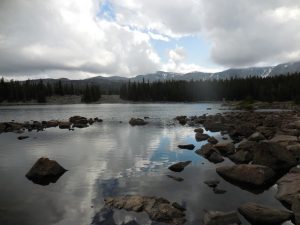 Day 5 – Tuesday, July 17 – Off to Mistymoon Lake
Now for some real hiking.  Starting at 9,700′ we first descended into Soldier Park at 9,200′, crossed North Clear Creek (again) and headed west – northwest up towards Florence Pass (my Mom's middle name).  The weather was gorgeous.  North Clear Creek was a bit deeper than the day before yesterday due to the rainstorm upstream.
Not everyone came on this excursion.  The Kottkamp Crew plus the two Loughran boys decided to stay at the Brothers Lakes and try some serious fishing.  So this left our Crew (Lee Crew) minus Peter Loughran and the Rossi Crew with Dave Niswonger and Pete Sgroi.  So we were eleven – John Lee, myself, Ian Kurdelak, Liam Lee, Henry Lee, Dave and Pete, Andrew Berzai, Peter Rossi, Owen Linczer and Eddie Sgroi. 
This horse trail came complete with horse-sized switchbacks and their attendant boulders and ruts.  On the AT at 4,500′ or so these are not so much of a problem.  At 9,500′ a bit more of a challenge.  I weathered it well, but John Lee and I with Suka were the tail end of the column from the get-go.  The three creek crossings kept us bunched up a bit, which was good.  The first one was boots-off but the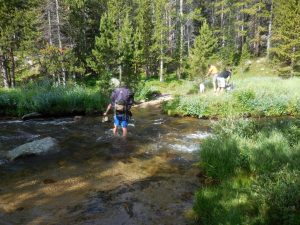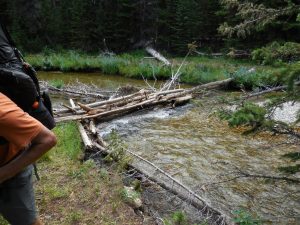 second to my surprise, had a double log foot bridge of sorts that we all managed to navigate without incident.  Suka had a bit of a problem and John just retrieved her with the leash and harness.
This was an amazing hike for the sheer beauty of the bare naked peaks on both sides with their snow cover and rivulets cascading down.  To top it off there was still snow across the trail in two spots.  This was a bit testy because the trail was bouldery and one couldn't be sure of the footing hidden under the snow, plus we were on narrow switchbacks and the trail sloped outwards down the slope.  Good to have the ol' hiking poles along.  The snow tended to be packed down and on the icy side.  We were just extra cautious and we had no mishaps.  The crown jewel of the scenery was Medicine Park with its carpet of lavender from one end to the other.  My, oh my, this was breathtaking.  And green grass around the edges, a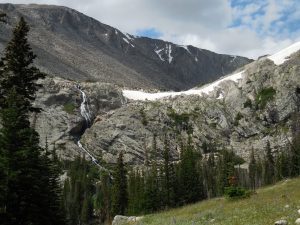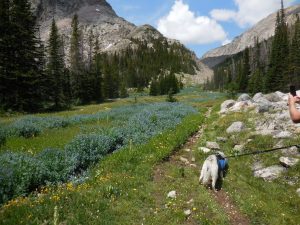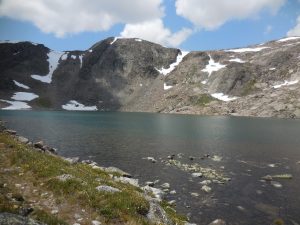 couple red paintbrushes and a dash of bright yellow to set it off.  Made me forget about the  difficulty of the trail.  Then out of Medicine Park into Florence Canyon (too narrow and rocky to be classified as a park I guess) and up to Florence Lake and the pass.  We took a well deserved fishing and lunch break at the lake below the pass.  By now we had hit 10,860′.  Fishing was so so.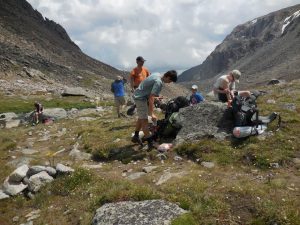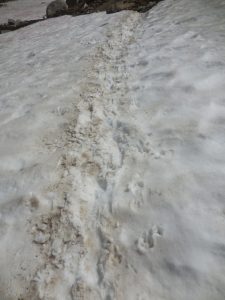 It was partly cloudy and cool, but comfy in the sun.  There was a constant breeze since after all we were in a pass.  The trick was to lay on the ground on the leeward side of some rocks and the wind went right over you.  After a considerable rest we trekked off uphill  through Florence Pass (10,930′) and then down down down to Mistymoon Lake at the base of Cloud Peak ( a mere 10,200′).  All-in-all a 9.1 mile mostly uphill trip today.  Mistymoon Lake is only about 2 miles down beyond the pass.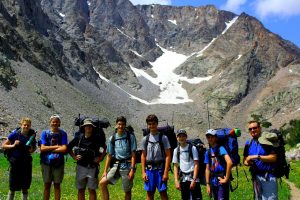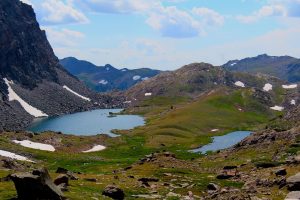 We set up camp at the first flat ground we could find on the south edge of the lake about 300 yards from the shoreline.  I was rewarded with a tussock of spruce trees well suited for my hammock on a ridge overlooking the rest of the campsite.    Its downside was that it looked to be where the horses were frequently tied.  The barnyard apples were all dried up but it did have a bit of a barnyard aroma about it still.   Part of the contingent was below me and the rest of them went downhill to a grassy field further south – a kind of split encampment.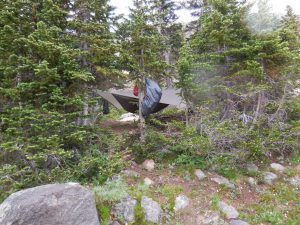 The common eating area was in the upper site just below my hammock area.  And here is where the Rossi Crew shone the brightest.  By the time my Crew got their much needed extra carbs for the day from the Rossi leftovers there was nothing left.  At about this time I began to wonder if I had misjudged the calories in my own meal plan.  I was eating my own stuff, which for the AT was fine from my experience.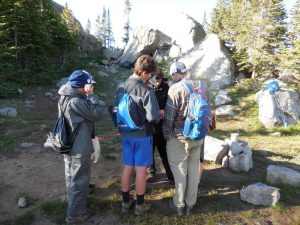 Fishing apparently was not on the agenda after our hike.  Like clockwork a storm came up at sunset and blew right over us with just a sprinkle.  Overnight things were dry and cool.  There is a chain of lakes downhill to the south along the Ten Sleeps trail from the head of the valley where we were.  Another spectacular view.  The Ten Sleeps trailhead to Mistymoon is a much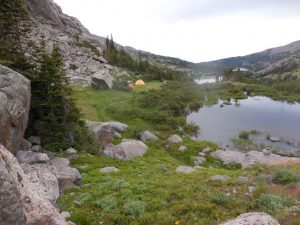 shorter and gentler route into Mistymoon.  The two trails together make a "C" shaped loop with US Route 16 tying the two trailheads together.  It is something like 50 miles on the road between them, however.
Day 6 – Wednesday, July 18 – Assault on Cloud Peak
I will remember this day and hike for a long, long time, because on it I met my match.  While at Seven Brothers, Dave Niswonger had run into a Ranger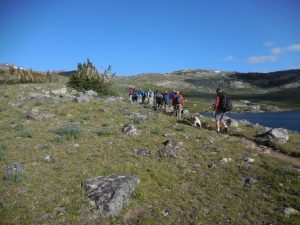 making his rounds, having hiked down from Florence Pass.  From him he was able to ascertain approximately where the trail up Cloud Peak came off of the Solitude Lake Loop trail, maybe 1.5 miles west of Mistymoon.  This really helped get us started.  The hike to the jump-off point was easy enough and I managed to get some really good marmot pictures as they eyed our passing – the male on a rock nearer to us and the rest of the family closer to the lakeside peering from behind another rock.  These guys are hard to find above ground, but the spring is the best time.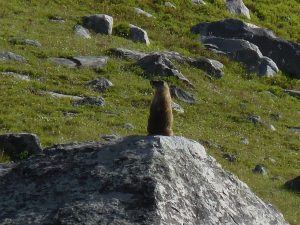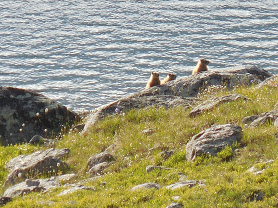 So from the beginning of the trail we went down maybe 200′ and across a park to the Paint Rock Creek crossing, with no footbridge of course.  There was a waterfall with a leap over point below it.  I didn't trust myself for the leap, so I scouted downstream to where the horse trail crossed.  My first screw up was slipping off a rock midstream and dunking a boot.  Rats, but no harm done except to my pride.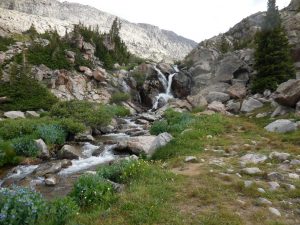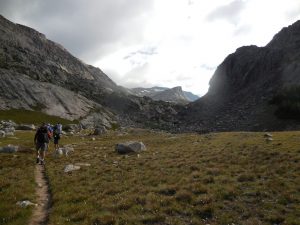 I then retraced back to the base of the falls and scaled up the rock face like the rest to hit the horse path.  I was logging the waypoints with my phone at this point and after the adventure saw that I had more than 1/2 of the route marked.  But my battery crapped out at this halfway point and that was that.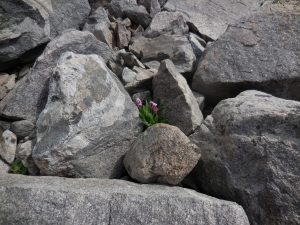 In hindsight the lower half of the trail was not difficult save for the elevation.  We were at 11,000′ and climbing.  It was still a horse path and easily seen most of the way, going through a low rocky ridge and into another grassy park.  But things changed at the uphill edge of this park as Paint Rock Creek petered out and the terrain turned into large, flat boulders and ridges.  The Crew split (first mistake) with most of the Scouts taking a flatter path closer to the stream.  John Lee and I and a couple others wasted a lot of energy navigating over and around a hillock.  Also at this point the trail dissolved into fingers of grassy gravel alternating with fingers of jumbled boulders.  As John and I fell further behind the Scouts spied a high point that they figured was the peak (wrong guess) and were soon sitting on the ridge looking down at us.  When they took note that we were continuing up this fingered swale they noted that their ridge line intersected up a ways with our general trajectory and so started moving to meet up with us.  At this point I think John was distracted with Suka pulling him ever onward and upward and stopped checking on me.  We lost sight of each other, and my real adventure began.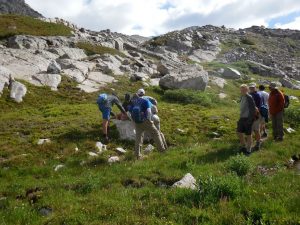 I should at this point mention the cairns, more specifically the multiplicity of cairns.  There were little piles of rocks everywhere.  They tended to go up and down the swale but obviously there were many more than one route to the top.  As our trail improvement, a traditional Scout endeavor for the hiking MB, we disassembled some of them as a service to future hikers.
Back to my adventure.  I caught site of Pete Sgroi up on the aforementioned ridge and we made eye contact, so I took a bearing on where the rest of the Crew was stopped and set course for it.  Two things were in my way – a snow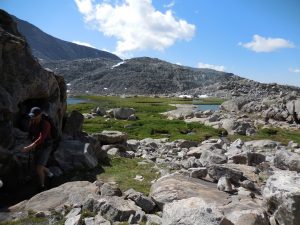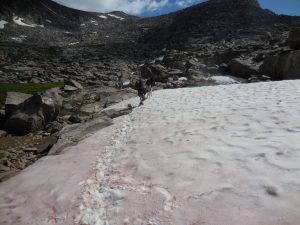 field and the fingers of boulders.  And the two of them were coincident across my intended path.
So I made a move to skirt the snow/ice uphill in a realized that I would have to cross it.  My legs were a bit wobbly by now and my balance was suffering from low carbs for sure.  On my second step into the ice field my right leg went through to my crotch (I always lead with my left, an old military habit).  I had pause for thought – "I could die out here, really".  I extricated my leg, no worse for the wear and devised a method across the snow using my hiking poles to probe each step in the snowfield.  OK, got that behind me.  Now just up this steep ridge of compact car sized boulders.  That's when I missed my mark and managed to wedge my right boot into a V-shaped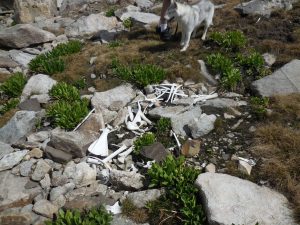 crevasse.  Not going to get it out vertically or to the front.  I was by now getting a bit tense and much more prayerful.  My conversation with Jesus was that I didn't think He had gotten me all this way to have me die here.  I remembered the pile of Elk bones I had passed a bit earlier.  So I tried kicking to the rear and it popped free.  Did I mention that both of my shins were bloodied by now.  My balance at this elevation and with this much exertion was not good.  Finally, finally I crested the ridge to find Pete and Eddie Sgroi and Peter Rossi in a little hollow among the rocks.  I sat down, relieved.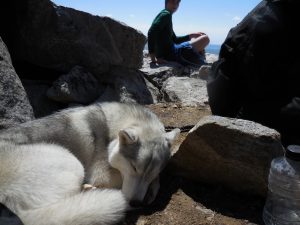 The approximate elevation where I was sitting was about 12,400′.  I am happy to say that I had enough sense at this point to realize that I was not going to get to the peak at 13, 170′.  Pete and Eddie headed out.  Peter stayed with me.  I'm not sure of his motive, but he told me he had no desire to get to the peak.  I had to believe him.  Everyone returned about an hour and a half later.  Dave N still had food, bless him, and gave me a tub of peanut butter and some crackers, as I remember.  I had not run out of water thankfully.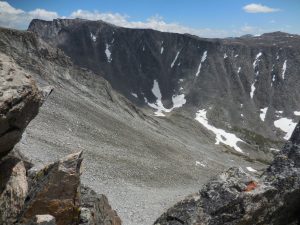 After a quick rest we began our descent.  My bloodied shins and the tale of my ascent had caught the attention of the Scouts and I assume the adults.  I was not privy to whatever conversations were being held about my general well-being but Peter Rossi and Owen Linczer, the two ranking Scouts, approached me and offered to sandwich me front and rear on the way down.  That was a noble gesture and I was smart enough to accept it gladly.  They also helped pick my route.  I was definitely not steady on my legs.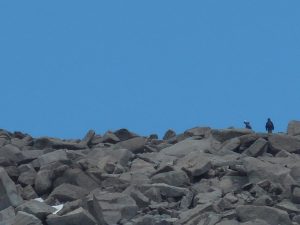 I was attempting to hop from boulder to boulder like the others but it wasn't going to work unless the gap was small and the landing level.  I just couldn't catch myself on landing.  Almost as soon as we started I made a hop, lost my balance and in catching myself got my right hiking pole wedged between two boulders and snapped it right in half.  I also managed to do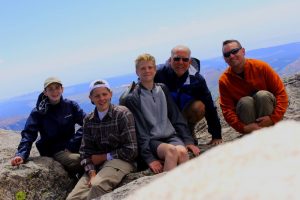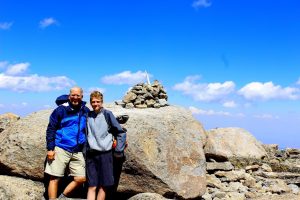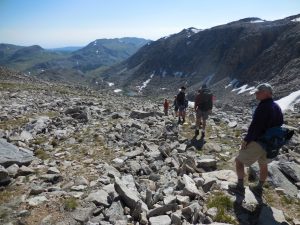 at least one face plant but somehow got my left hand in front of my face to pad the blow without any injury.  My shins, however, were taking a beating at every turn.  This is about when I decided, and informed Peter Rossi in front of me, that I wanted to walk around the various boulders, not hop between them, even if it meant climbing up and down.  This worked much better.  We were out of the boulder fields soon enough and after we went down a couple of 10′ rock faces we were at the creek bed.  From there it was not a big problem after negotiating the muddy headwaters area.  At one spot further down I lost my footing on some gravel and was starting to fall backward.  Owen caught me, he was that close.  This singular act of extreme kindness by Peter and Owen has meant more and more to me as time has passed.  It was done without fanfare, pretense or condescension.  These are two future Eagle Scouts for sure.
Adding embarrassment to injury, now that I had only one functioning pole, I did more than dunk a boot in Paint Rock Creek on the recrossing.  It was both boots and part of my left side.  By God's grace my cell phone in my left pants pocket did not go for a swim.  You would think I would have learned by now to get help, but no, not yet.  Two miles later I dunked my right boot crossing the creek at the outlet of Mistymoon as we approached camp.  All in all the assault took us 12 hours for the 10 mile round trip.  It was surely tough sledding.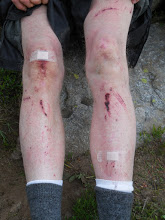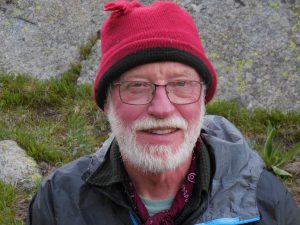 Arriving back at camp we had just enough time to enjoy dinner before dusk faded into darkness. There were no leftovers from dinner, and the pots were licked clean.  I patched up my shins with a couple of band-aids.
Day 7 – Thursday, July 19 – Return to Brothers Lakes
It was another crisp and breezy day at Mistymoon.  We were up at first light and busy breaking camp.  We were visited by two mounted Rangers with their two dogs.  We exchanged our information and had a nice talk about the Cloud Peak adventure.  Neither dog barked once and both were content to just wait the signal to go.  When we parted they headed up the trail toward Florence Pass, our intended route, and we never saw them again.
We made it back up to Florence Pass with no difficulty at all.  My legs were back under me after a good night's rest.  We broke for fishing and a breather at Florence Lake.  The boys had some success fishing, too, but not enough to pack them (actually it – one fish) out.  Of this group, Ian Kurdelak is the most dedicated, just like his Uncle Jim Barrett, one of our Eagle Scouts who is Will's age.
As you may remember I was now down one trekking pole.  I generated alot of laughs as I spent an hour in camp the evening before using Dave's stash of Gorilla tape (he had everything with him) attempting to repair the shattered carbon fiber pole, which in the end, of course, couldn't hold any weight at all.  So my first test in mono-pole mode was crossing North Clear Creek at its origin coming out of Florence Lake.  Not too deep, but very wide here for sure.  Bless Dave Niswonger, he negotiated across then passed one of his poles back to me via some more surefooted Scouts.  My pride was definitely an obstacle to the cause and it was at this moment that the whole ascent/descent of Cloud Peak, the Scouts sandwiching me front and back and the need for a second pole came into focus.  This is part of what Scouting is about for me.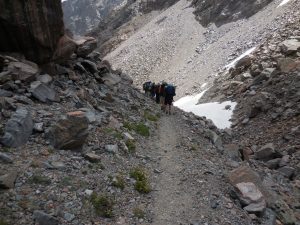 Then back down over the snow field crossing the trail, Florence Valley and a stop for lunch at the quarter acre shelf of a field at the eastern end of Medicine Park overlooking Medicine Cabin park (see the reference to it in the earlier picture).  Somehow, I was short on water and took some from one of the Crew, only to have most of it leak out the bottom of my pack.  I have since verified that the bladder is fine.  I have only recently realized that I likely squeezed it out of the bite valve while using the pack as a backrest during lunch.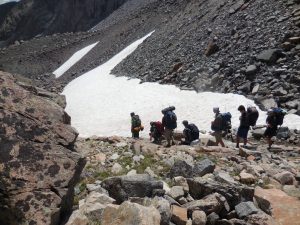 At the time this was another worry among several for the day.  The hike was downhill from here until the last half mile, with two boots-off crossings and the one ramshackle foot log bridge we negotiated on the way up.  Having learned my lesson by now I used one of Dave's poles for the foot log and the first boots-off crossing.  By then we were back into the forest, and one loving Scout scrounged me a walking stick from among the fallen limbs. It was serviceable enough for a ways but then I replaced it with one more to my liking with smaller diameter, lighter and straighter.  I am happy to report that I didn't dunk a boot on the return trip due to these great kindnesses, and that my provisional extra pole now occupies an honored place in my man cave to preserve this memory.
The second boots-off crossing was through North Clear Creek at the base of the ascent up to the Brothers Lakes plateau.  After 8.6 miles of travel we all were more than a little tired but excited to share our adventure with the rest.  In the last 200 yards I caught a rock with my right toe and caught myself with the replacement pole but not before I put the handle up into my left cheek just below the cheekbone.  It drew some blood and I was mad that I hadn't whittled down the broken end to a smoother surface, which would have lessened the injury.  It is still tender there when I poke on it near the top of the roots of my teeth after all these months.
Back in camp we shared the tale of our three day adventure and I showed everyone my scabby shins.  The others regaled us with their fishing saga, which met with only moderate success.  It was hard fishing from shore and the water was still very cold.  That evening was the time when John Loughran came up with the campfire arrangement using his wood fired backpacking stove.  That was very pleasant.  And our Crew had dessert with the Rossi/Niswonger Crew, for which I was glad.
Day 8 – Friday, July 20 – To the Hunter Trailhead and Beyond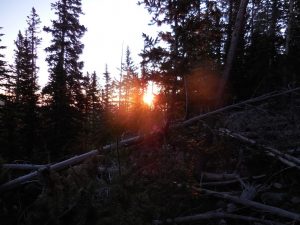 It was another dry and starlit night and day broke crisply.  As has been the modus operandi for this whole trek the Lee Crew was up and at it and on the trail first.  There is an advantage to very simple, albeit insufficient at times, food.  At the trail junction we decided for some change of pace, and largely to avoid the North Clear Creek and French Creek ditch crossings yet again, to take the alternate route back to Hunter on USFS Trail 045 and USFS 395.  This way we had only one crossing and had heard that it was fordable for the nimble footed with boots on.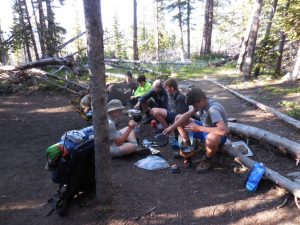 So down the eastern horse path we went with the expected loose boulders and steep slopes.  The trail at the wilderness area boundary opened into an enormous pasture, Buffalo Park, where the other Crews had encountered a herd of cattle on their way in.  Today they were not to be seen.  It was coolish but the sun was still piercing.  The Crew held together pretty well.  We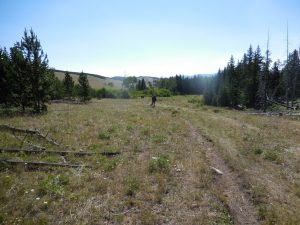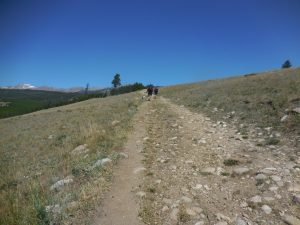 had a couple fence breaks to go through and a bit of up and down.
We had lunch in a grove of trees at the far side of the North Clear Creek crossing.  I made the tricky crossing without taking on any water.  My legs were in much better condition by now.
I remembered to recover my unneeded fuel canister that I had stashed at our original campsite on Sunday as we passed.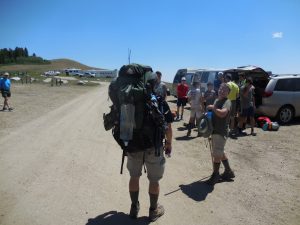 Once everyone was back at the vehicles and since it was still just after lunchtime we had a pow-wow about our evening campsite.  The decision was made to drive towards our planned destination of Devil's Tower National Monument and find a campsite at Custer State Park SD near Mt. Rushmore, our planned stop the next day.  Now a bit of background.  Only those with Verizon phone coverage had any reception on the trip west from Mitchell and at Hunter.  It was so irritating then that John Loughran, when he finally did get a connection, negotiated a rebate on his monthly bill from whoever he was with.  So now with the chips on the table it fell to me to find and reserve a campsite for the evening from the backseat of the Sgroi van.  By a minor miracle and the grace of Almighty God I got to the central reservation desk for the South Dakota parks.  No room at Custer State Park.  What about this place Keyhole State Park?  There is, great, let's book it.  Done in about 30 minutes of map reading and travel time ciphering.  Once the last of the Kotttkamp/Loughran crew hiked in we were pretty much ready to roll.
Now for lunch plans.  The Lees announced that they were headed for the Twin Cities after lunch, so we would be down 3 after that.  Since I wasn't driving I was on Google searchingrestaurants  as we drove for a final celebration meal  and also with something for my wheat-free diet.  Found a steakhouse near Gillette WY on our route and everyone followed us there.  John had realized that the place was closed but his text didn't get to me in time.  We pulled into the parking lot and he rolled down his window and filled me in.  "You have any ideas", I asked.  There's this barbeque place down at the next exit.  Say no more.  We found our way to Pokey's BBQ.  It was an unassuming storefront in a strip mall.  John disembarked to check it out since we had two vans full of minors and it had the outward appearance of a bar.  When he emerged he brought news that he had negotiated a flat price per person, all we could eat with sides.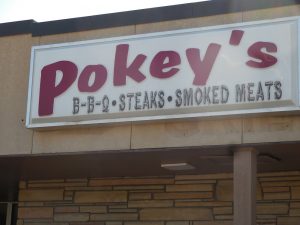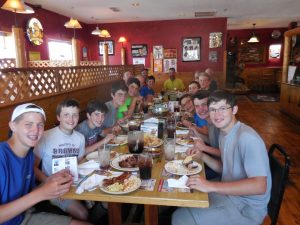 Whoa!  In we went, leaving Suka tied up on the porch.  What ensued from this point is bringing tears to my eyes even now.  We were all seated at one long table with a bench seat on one side.  The waitresses were classy, the food was outstanding, and the price was very, very fair.  A question for which all adult eyes turned to me was, beer?  My proclamation – no, 'cause we are on Scout time now .  There were no arguments.  But what really did it for me was the picture of Willie Nelson with an autographed apron on hanging on the wall behind me.  Then I noted some platters on the wall autographed by ZZTop, John Conlee and others of Country music fame.  I was moved enough to sign and present my scarf to our head waitress to put up there with these.  Only other place that I've ever done that is at Philmont.
After this very fine lunch we said goodbye to the Lees and Suka, then set course for Keyhole State Park near Moorcroft WY, about 45 miles.  We got a lakefront site with lots of room.  Everyone took a swim.  The downside was that there were no showers to be had.  The lake worked with our biodegradable soap.  Set up my hammock and had a great night's sleep thinking about BBQ.  Big day of sightseeing planned for tomorrow.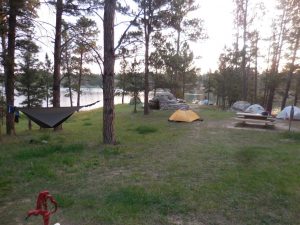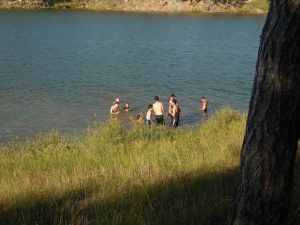 Day 9 – Saturday, July 21 – Bear's Tipi and Mount Rushmore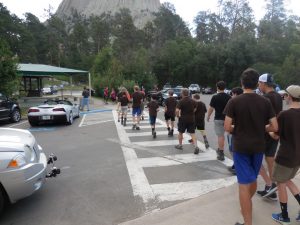 Up at daybreak and packed myself up.  Roused the Troops and we broke camp after breakfast.  Warm and rainless.  Our first stop today was what European Americans call Devil's Tower, but the plains Indian tribes prefer Bear's Tipi or Bear Lodge.  The nearby mountain range is in fact named the Bear Lodge mountains.  The devil so the story goes came from a mistranslation by Col Richard Dodge's assistant from the legend surrounding this amazing pinnacle of lava.  There are three theories on its formation, but all three involve molten magna cooling underground and eventually exposed by massive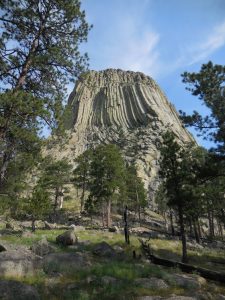 erosion.  It may be simply an underground bulge, or a laccolithic intrusion or the plug of a former volcano.  This latter idea seems least likely since there is no evidence of volcanic lava flow or ash anywhere in the area.  This is the first of the national monuments .  It was established by Teddy Roosevelt in 1906 using his power of Presidential Executive Order during the national parks conservation era, much to the chagrin of his opponents.  The legends of the native  northern plains tribes are similar in that they all involve a huge bear with evil intent that claws the sides of the tower, but the details vary a bit, either trying to get at Indian braves (an adult moral) or in the case of the Arapahoe a selfish sister turned into a bear trying to steal a ball belonging to her sister (child moral).  The evil bear common to these legends would explain the entry of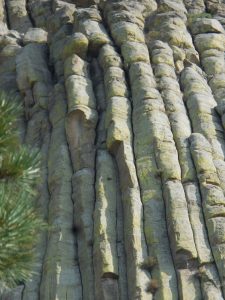 "devil" into the incorrect translation and naming.  One of the stories includes the Great Bear constellation that is visible seasonally during the year over the tower, which is an interesting link to Greek mythology.  So for the native Americans this is known as Bear's Tipi or Lodge, and the inclusion of reference to the devil is not appreciated.  It is their most sacred site in the plains.  Tribes from as far east as Oklahoma revere and visit the site regularly.  It was normal for migration to Bear's Tipi annually in former times.  The rock is certainly impressive.
Then on to Custer SD for lunch before touring Mount Rushmore about 130 miles to the southeast.  We split for lunch between a Subway and the next door pizzeria.  There was a Frontier Days festival in full swing and the place was packed.  We must have taken the longest route to the monument. It seemed to take forever, but once there we took it all in.  From when the family was there back on our trip to Yellowstone in 1990 they have built a mall with shops and moved the museum to its lower level.  What I wanted to revisit was the original model to confirm the additional faces that were omitted from the final work due to a fault in the rock face.  There is no info on the internet confirming this, however, so maybe I remember incorrectly.  They were all supposed to be sculpted down to their waists, but this was never finished.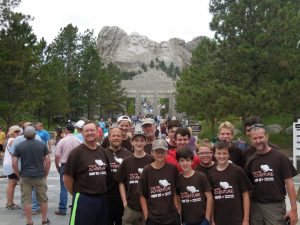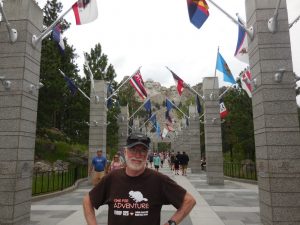 We didn't have too much time to spend here, but we had enough.  Then back into the vans and through Rapid City to I-90 and eastward to Lake Vermilion SRA at Mitchell.  We arrived with enough time to make dinner and set up camp before dark.  We had the same campsite as on the way out.  Still no rain.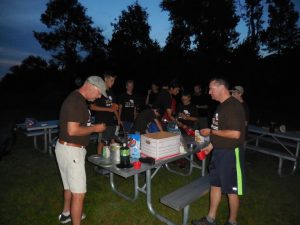 Day 10 – Sunday, July 22 – Homeward Bound
Up at daybreak, showered, packed up, ate breakfast and took up my spot behind Pete Sgroi in his van for the return trip.  Not much to report today except that nothing catastrophic happened, like a crash or car trouble.  For lunch we ended up at a Burger King in LaCroix WI.  I gathered up my food at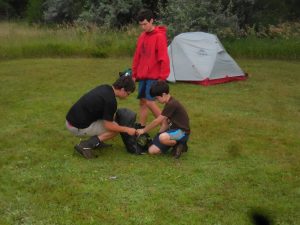 the adjacent gas station quick mart – jerky and an iced tea – which I added to the remains of my travel meals.  We ate on the move.  Traffic around Rockford and into Chicago was normal, without backups but plenty of construction slowdowns.  We arrived back at the PoP Center in time for dinner.  It was a great trip.