Introduction
This trip came with a long prequel, that being Johannes' High School Graduation on the Friday before Memorial Day.  So we started out with two days to Falls Church VA using a stop in Pittsburgh at Betty and Spencer's for dinner and the night.  Once to Karen and Nate's we chose to stay at the nearby Comfort Inn rather than pushing Johannes from his bedroom.  Besides, Karen's siblings – Kevin, Liz, Erin – and their husbands were all in town too and her brother Kevin was staying with her, making things even more cramped.  This worked out real well.  We also got to Karen & Nate's parish – St. Joseph – for Mass on Sunday with an outstanding gospel liturgy live with Nate singing bass.  Once we had taken care of getting Johannes all graduated we left for Harpers Ferry on Monday after breakfast with Karen & Nate to get in position for the hike.
For added adventure Nate invited himself to be part of the hike and Larry and he both roped Johannes into coming along.  We will be doing the 41 mile Maryland segment and Larry will then continue, after being resupplied by Mary Ann, to the halfway point of the trail near Pine Grove Furnace SP in PA.  Since the trail is currently 2,194.3 miles long (2022) the halfway point is officially 1,097.15 miles, so Larry tacked on a bit more to make the convenient stopping point at Pine Grove Furnace SP, milepost 1,105.1, which also coincides with the AT Museum.  Also it needs to be remembered that the official trail length at this point in time does not include the 8.8 miles from Amicalola Falls SP in GA up to the crest of Springer Mountain, the official start of the trail that were once part of the trail.  Rumor has it that this will be added back to the trail soon.
Another point to note is that this will be only Larry's second section hike south to north (NoBo – North Bound).  The previous was his first AT hike from Spivey Gap TN to Route 19 near Elk Park NC way back in 2002.  We are hoping that the "Bubble" from Amicalola Falls SP in GA will not have reached this far north yet and things won't be too crowded.  But it is Memorial Day week so who knows how many day and weekend hikers will be about?
Planning and Preparation
The whole hike is about 79 miles, 41 in MD and 39 in PA.  Nate and Hannes will be along for the first 41.  The hike plan is two 4-day parts that obviously average a bit more than 10 miles/day for the first part and a little bit less than 10 mpd for the second.  The elevation changes are not as drastic as those in SW VA, but one never knows until one actually does the trail how difficult it will be.
As usual Larry has hiked at least twice as far at home carrying more weight and keeping a quicker pace so as to simulate the mountains.  The highest elevation on the route will be about 2,062′ and the lowest 246′ crossing the Potomac River at the very beginning.  The largest climb will be about 800′.
One big addition to our preparations was to purchase the FarOut hiking software specifically for the AT thru Maryland and Pennsylvania.  It operates with and without cell coverage, gives your topo GPS and elevation cross section locations and has realtime posts from hikers on the trail concerning water, trail and shelter conditions.   Both Nate and I have it on our phones.  It has satellite positioning and so works when cellular coverage is absent.
Equipment Upgrades
Larry managed to take nearly another 9.5 oz out of his base pack weight from last September.
The biggest change has been with Larry's hammock suspension.  He learned how to use Amsteel plastic cable to make "whoopie slings" thus taking 4 ounces off the weight and at the same time improving as well as simplifying the hanging procedure.  Amsteel cable is 8-strand woven plastic cording that is hollow in the center, so when you thread the cable back inside itself it works like a Chinese finger puzzle that you can't pull apart.  The 7/64″ cable will hold 1,500#.  But it slides through when you compress it to spring the outer cord open.  It's ingenious.  This of course involved restringing much of the original Hennessy hammock cordage using bowline knots.  The end result besides less weight was a flatter, less sagging, less banana-like and more comfortable hammock bottom.  Plus, plus, plus, plus!
The other upgrade was a last minute change from Nate, trading in my Goretex® "Rocky Socks" for Showers Pass waterproof socks.  They are akin to the FITS compression socks I am already using.  The "Rockies" tend to bunch up in the toe area leading to blood blisters under a couple of Larry's nails, and also haven't kept his feet all that dry of late.  The Showers Pass units should improve the dryness and eliminate the nail blisters.  Little or no net weight gain was involved either.
Larry decided to go with the 4 oz in place of the 8 oz isobutane/propane fuel canister.  His data shows he uses on average 25 gr per day and the 4 oz canister holds 110 gr.  Since Nate and Yo are bringing their own fuel and stove this 110 gr is perfect for each half of the trek.  He also found at REI Pittsburgh a folding tripod for extending the stability of the standard small 4 ounce container to match the 8 oz canister footprint, and this sealed the deal.  Net weight reduction was about 5.5 oz.
The final upgrade was Nate's ZOLEO GPS tracker.  Operating on wi-fi, internet AND satellite Mary Ann and Karen will always know our precise location.  It includes texting capability. It also has an SOS button that links to 911 from anywhere.  Weighs about 4 ounces.  We  set it to send a signal from our location every 30 minutes.
Day 0 – Monday, May 30 (Memorial Day) – Falls Church VA to Frederick MD
Mary Ann and Larry departed from Karen & Nate's place after a wonderful breakfast of eggs with Nate's own homemade goetta.  This was unique in its use of chicken broth and marjoram.  We retrieved Larry's food for the trail from Karen's extra fridge and freezer and were on our way by roughly 1015.   The trip to Harpers Ferry National Historical Park (aka "The Point") via I-270/I-70/US-340 was uneventful.  We managed to get in free with our lifetime NP pass and then got Nate's 14-day parking pass in the same lot to give to him tomorrow.  Took the shuttle bus down to the Point.
Larry insisted on hiking the 1/2 mile of the AT he and Anna had  bypassed while going to the ATC Headquarters last year and that we did, including lunch at the Cannonball Diner with the same waitress (Amber) as he and Anna had last May at the start of their hike south to Shenandoah NP.  Cool really.  The setting for this short hike was sunny and 92° uphill to St. Paul's CC and the Jefferson Rock, then back down and along the Shenandoah River and Winchester & Potomac RR back to the shuttle  bus stop, and back to the car.  A longer-than-expected drive because of a traffic backup on US-340 followed back to Frederick MD to the Hilton Home2 Suites, dinner at Cracker Barrel and a trip to Walmart for AAA batteries and some nasal spray for Larry and an insulated lunch box for Mary Ann.  Broke in a newbie waitress at Cracker Barrel (Laurissa), one of our special ministries.  They were really slow when we were there around 1845.  Called Nate on arrangements for tomorrow morning, started this blog and called it a day.
On the Trail Again
Day 1 – Tuesday, May 31 – Harpers Ferry WV to Ed Garvey Shelter MD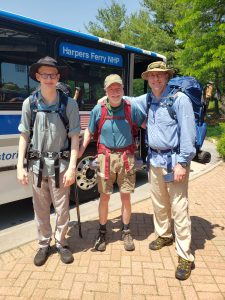 The hardest part about today was waiting for Nate and Hannes to get going from home and get here.  There were several reasons for their need for last minute prep, including food purchasing and packing, that were related to working for a living and sickness earlier in the month.  Larry was ready on the sofa at about 0730.  We got word that they were on the road at around 1100, met them at the park, got the parking pass worked out with the Rangers and were at the foot of the bridge over the Potomac at 1215.  Off we went on the old C&O Towpath in 92° heat.  We saw some snapping turtles in the old canal, then turned across the railroad tracks after waiting for a coal train to pass.  At this point we met "Zipper" a NoBo through hiker whose name came from a broken pack zipper early on that was very complicated to get fixed.  He had started from Springer on January 28, the earliest time I've ever heard for a start.  So he was the vanguard of the coming "Bubble".  After crossing the tracks it was under US-340, over Weaverton Road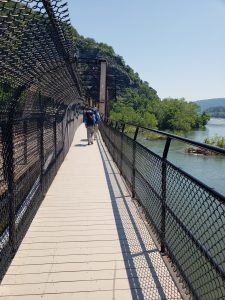 and uphill for a stretch to lunch at 1335.  My first mistake was to eat a full lunch, which made the ensuing uphill tougher than it needed to be.  Soon all of us realized we were on the trail with the uphill and likely Hannes was surprised.  It was hot.  The climb was 900 ' in 1.4 miles, our biggest for the hike.  Welcome to the AT boys.  With the late start we managed to drag ourselves into the Ed Garvey shelter at 6.3 miles at 1610 and decided to stop for the day instead of carrying on to Crampton Gap Shelter, our intended destination.  Chalk it up to less than optimum conditioning, inexperience and the heat.  But we were happy.  Nate and Hannes managed to do their long overdue shakedown of their new hammocks and Nate patiently taught Hannes how to set up camp, get and process water and the backpacking routine we would fine tune for the next 3 days.  We didn't forget anything, which was a plus and I didn't fall today, another plus.
The lone other resident of the shelter was "Lucky", who was dealing with his fiancé having drained his bank account and run off with another fella leaving him basically penniless and searching for a way back home to Oregon (yep, a bit far from home).  More on him later.
Sleeping besides being new in the hammocks, was very muggy hot.  I had been practicing in the backyard but I was still fairly miserable.  Nate and Hannes equally so.   And so the first day ended 4.1 miles behind schedule.
Miles today:  6.3;  Total miles:  6.3
Day 2 – Wednesday, June 1 – Ed Garvey Shelter MD to Dahlgren SP Backpacker Campground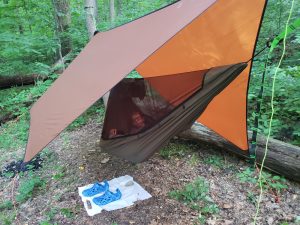 After chewing on Lucky's story overnight I was moved to do something, and finding him to be a Christian I laid hands on him and prayed for Jesus' intersession.  He was heading to Harpers Ferry to get a PO address so that he could get his birth certificate sent to him and get work.  On the way out to the main trail Nate and I took up a collection and handed him $40, which he refused to take until I really pressed it on him.  As usual, a very interesting start to the trek.  You do what you can; living your faith sometimes takes both prayer and action (James  2: 14-16).
Breaking camp didn't take too much prodding of my new protégés, but it was painfully slow for me because everything was new for Hannes.  Nate showed great fatherly care for him and filled in the missing experience himself.  Me, used to doing whatever I want by myself, just had to deal with it.  Low expectations always help in these situations, but I was finding it difficult to muster up that much mental patience.  The ministering to Lucky helped me focus.  As it was we broke camp at 0700.  In the fall I can't get on the trail until then anyway because of the later sunrise so what's the problem I asked myself.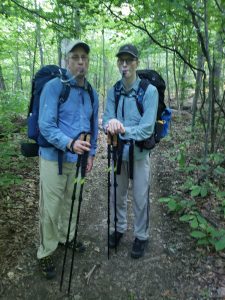 The plan was to make up as much of the ground left from yesterday as we can without burning poor Hannes out.  We set our sights on about 12 miles to Washington Monument State Park.  We passed Crampton Shelter at 0930 after a steep uphill from Gathland State Park.  There were running water and flush johns at Gathland.  Hiking in the cool of the early morning definitely raised our spirits.  Morale was high.
We crested out at White Rocks at 1106 and soon found a suitable lunch spot trailside at 1140.  Some trail  runners passed by in both directions.  Trail runners are always a sign that the trail is good, not killer rocky.  It's a vacation week and this portion of the trail  was apparently a popular day or weekend destination. By this point we had resolved to get to Dahlgren SP Backpacker Campground for the day.  Hannes' knees, shoulders, hips and heels are giving him trouble and we can't seem to feed enough calories into him fast enough.  Arrived at Dahlgren at 1535, 10.9 miles in 5 hours. It was hard to pass this site up with a mowed lawn setting, picnic tables, shower house, running water AND a trash can.  Trail Angels had left some food at the shower house – granola bars, freeze dried pasta dishes and some other goodies, which I partook of.  We all took advantage of the showers after setting up camp.  Hannes pitched his own hammock.  Weather was  cooling off overnight.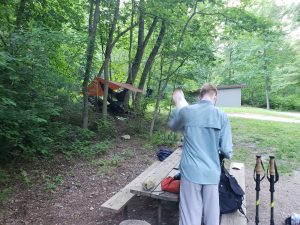 This shelter had a wandering homeless resident included at no extra charge.  He was short, scrawny with long stringy black hair and wearing an oversized yellow tee shirt that came down to about his knees (yes, of course he was wearing pants, too).  I judged him to be ADD as he was constantly moving.  He was harmless enough – he came over to me and asked if the extra food left on the bench in front of the shower house was ours or what.  I told him it was some "trail magic" left by a local PATC  member (Potomac Appalachian Trail Club – the volunteer group tending this portion of the trail) for whoever.   He got excited,  but only took a portion of it instead of all of it.  Later he said that he had to go up the trail for a bit and could I watch his "stuff" – he had two drawstring bags and no pack.  I said sure; he came back as he said a couple hours later and thanked me.  I found him after that running hot water over the container of whatever it was he was having for dinner in the bathroom sink to "cook" it.  I love the trail adventure.
Miles today:  10.9;  Total miles:  17.2 (5.7 miles behind my plan)
Day 3 – Thursday, June 2 – Dahlgren SP Backpacker CG to Pogo Trailcamp
Nate's skill as a map reader and navigator really came to the fore today.  We are behind schedule and need to make up 5.7 miles.  His idea was to divide the remaining miles into days of equal feet of ascent + descent, rather than just miles.  Complicating our situation was that Maryland does not allow camping trailside, rather only at designated places.   So our plan became go 14.0 miles today to Ensign Cowall Shelter, and then 9.6 miles the last day to pickup.
I was up at 0415, did my prayer time, used the john (what a luxury), retrieved the food from the bear bag pole, did my morning toilet, packed up the hammock and my gear, got breakfast organized, cooked and was starting to eat when Nate and Hannes started banging around getting going.  By 0630 I was ready to walk. and we hit the trail sometime around 0715.
Arrived uphill at the original Washington Monument, built by the residents of Boonsboro MD in 1827,  by 0834 and spent some time taking in the view from the top.  My idol, Earl Shafer, first confirmed thru-hiker, did the same thing in the same place in 1949.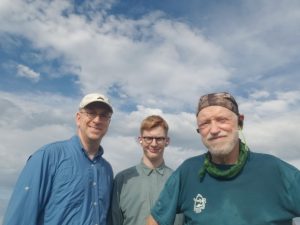 The next big attraction for today was crossing the footbridge over I-70 at 1015.  Mary Ann and I had driven under it on the way to Nate's earlier in the week.  I don't know why but I found this pretty exciting.  Noisy as all get out.  It was followed by a serious uphill toward Annapolis Rocks, which we skipped except Hannes made a pit stop (0.25 miles each direction) at the privy) and continued on up to the crest for lunch at 1100.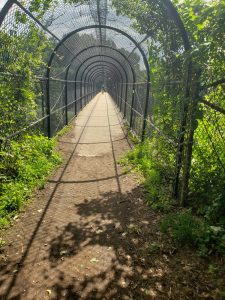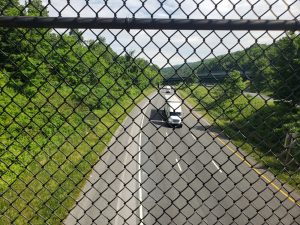 By 1245 we were at Black Rock Cliffs. True to form Nate climbed up to the pinnacle and let out a whoop-ass yell, trying to generate an echo.  He got one – someone answered him back.  When we got back to the main trail some little gal came by and told him, "you just made my day!"  Sometimes you gotta do something crazy out here.  Good old Nate.  There was a great view from the rocks.
Not much to report for the afternoon except that I fell trying to retrieve my phone from the side of the trail when it slipped from my hand.  I wasn't moving on the trail but my trailing foot caught a short stump as I reached for the phone and down I went. This one doesn't count, either, since I was stationary before it happened.  However, a bit further on I went down to avoid turning my right ankle, and that one counts.  It was more or less controlled but I did get a small scrape on my right wrist in the process.
We got to Black Rock Creek after lunch, a nice stream and we watered up.  While there Nate in consulting the FarOut comments from hikers earlier this week learned that there was a squatter living at the Ensign Cowall Shelter, the one that was our first choice as a stopping point tonight.  We took this as a sign to stop 4.8 miles short of this goal at the Pogo Memorial Trail Camp and make tomorrow a longer day.  This turned out to be the best campsite of this portion of the trek – on the hillside with tent pads cleared of stones, a privy and a bear bag pole, no one else within earshot, real wilderness.  So we flip-flopped the trail distances from our earlier plan for the last two days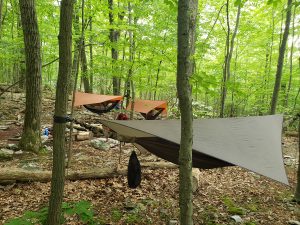 I went ahead to find the campsites while they were still re-watering and after a bit of confusion we were back together in Group Site 1.  There were two entrances to the hillside site but the first had "Pogo" in small print that I missed.  The second had Pogo in bold print, so I was properly oriented.  Nate of course saw the first Pogo sign and came in that way.
When I first came in there was a couple in one of the tent sites.  And I had passed an elderly gentleman on the trail enroute with no pack.  I immediately wondered if this could be our squatter.  Hmmm.  So as I passed this couple I asked if this fella was part of their group.  To my surprise they were Deutscher and spoke no English.  My question only got them worried. When Nate arrived I told him the situation, and he reported he had talked to the "old guy" and he was a local who frequently hiked this trail section.  After that Nate went down to the couple and got them straightened out auf Deutsch.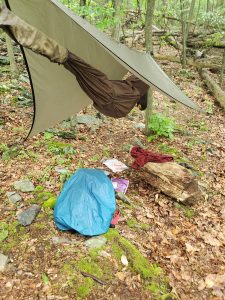 It was perfect timing that we stopped when we did because after getting the hammocks set up and all arranged the rain started.  It was light, but more than a drizzle.  This is the beauty of hammocks.  You have a built-in rain fly over it and so you cinch the body above your head, drag all your gear underneath, pull some kind of butt log or rock under it for a seat, set up a flat rock (believe me there were plenty of rocks) for a cookstove stand, then cook and eat your dinner while the rain falls.  And if it is a perfect day like this one the rain stops soon after you've finished eating and you resume your normal activity. So there we were, Nate, Hannes and I each under our little shelter eating and talking across the campsite.
Because I had too much time on my hands and also a coincident brain cramp I decided to hang my "'Coon" bag up for the night.  It will not protect the food from a bear because it is not high and isolated from the tree trunk enough but it will keep chipmunks, mice, skunks, opossum and raccoons out.  So I grabbed my sack of food and ventured up the slope to find a sapling.  On my first try after a tangled mess of cord I finally got it up only to find that the sapling was too weak to hold it up.  So I abandoned that one and found another.  Again after a tangled mess of cord I managed to get the bag up and tied off.  I walked back down the hillside to the fire ring, sat down and immediately realized that I'd forgotten to put my toiletries bag up with the food (too many bear attracting smellables in dental floss, toothpaste and mouthwash to leave down).  So back up I went.  On my return I asked Nate, "Where are you going?"  He said, "To put our food up on the bear bag pole over by the privy."  Remember my brain cramp?  I had come in that way past the pole and privy.  So it was back up the hill, take down the bag, walk over to the the bear bag pole and hang it up.  There, finally, and just in time for bed.
Miles today:  9.2;  Total miles:  26.4 (4.8 miles behind our plan)
Day 4 – Friday, June 3 – Pogo Trailcamp to MD/PA State Line
It's pickup day!  Only 14.6 miles to a hot shower and dinner out.
We really hit our stride today breaking camp in the cool of the morning at 0705.  It didn't rain anymore overnight so things were dry to pack up.  My first official act this morning was to lose my balance getting out of the hammock and fall on my face, but since I wasn't hiking yet it didn't count as an official reportable fall.  By the time I got back from the privy with the food bags Nate was up and packing and Hannes was close behind him.
By 0830 we were closing in on the "pimple" above Ensign Cowall Shelter, my term for a superfluous short, steep uphill and downhill,   Hannes' hips and shoulders were giving him trouble and we were stopping more often than I would like.  But when we were hiking we were moving fast and more importantly no one was hurt.  We topped out at 0910 and were headed 6 tenths down to water and the shelter.  We stopped at the creek to get water and since I didn't need any I decided to get a head start, so up the hill I went toward the shelter but got confused by the blazes, turned around and hiked back to the fork and up what turned out to be a blue blazed side trail, turned around and retraced my steps and found the sidetrail to the shelter with Nate's pack sitting at the sign.  Figuring he had to do his morning business I walked down to the privy and called, "Nate?"  No answer. Hmm.  So I hiked back up to the trail and just about the time I was getting concerned here came Nate up behind me from the privy.  By the way there was no sign of the squatter except for his 2# Coleman propane bottles and other non-backpacker type equipment inside.  Nate also reported that the privy seat was crapped on and required a "hover" move to use.  By now Hannes was moving somewhere up the trail ahead of us, likely eating something :).  So far an interesting morning and it was only 1000.
At some point my toes were hurting and I stopped to adjust my boot laces.  Loosening them was the trick rather than tightening them – it was a matter of blood circulation rather than them not being mashed into the front of the boot.  But of course this put me behind Nate who was behind Hannes, and the race was on.  The trail flattened out into a rock-less straight section through a freshly mown hayfield and the aroma was marvelous.  I caught sight of Nate 200 yards in front of me there.  We have been leap frogging the mushroom hunter and a short, squat couple all morning and now passed them for the final time on a board walk through a sometimes mushy area in the woods between the hay fields.  Finally caught up to the youngsters at the crest of the rise after Ensign Cowall Shelter taking a snack break.  I left them there and headed downhill toward Little Antietam Creek and Raven Rock Road (MD-491).  Hannes knees are giving him a lot of trouble, so much so that hips and shoulders are not being mentioned anymore, at least to me.  Hit Little Antietam Creek at 1150, crossed  it on some well placed large stepping stones, crossed the road and it was basically now catch me if you can for lunch at Raven Rocks Shelter at the top of the next rise.   The advice in the trail guide was to be careful crossing Antietam Creek in high water.  There was an attempt at a hand rope for balance upstream of the stepping stones I used, but there was also information on a bypass that would require backtracking 0.8 miles to Warren Hollow Road.  The current was swift in this location even at low water.
I was so intent on motoring up the incline to Raven Rocks Shelter, head down watching my feet, with a break about every 38 (1/3 of a tenth mile) or 55 paces (1/2 of a tenth mile), that I blew right by the Raven Rocks overlook side trail.  The AT improved to a rock-free flat section to the shelter and I was on my normal 3 mph clip for the rest of the way to lunch.  Arrived at the sidetrail to the shelter at 1232 and when I got there took my pack and boots off and relaxed.  Hannes and Nate arrived.  They had stopped for the overlook and came in maybe 20 minutes behind me.  Did lunch, saddled up and were back on the move at 1345  on the last 5 miles toward Mom. I told her 1600 for our arrival time barring anymore rockfields.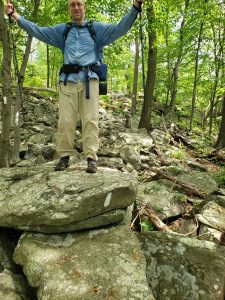 Right on cue that's when the rock fields started.  If Hannes' knees were hurting him before, this took it to a new level that included his Achilles tendons and heels as well.  To his credit he sucked it up with only enough minor complaints,  to know when to take a break.  Thankfully the very last 2 mile stretch was flat and mostly rock free into Pen-Mar Park.  We finally got there at 1621, after a stop to wrap one of Hannes' ankles.  We were in good spirits.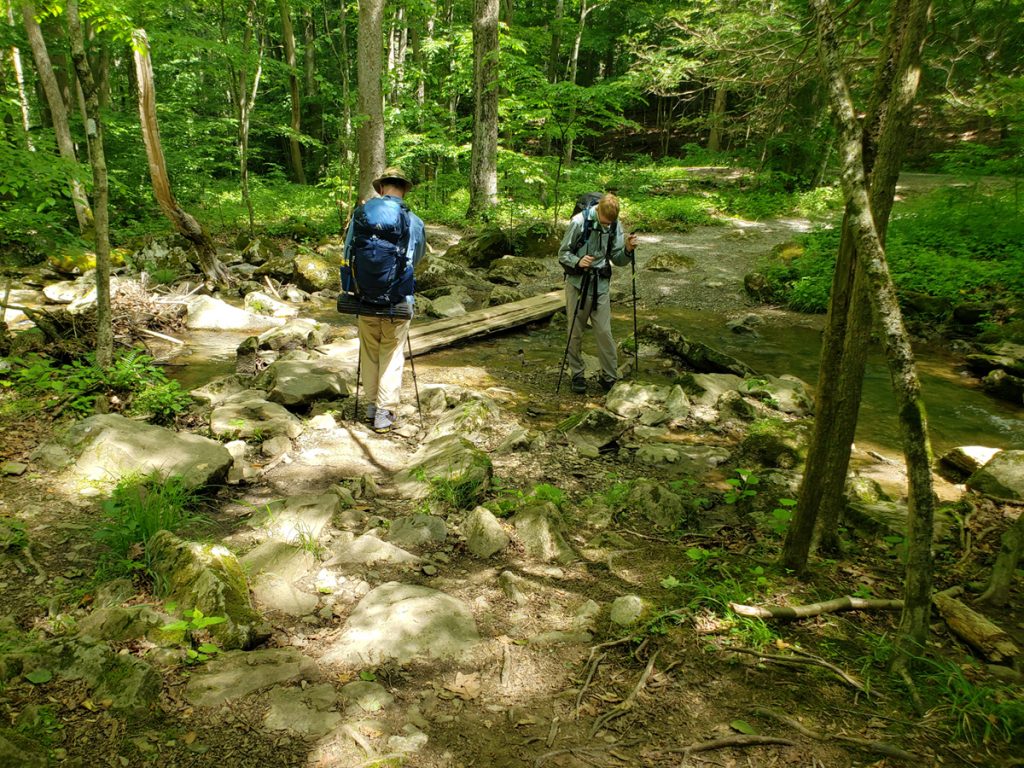 Soon afterward Hannes and I were at the Home2 Suites in Fredrick MD getting showers while Nate and Mom drove to Harpers Ferry to retrieve Nate's car.  Then it was Nate's turn in the shower.  We then adjourned to the Longhorn Steakhouse with our waitress Paulette for some appetizers and big 'ol steaks.  After dinner we said our goodbyes and the first half of the trek ended.  Nate loaned me his ZOLEO for the next part of the trek which was very gracious, and made Mary Ann and I feel much safer.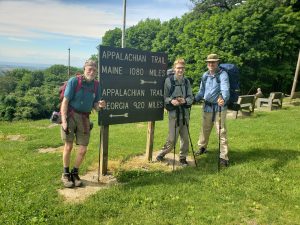 Miles today:  14.6; Total miles:  41.0
Day 5 – Saturday, June 4 – MD/PA State Line to Tumbling Run Shelters  PA
Restocked and refreshed I was ready to get back into solo mode.  Home2 Suites was out of their breakfast egg skillet bowl and nothing else on the menu appealed to me so I convinced Mary Ann to go to the Waffle House right down the street.  It was as good and cheery as all the others we've  visited.  Got my souvenir Waffle House mug – our waitress Allyah had me take the one I'd used from the table, a bit weird but the table hadn't been bussed yet.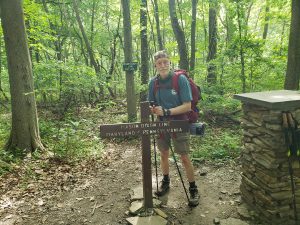 With the 30 minute drive from Fredrick back up to Pen-Mar Park I was standing at the park sign at 0938.  Stopped in the restroom and met "J", a weekend hiker going my way.  Then I was off back to the Mason-Dixon sign at the border and off into PA through a suburban area.  The first landmark was Pen Mar Road followed by a bridge crossing over Falls Creek, then up for a mile or so across Buena Vista Road.  In this stretch I passed "Gadget"  who had hiked this section of the trail up to Pine Grove Furnace and he reported that it was "a piece of cake".  That's all I needed to hear.  I crested out shortly after this and then down to Red Devil's Run (in PA a "run" is a creek) at PA-16 and a trailhead at 1124.  Stopped for a bit of water because when I loaded the pack into the trunk this morning I must not have had the bladder cap on tightly enough  and about half of the water leaked out into the pack and down the hip belt.  The sleeping bag was not affected thankfully, but by now I had a wet butt.  I was going to get water back at Falls Creek but there was a dog in the creek (with its owner, her friend and a little kid) so I thought better of it.  Met two old boys from up around Cleveland at the trailhead.  They passed by going back up the trail but soon returned when they got a glimpse of the rockslide I had just traversed and we fell into my explanation of what the AT is all about.  They had not heard of the AT.  I left them reading the information on the kiosk, headed uphill toward Deer Lick shelters and the first excitement for the day began to unfold.  I crossed PA-16 and went around a standard USFS gate and onto an unpaved forest road directly opposite the parking area.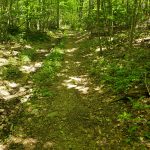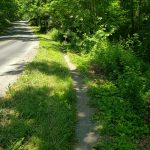 The trail was moderately uphill and rock-less.  I was making good time.  Then for some reason I stopped because I'd not seen an AT blaze in quite a while.  I pulled out FarOut only to find I was indeed "far-off" the trail in the middle of nowhere.  So I turned heel and shuffled back to PA-16 where I noticed there was no turn blaze to be seen although the trail made a left turn after crossing the road.   it took me a minute or two to find the AT running along the shoulder and then back into the woods 150′ further on.  This sign had no turn blaze either.  All told this cost me roughly a mile and 30 minutes.
The hike to Deer Lick Shelters (there were two adjacent) was about the same as the forest road with no real challenges.  Arrived for lunch at 1305 and after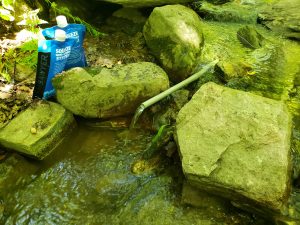 re-watering from the spring flowing right across the trail just up from the shelters I was back hiking at 1400.  Had decided to get to Tumbling Run Shelters for the evening, my planned destination, but had it not been for getting lost I might have gone further.  Also took time to put some gorilla tape on my copper tubing right pole repair because I noticed that it was working its way down the pole ever so slightly from the constant impact.
As I may have said while in MD, PA is different from MD in that you are allowed to camp trailside anywhere.  This makes things much more flexible and also leaves some nice campsites along the way cleared by earlier hikers.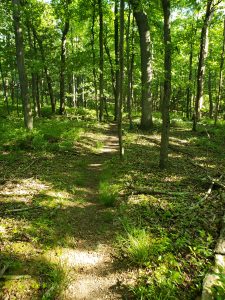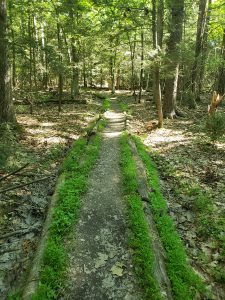 The trail after lunch was very nice.  I could tell that I was following a trail maintenance crew probably from over the weekend who pruned off the small
limbs along the edge of the trail and left them laying in the trail.
Came into Old Forge SP over a series of 3 bridges, two of them very new.  Water was abundant here with a convergence of several runs.  Came upon my buddy "J" from this morning who must have passed me at lunchtime.  He is heading to the same destination tonight.
Arrived at Tumbling Run Shelters (there were 2) at 1530.  There was a designated hammock area, which I took advantage of.  Most noticeable upon arrival was a group of three middle-aged fellas keeping a fire going in one of the fire rings.  These dudes kept it going the entire time I was there.  Needless to say there was not a lot of down dead wood in the entire area.  It was about at this point that I decided my next campsite, and all those remaining, would be a quiet trailside camp.
There were a number of folks at the shelter, both thru and section hikers.  One heavy set gal hadn't been given a trail name yet.  She had twisted one of her legs earlier and was just getting back on the trail.  I met "Shepherd" and "Slojourner", both thru hikers and the three of us had some conversation.  Shepherd showed me how to use a pine branch with needles as a scouring pad – I knew that pine needles are very abrasive but hadn't thought of using them to scour a pot. Slojourner was a retired Lutheran pastor with a bad left knee, thus he was slow.  All three were northbound (NoBo).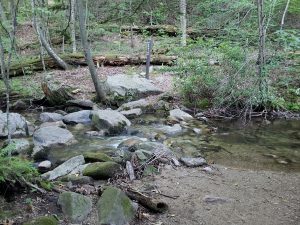 The shelters were bordered by a stream (Tumbling Run) a couple hundred yards away.  The spring, however, was on the opposite side of this substantial run.  At first I opted to just take water from the stream but then thought better of it and after careful study picked my way across on the large and uneven stones in the creek.  Now I was over the creek with two full bladders to tote back across a fairly treacherous stream while using my poles for balance.  What to do?  I got it – stuff the bladders in my cargo pockets, which I did, and found a better return route.  I crossed dry shod and was feeling very good about my skill level.  And so watered up I cooked my dinner, had some brief conversations with the aforementioned others and retired for the night.  Had a bit of trouble hanging the 'coon bag on the bear pole as usual, but I was persistent.  We'll see about getting it down in the morning.
Before I left for this trip I discovered that I had an inner ear infection in my right ear.  I was prescribed a 10-day supply of Amoxicillin, 2 every 12 hours, which I finished today.  The infection seems to be gone.
Miles today: 8.2; Total miles:  49.2
Day 6 – Sunday, June 5 –  Tumbling Run to Trailcamp Past Hosack Run
Today is Pentecost, so I am praying for God's Holy Spirit to fall on and fill up everyone I know and meet.  It is traditional for Christians to wear red on Pentecost – my backpack is red so I'm in step with the Church.
The weather had become distinctly cooler and more pleasant in the past couple of nights, so sleeping was pleasant.  Woke before my alarm at 0415, had my prayer time then headed to the privy.  On the way back managed to get my 'coon bag down from the pole with only minor difficulty lit by flashlight. 
Proceeded to pack up the hammock and sleeping bag.  After that it was Pad Thai for breakfast washed down with 16 oz of coffee.  Always a great way to start the day.
The real adventure for the morning now that it was light enough was to retrieve my 18″ PVC spring pipe from across the creek, which I realized as I was falling asleep last night I'd left by the spring.  On this third and fourth crossing picking steps with similar care I was surprised at how simple it was actually.  And even looking for it I kicked the pipe before I saw it once I got across.
I think "Shepherd" left before me and as I went to the privy one of the three amigos was up stoking the fire.  Looks like they were on a mission to burn up every piece of wood in the 1 acre area.  To their credit it did get into the 50's last night, but that's what sleeping bags are for.
I was on the trail at 0640 in my wool shirt and toque headed 1.2 miles uphill to Chimney Rocks, my only real strenuous climb for the day, where I arrived at 0730.  Had a nice view of nothing but forest and took a panorama shot.  Departed at 0750 with a long downhill ahead.  At least I thought I departed, but as it turned out I took a trail leading back down to a horse trail.  Just need to keep checking those blazes dang it.  So 10 minutes back up to the AT where I took the right fork instead of the left and saw the white blaze.  The same deadfall was across both paths of the fork, that's how close they were together.  I'll blame this on poor blaze placement since there was no blaze clearly visible from the fork.  So second time getting lost in two days.  A  bad track record.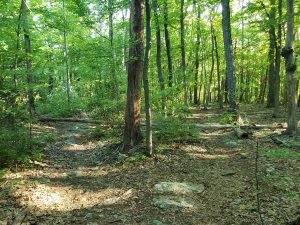 At 0900 I passed Slojourner, who must have passed me while I was up on Chimney Rocks.  Got to talking and discovered today was Pentecost for Lutherans, too.  So we exchanged blessings' but probably could have laid hands on each other and prayed for the Spirit.  And I was back on my way downhill.
Crossed several roads in the next stretch but blazes were few and far between.  In a space of 5 minutes I hit two poorly marked turns.  First there was a faded double blaze looking behind me but no other blazes over 200 yards down the road until a sign at a turn in the road ahead.   Came to another junction with a very faded double blaze and the signpost could be easily spun.  At least the sidetrail was named (Raccoon Trail).  Makes one wonder what they are thinking. 
  By 0930 I had reached PA-233 and was ascending the last little rise before the main descent.  Extra blessings – switchbacks up the hill immediately after the road crossing – not the usual trail layout.
Got to the junction with the sidetrail down to Rocky Mountain Shelter at 1015.  Went down it a short way, saw how steep it was and decided to eat back up off the other side of the AT, where there was a nice spot. I had plenty of water and didn't need to get to the shelter.  Ate lunch and took a bit of a nap.  Slojourner passed me here.  The stop was about an hour total.  While at lunch it occurred to me that if I could add 4 miles today and another 4 tomorrow I could get off the trail a day early.  It would be 2 – 15 mile days.  I texted Mary Ann my plan via Zoleo while she was in church.  Checking the maps I picked a trailside campsite 3 miles further than Hosack Run (creek), my original stopping point.
The next section of the trail  was one of those, "Hey, let's find every rockpile we can and run the trail over every one."  Glad I took a rest at the top.  It was then that I realized this peak wasn't called Rocky Mountain for no reason.  I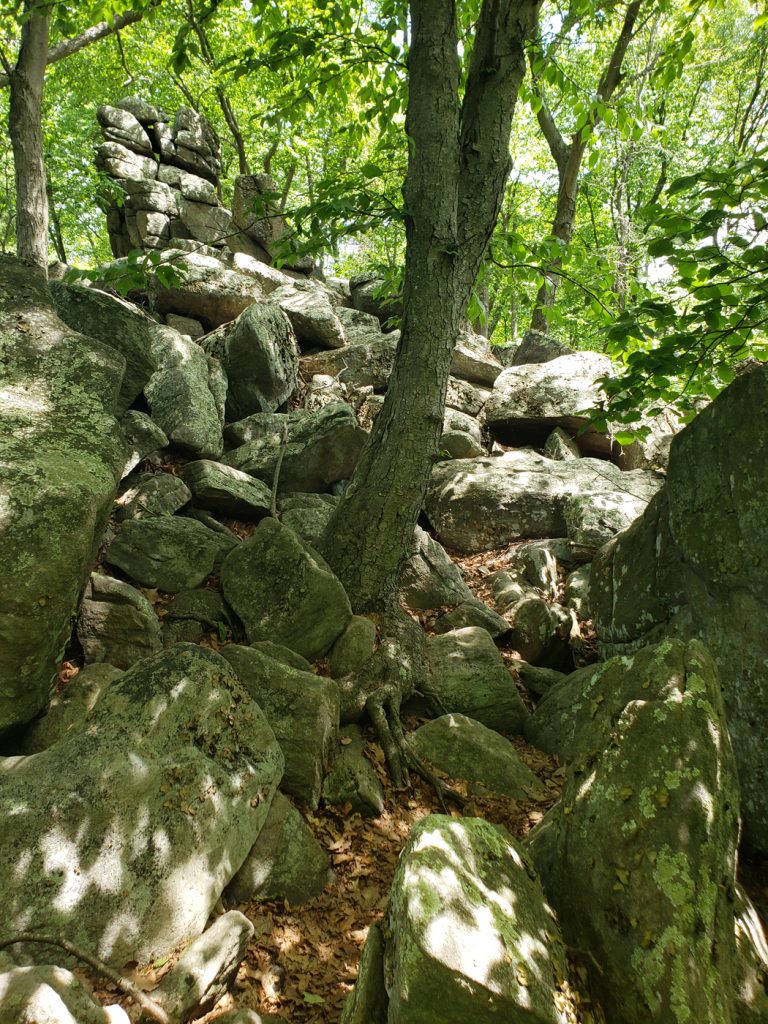 swear there was evil intent in this.  I'm talking picking my way through big boulders down steep inclines for about 2.5 miles.  It was miserable.  One misstep and it's a sprained or broken ankle.  I had Nate's comment in my mind – three points of contact at all times.  It was certainly tedious.  I was back on the trail at around 1115 and traversed the 3 miles thru the rock fields down to US-30 at the edge of Caledonia SP by 1235.  So it was not too shabby at 2-1/4 mph.
Caledonia SP was a real oasis in my wilderness. I detoured off of the trail to the restroom to wash out my Sawyer Squeeze bladders.  I finally figured out that the odor in my spring water was mildew from these bladders, which had never been washed since I'd bought them several hikes ago.  So while I washed them in the sink I charged the Zoleo.  I rinsed them out at the drinking fountain outside because I had more clearance under the spigot than at the sink.  And I was successful.
Meanwhile, a short middle aged gentleman was walking to the restroom and I noticed he had some kind of medical issue because he was using two hiking poles for balance.  We got to talking and I learned he was recovering from bone marrow cancer and the treatment had affected his inner ear.  He said he was a Presbyterian Minister at the park for a youth group picnic.  I asked him if they were celebrating Pentecost today and he said, "Yes, that's why I have my red shirt on."  I said, "Well, hey my pack is red so I'm good, too."  Ended up praying for his healing and an outpouring of the Holy Spirit.  Next in my trips back and forth to the restroom and the drinking fountain I made a comment to a gal sitting on the nearby bench about my shabby appearance.  She said, "Well, I shouldn't even be out here with my leg in the condition it's in."  So I went over to her to investigate and it was obvious she had just had a knee replacement operation. I asked her if we could pray for it and she agreed.  So we did and  then she said her bigger problem was that she was off work as a Dollar General store manager and her assistant was trashing the store.  So we prayed for that situation to get set right as well.  Then I was off, and because of the route back to the AT I took I ran into "J" who was looking for his son and his pickup.  We shared mutual encouragements and parted ways.
On toward the trail I fell in (a bad pun) with NoBo  "French Toast".  When we got to the foot of the 630′ ascent up to Quarry Gap Shelters I gave him a good headstart because I'm sure he really doesn't want to see me again and I don't want to leap frog him either.  So this is the last ascent for the day.  Ran into a weird couple up a bit that had passed me earlier.  They were not arranged for AT hiking for sure and the girl kept hiding behind the guy.  They didn't say anything either..  Perhaps sneaking around on a romantic rendezvous.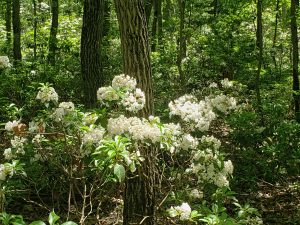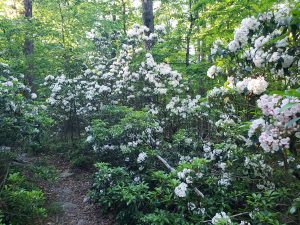 This uphill was serious but not rocky.  It is at Caledonia SP that I saw my first rhododendrons of this current trek and there was a rhododendron tunnel on this uphill stretch.  Mostly as you will see in the photos it was the mountain laurels that were in bloom.  I've never been on the trail for this display before blooming.  The ascent covered 0.6 miles and ended in the most spectacular shelter I've seen and probably will ever see.  The PATC repair crew had just departed after replacing the roof on the left hand shelter.  A tree had fallen on it earlier in May and was reported on FarOut so I knew of it.  But the blessing for me was that I met the fella who had originally restored this 1930's CCC built shelter to its original glory.  It was log cabin style with chinking between the round logs, all freshly painted, and with a metal roof.  Actually it was two shelters with a covered  breezeway between them.  The place was complete with a porch spring with Quarry Gap routed into the back and numerous flower pots, both hanging and on pedestals.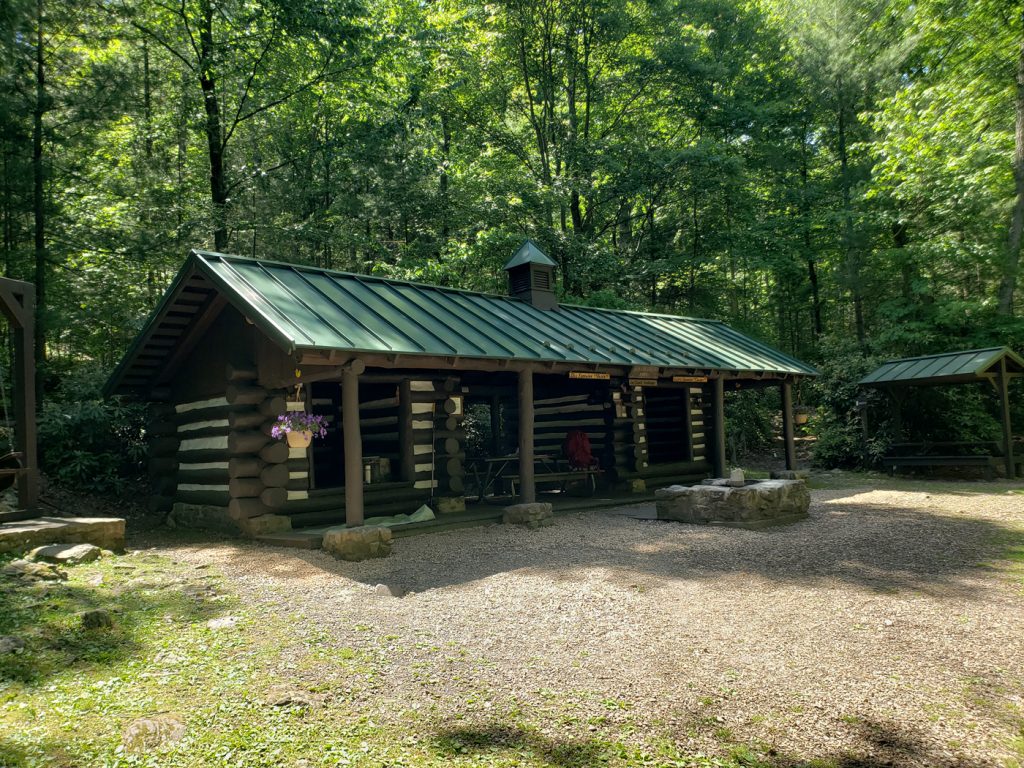 To boot there was a bag of pecan sugar cookies on the table and as it turned out they were all mine.  The main caretaker and his buddy, both my age, were packing up the tools, including a Stihl Farm Boss chainsaw like mine,  and didn't want to leave the cookies overnight.  I ate a mess of them and ignored the extra weight.  Also the flowing spring was only 50′ or so from the shelter through a rhododendron bower.  I just dipped my bottles into the small cistern and was done.  Too cool to believe, this whole place.  I made an immediate impression on these two by greeting them as young men, which they took very kindly and made a point of the fact that I hadn't called them gentlemen, which they agreed they were not.
From the shelters there was another ascent of 300′ in 0.7 miles to the Hosack Run trail, then past a tentsite a mile further on that was my original stopping point before I changed to the 3-day schedule around lunch time.  It was nice but I still had legs.  Two power line clearings and a bit of up and down later I pulled up at a glorious tentsite at mile 1,091.1 for the evening.  It was 1650.  At this time of year I had until 2130 before sunset and the daylight failed, so plenty of time for setting up and dinner.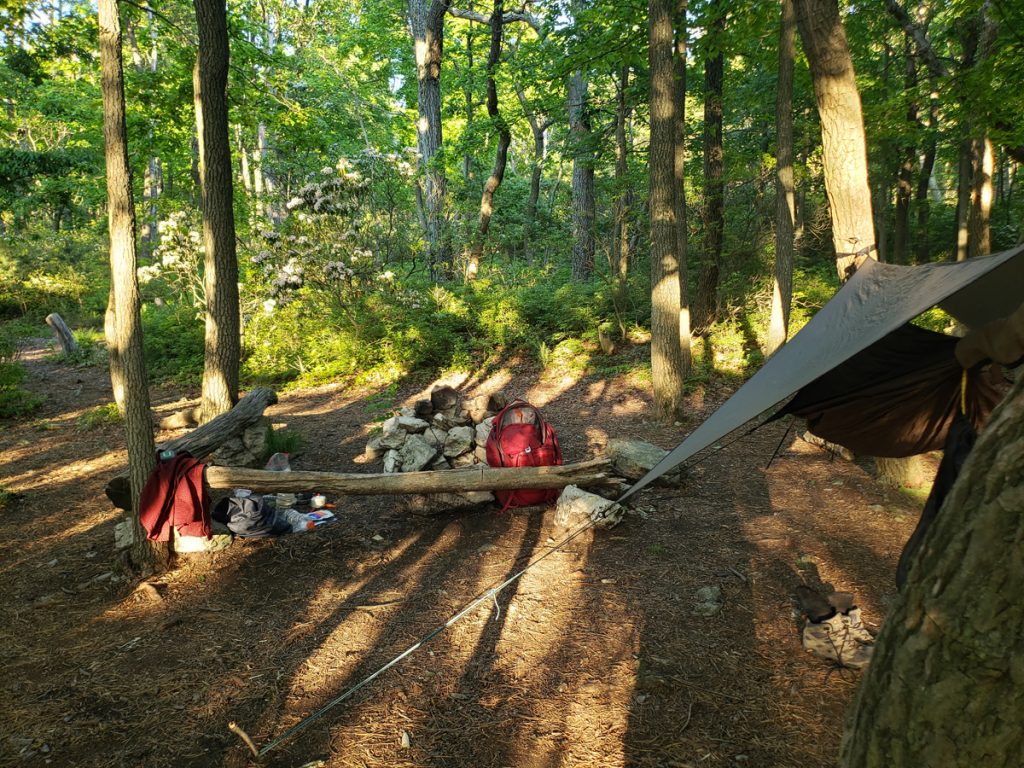 I was settling in for a nice quiet evening.  It was quiet except for a whippoorwill in the distance.  I was cooking my dinner when  Slojourner arrived and greeted me.  That's when I figured I had likely passed him at Caledonia SP while he was in the shower, because he wasn't that far behind me to not have passed me while I was working at the restroom building.  Anyway he reported that he didn't have enough water for breakfast and was wondering where he could get some.  Partly startled to have my planned evening of solitude disrupted I told him I had just enough for my dinner, breakfast and to get down the trail to the next source.  I pulled out FarOut and showed him that there was a spring 1.7 miles ahead at Milburn Cabin, asked him how long it would take him to get there and he said about an hour, it was plenty early and so that was settled.  He invited himself to dine with me, which was great, and we talked some more about Pentecost, Jesus and hastening His kingdom.  He finished eating, we rose and prayed together for continued success in our journeys.  We exchanged names and cell phone numbers, the ultimate sign of friendship and brotherhood on the trail and he was off.  It took me 5 or 10 minutes to realize that I had really screwed up.  I certainly had, after I got my wits about me,  enough water to share with him.  The scripture where Jesus says, "If you give a cup of water to one of these least (of my brothers) you give it to me" came crashing down on my head.  I scrambled to get my boots back on, stuffed my one liter bottle in my pocket and took of running to try and catch him.  After a good half mile I realized it was futile and turned back to camp.  I finished my dinner, still warm enough, and then texted him to see how he was.  He responded quickly enough that he had gotten to the water and was settled in the nearby tentsite, and thanked me for checking.  I also asked him to forgive my hardness of heart, which he did graciously.  I felt better.  I asked the Lord for the chance to see him in person one more time and ask forgiveness face-to-face the next day.  My thoughts were consumed in asking God's forgiveness and for a chance to undo my wrong, but sometimes it can't be undone and you just have to learn the lesson and move on.  There will always be another opportunity to give a cup of water to one of Jesus' friends.  I did manage to get a decent sunset picture before I retired for the night.  The 'coon bag hanging was much more routine than at the Pogo campsite and Tumbling Run.
Miles today: 15.8; Total miles:  65.0
Day 7 – Monday, June 6 –  Trailcamp Past Hosack Run to Pine Grove Furnace
It's pickup day a day early.  WooHoo!!  By my reckoning I had 14.0 more miles to go to get to the ATC Museum at Pine Grove park.  I was camped at mile 1,091.1 last night.  This also meant that the 2022 AT halfway point was 6.05 miles ahead at mile 2,194.3/2 = 1, 097.15.  Sure didn't want to miss it.
I was on the trail at 0628.  The trail today was mostly downhill and decent.  I took my water at Milesburn Creek adjacent to Milesburn Cabin at 0720, a really sweet spot.  0.4 miles later on the uphill from the creek I came upon Slojourner getting ready to break camp..  I immediately apologized and asked his forgiveness, which he freely gave.  We shared a word of prayer with a firm handshake and our other hands raised to heaven, and off I went with a great burden lifted.  I hope to never be as hard hearted ever again.
The pervading experience after this morning rejuvenation was one of dead trees – large dead trees.  The national forest I traversed for most of the next several miles today  was dominated by what I figured were dead ash trees courtesy of the emerald ash borer, but I was sure there were some balsam pines in this mix (balsam woolly adelgid).  I didn't notice any Eastern hemlock (hemlock woolly adelgid) however.  It's a bad time to be a tree for sure.  So it was sunny and a bit hot on the forest road trail through this portion.  But the rocks were well behaved.  I passed the Birch Run shelter at 0830.  Reached the triailhead parking lot at Shippensburg Road at 0855, mile 1096.6.  And then like a flash I remembered the halfway point.  Where am I, how much further?  I was 2/10ths away from it.  So I started counting paces, one tenth,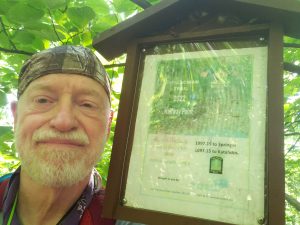 55 paces, 90 paces, 100 paces and I stopped to look around. Ten more paces made the two tenths.  I took another few paces and checked FarOut.  I was at 1,097.15 miles exactly.  Then I looked up – the halfway marker sign was right next to me.  Having been watching the rocky trail I hadn't noticed it till then.  I new from earlier checks that my 110 paces per tenth of a mile was very accurate over one mile, but I was really encouraged to have paced these last two tenths so, so close, and I hadn't missed my mark and had to backtrack.  It was 0915.  I took several selfies with said trail marker and headed on.  It was finished, well all except another 7.95 miles to Mary Ann at Pine Grove.
It was after this I called Will to check in on how the "husbanding" was going and to share my recent success.  We talked for a long time.
The trail was quite hospitable until I started my descent into the Tom's Run watershed before lunchtime.  My patience was running short and just in the knick of time I turned a bend and, bang, there was the shelter.  Of course by lunchtime I'm talking 1100.  I took a good long lunch break and a 30 minute nap on my bedroll with curious carpenter ants now and again.  "Four Square", a NoBo I had passed earlier came by just before I was getting ready to leave.  Her trail name came from the usual toilet paper ration at the privies – four squares per person.  I laughed so hard on first hearing it.  There was a youngster playing guitar at a nearby pavilion most of while I was there, oblivious to the rest of us.  Reminded me of someone I know.  He was pretty good, too.
Since mid-morning my strained abdominal tendon has been giving me increasing pain. At least that's what Dr. Tom Seasly said it was, not a hernia.  I'm not so sure as I can kind of push something in down there and the pain is greatly reduced for a while.  Gottta get this checked out back home.  Eventually I got the hip belt positioned, more by accident than design, so that it held things in and made the pain manageable.
Broke for the last 3.7 miles to Pine Grove Furnace at 1130.  At  1244 I passed "Woodchuck" the builder of the permanent halfway sign at present mile 1,102 but when built it was mile 1,090.5.  He was headed to meet his brother coming from the south at the marker.  He had a painted likeness of the marker in a folder with him that he showed me.  And on i went on a gently downward sloping forest road through a beautiful section of woods.  I soon emerged onto a mowed scrubby wooded section in the afternoon sun.  The PATC had been out weed wacking in this part, so perhaps the AT is coming back to normal.  As I got nearer to Pine Grove the trail boulders caught me one last time, and the trail seemed to wander aimlessly uphill at just enough slope to make it unpleasant.  My approach to Pine Grove was down through some very upscale rental cabins on the opposite side of PA-233.  The trail followed the entrance road into the park, past the General Store to the ATC Museum (it was closed) and Mary Ann was waiting in the parking lot below it.  Still having my plan in mind I stopped at the Visitor Center for an AT Passport stamp and again at the General Store for a beverage and another Passport stamp, which happened to be Caledonia SP for some reason.  I had been upset that I hadn't thought of getting that when going through Caledonia SP and bingo I got it.  Jesus works out all the loving details, over and over again.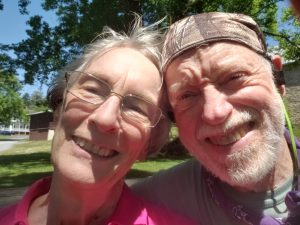 It was about a 45 minute trip to Gettysburg from trail's end at Pine Grove Furnace SP.   Since we couldn't find a BBQ place convenient to our Comfort Suites in Gettysburg we ended up at General Pickett's Buffet.  The food was excellent and the prime rib made up for most of what I was missing with no BBQ.  This place specialized in seating and feeding tour bus loads of folks.  It was jaw dropping to watch them successfully seat, feed and dismiss three busloads timed 30 minutes apart while we were there.  It was some kind of smooth operation.  And as I said the food was outstanding.
So this was the end of the line, having gone half the way to Maine plus 7.95 miles extra, not counting the 8.8 miles from Amicalola Falls SP to Springer Mountain that likely will be added in the near future.   Having met  the creator of the original halfway marker, "Woodchuck", made it extra special.
Miles today: 14.0; Total miles: 79.0, Total AT Miles: 1,105.1                                           Total AT miles (including Amicalola Falls):  1,113.9
PS:  There is a much more extensive set of pictures for this trek, with captions and comments, at this link:  https://photos.app.goo.gl/NMzRJXg765hHmWxSA
PSS:  My good friend and fellow backpacker Terry Bomkamp is moving to South Bend at the end of June.  He is talking about wanting to do the "Hundred Mile Wilderness" section of the AT in Maine.