Day 1 – Thursday, January 23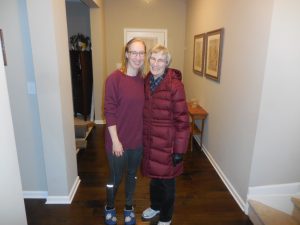 After a busy Wednesday evening of Eagle Boards, in which Larry discovered that he made not one, but two scheduling errors that disappointed him, we began our 49th anniversary trip after lunch.  We left just early enough to miss the predicted snow en route to Anna's place in Avon and gave us time to get there to meet Tommy's bus from school.  Anna was with Sarah at the orthodontist.  This has become our usual system.  It allows us to have a nice visit with the family while cutting 2.5 hours off of our drive down here.  We spent a typical evening in Avon – working on a jigsaw puzzle, playing a board game and talking after dinner.
Day 2 – Friday, January 24
Mary Ann got us rolling early with her 0600 alarm.  Larry dogged it til 0630, which then put us on the road at 0730 instead of 0700.  We have a longer than normal drive today because we are spending the week on the North Carolina side of the park, based in Bryson City, NC.  You may remember that we were just down in this area for Larry's last AT hike in September 2019.  Anyway we drove the entire way in rain, not heavy but definitely depressing, and with plenty of trucks throwing plenty of spray.  We decided to go around Cincinnati and down I-75 because of the construction north of Louisville on I-65 that we remembered from September.  This turned out to be a pretty good choice, although I-75 north of Knoxville had construction with lane closures also.  Google maps helped us avoid a 20 minute delay due to an accident on I-640 and we rerouted to I-275 to I-40.  To get to Bryson City we took I-40 all the way around the east side of the park, past Asheville NC.  No significant traffic mishaps and the new VW diesel Jetta ran like a top, newly aligned as it was.  We ate lunch at the Cracker Barrel in Corbin KY.  Along the way we read the whole story of why Lake City TN changed its name to Rocky Top in 2014 because we couldn't find it on the map anymore and knew we had eaten at the Cracker Barrel there, or did we?  Yes we had, and the story was entertaining.  It's original name was Coal Creek TN, also part of the bigger story.  We were both relieved to know that our minds were still sharp enough to remember this detail from our past trips.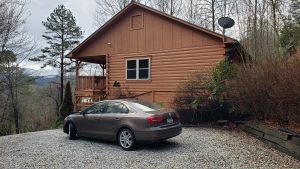 We got to the cabin named Trail's End – not so comfortable with the name at our age, you know – at precisely 1630 while there was still daylight.  The 45° slope of the driveway was at first intimidating but there was more than an ample graveled landing pad at the top once one took the leap over the upper edge of the drive without being able to first see it.  The cabin is the closest thing we have found to the way we would have ours setup if we owned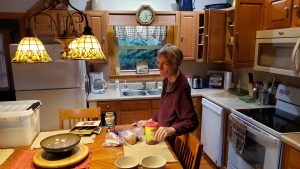 one.  First the unfinished pine tongue-n-groove wood for the walls and ceiling, the pine flooring and cathedral ceiling.  Big pluses include a big dining table, a well furnished kitchen, tastefully appointed beds and rooms without dog, duck or bear iconography in every corner, two full baths with large-enough-to-turn-around-in showers and a nice big porch.  But the biggest plus is the operating, thermostat controlled wood pellet stove for backup heating.  The cabin has a fully operational furnace to be sure.  But once Larry got the pellet stove figured out, which didn't take very long, we have had it heating the main room just like the wood stove back home.  This is really, really great.  Also the wifi is good, the well works and there is a brand spanking new Weber kettle grill on the front porch just like ours.  Perfect.
We settled in and after a bit of consternation got the Dish Network receiver and TV to cooperate so we could watch some of the NHL All-Star game festivities.  Larry had it on his laptop at first.  Great thing is they have the NHL channel.  After that it was off to bed to get ready for tomorrow.
Day 3 – Saturday, January 25
Today's forecast is no rain, partly cloudy and temps in the low 40's with a high of 42°.  Well it turned out to be all of that and a bit better.  It was mostly sunny we would say.  Our plan today was to have our usual morning prayer together, have a leisurely and tasty breakfast, then figure out a hike to take up in the Deep Creek area.  The cabin is at most 5 minutes from the Deep Creek parking area.  We managed to go down the drive without incident and didn't encounter anyone on the way to the main road.  The owners have placed reflective marker rods on the outside driveway edge for aiming the front of the car because you can't see the drive until the car noses down onto it.  A bit scary for us flatlanders at first.  Also the one lane lane into the drive from the road could be a problem if anyone else decides to go in or out at the same time.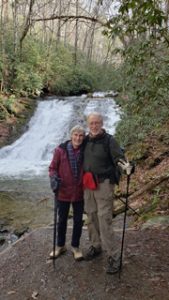 Anyway we were at the park trailhead ready to go at around 1000 and decided to do the Deep Creek trail up to Campsite 60 for lunch then backtrack to the Loop trail to the Indian Creek trail then back down to the Deep Creek trail and the parking lot.  With our limited math skills we didn't trouble to add the total mileage, which turned out to be 6.2 miles, and we bit off a bit more than Mary Ann wanted for the first hike.  But the trail was mostly gentle and the waterfalls – Tom's Branch and Indian Creek – were really flowing due to yesterday's rain.  The water in the streams was so high, in fact, that we (Mary Ann) decided we needed to give up on crossing the small creek just below and within sight of Campsite 60.  Larry gave it his best shot as he tried adding large rocks to the narrowest fordable point once he had jumped across himself.  In the end the consensus was that we should eat lunch on the near side and not attempt to cross since we would just have to recross immediately after eating anyway.  She was not going to remove her boots to cross given this situation.  We had a very pleasant lunch with good seating on the near side.  We made it back to the car and were at the cabin by 1430.  After some snacks and such we were off to Mass at St. Joseph's in Bryson City, all of 5 minutes into town.  A very small parish in the mostly Protestant South, and a Saturday evening Mass with no music at that.  But it had a great mission church kind of Spirit about it and the Homily about the sovereignty of our free Will spoke to us.
We were back from Mass shortly after 1800 and had some wine and cheese to celebrate the Lord's Day with our dinner of pot roast.  Larry watched some of the NHL All-Star hockey events and then set to catching up on this blog.  It has been a great day.
Day 4 – Sunday, January 26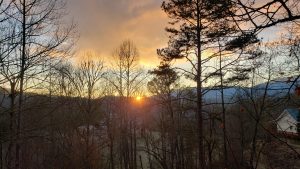 This may prove to be our prettiest day.  The forecast is sunny with a high in the lower 50's.  Working to recover from yesterday's hike we chose to drive an hour to the Joyce Kilmer Memorial Forest through the Nantahala Gorge, where Larry hiked through last September.
We got out the door at about 1015 and headed west towards the Nantahala Gorge.  It was neat driving through the Gorge where we took the
train ride and hiked the AT.  The road beyond into the Nantahala National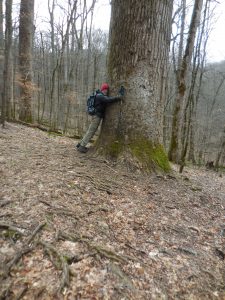 Forest was reminiscent of the Little River Road through GSMNP with its twists and turns as it followed the river and then Little Santeetlah Creek to our destination.  Joyce Kilmer is a famous poet and journalist who was killed in WWI at the age of 34.  The local VFW Post and National Forest Service teamed up in 1936 to preserve and dedicate a last remaining unlogged portion of the great Appalachian range hardwood forest (about 3,800 acres) to his memory.  His most famous poem is "Trees", fittingly.  There was an abundance of standing fallen and dead timber.  It was sad to see all the fallen gigantic American chestnuts, whose wood is so rot resistant that even after 90 years the logs and stumps still remain.  More recently the hemlock woolly adelgid, a relative of the balsam woolly adelgid that has devastated the balsam and fir trees in the Smokies, has taken its toll on basically every eastern hemlock we saw.  But in spite of these sad scenarios we got to see more than a dozen 400 year old trees, which by their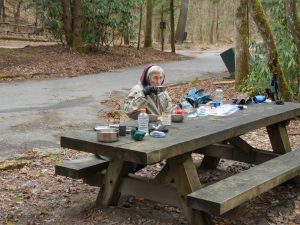 shape, bark and limb structure looked to be beech, oak and probably basswood – no leaves to confirm further by we forestry novices.  But they were BIG.  We ate lunch along the bank of Little Santeetlah Creek and took a short but challenging loop hike through these giant trees.  Sorry to say that the hybrid Chestnuts being introduced now will not have re-established themselves in the Appalachians by the time we pass on.  And we hope work is in progress to preserve and reintroduce the balsam fir and eastern hemlock once these pests are controlled.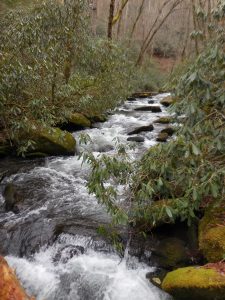 It was an hour drive back to the cabin, for which we took a slightly different route through Robbinsville and Stecoah Gap revisiting these spots from Larry"s September 2019 AT hike.  We were back at the cabin a bit after 1500.  Tonight is burger night so we get to try out the Weber grill.  We also noticed that the outdoor temperature was steadily climbing as we got closer to the cabin and it was 45° by the time we arrived.  Lesson learned – check the weather forecast for the locale you'll be in because the mountain ridges can change everything.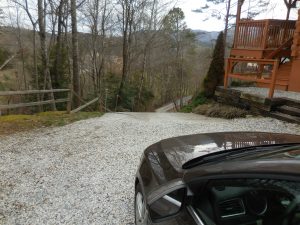 Back at the ranch we did nothing besides fixing dinner and enjoying each other's company.  Here is a picture that tries to illustrate the driveway arrangement.  Did a nice job on the burgers and Mary Ann made a blueberry crisp for dessert.  After that we each got into our own interests and when we looked up it was too late for any games and such.  So the pellet stove is humming in the corner, we are nice and toasty and just enjoying the moment.  Tomorrow the weather is forecast to be snow mixed with rain, so this may be the scrapbook day that we save annually for this kind of weather on this trip.  We will see.
Day 5 – Monday, January 27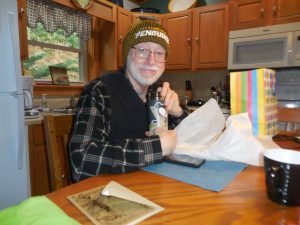 Happy birthday Larry.  He made it to 72 at about 0100 this morning.  After breakfast we celebrated with a brief, and unnecessary, really, gift exchange but he was blessed by it.  Sneaking presents around on trips takes a lot of loving forethought, making them all the more special.
Today is a rain day and the scrapbook calls for attention.  The best option was to do the adhesive spraying out on the picnic table on the porch.  It was not too cold and there was little or no breeze.  Using the tarp brought specifically for that purpose we protected the table as well.  We hadn't collected as much stuff from last year as usual, and Mary Ann had already put the pages for last year's trip together, and so it went quickly in about four hours including a lunch break.  The rain had stopped except for an occasional sprinkle and eventually the sun came out.
We went out for supplies at 1615, driving to nearby Sylva, a much bigger town 30 minutes away as it turned out, to the Lowe's for wood pellets and to the Ingle's Grocery that was right across the street for some food items.  Back home it was grilled chicken night.  With the charcoal started late we finally ate at about 2000 (8 pm) but it was worth the wait.  Afterward we planned for tomorrow and just kinda vegged out reading until retiring at 2300 as usual.
Day 6 – Tuesday, January 28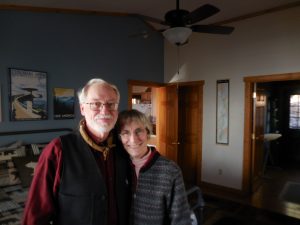 Today is anniversary day, our 49th.  We have had a great life together.  As Mary Ann said in her card this morning, "We compliment each other well."  Amen to that.  Being complimentarily sneaky we exchanged cards and gifts this morning during/ after breakfast.  Mary Ann got a non-stick 9″ skillet for her morning eggs (whether she wanted one or not 🙂  ).
Our hiking area today was the locally famous "Road to Nowhere", the road long promised by the National Park Service to compensate the families displaced by the creation of Fontana Lake and GSMNP but ended midstream by engineering problems involved with a fault in the bedrock.  It ends with a very nice tunnel opening into the woods.  The Park Service agreed to a $50M settlement in 2005 for the town of Bryson City and former residents, which includes ferries and houseboats in the summer months to access cemeteries and former homesteads across the lake inaccessible otherwise.  This turned out to be a great 3.4 mile hike with the temperature peaking at 57°.  The trail started with a walk through the 365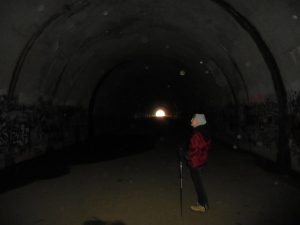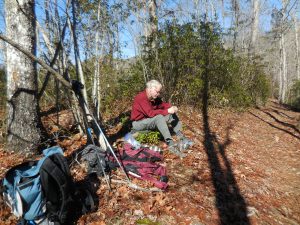 yard tunnel that marks the end of the road.  You could see the far end of the tunnel but towards the middle you couldn't see the ground – we forgot our flashlight.  The floor of the tunnel was perfectly smooth.  The main hazard in the dark were the horse potential droppings.  By some stroke of luck we either missed them, or there weren't many, or more likely it was a combination of both.  The tunnel led to the head of the Gold Mine Loop trail.  Emerging from the far end of the tunnel we came upon two National Park rangers preparing for something.  In our conversation we learned they were out hunting and trapping wild pigs.  As one said as we passed, "We're huntin' wild pigs down in the holler and eliminating the problem one carcass at a time."  Pigs either escaped from or left behind by former residents have turned feral and their grubbing feeding style is tearing up sections of the park.  What Larry was curious to know is how they haul the carcass out of the holler once they have it.  He supposes a very long winch from the truck, or else trussing it up on a long pole like in Peter and the Wolf.  We look our hike on the 3.4 mile Gold Mine Loop that followed Gold Mine Branch Creek (makes sense) for some of the way and back to the car.  We visited Campsite 67 on a sidetrail off of the Gold mine Loop for curiosity sake that added another 1/2 mile.  After that we did another 1.3 miles up and back down the Noland Creek trail, with the cascading creek along one side of the trail the whole way.  We got our exercise in for the day and headed back to rest up for our anniversary dinner at Haywood Smokehouse.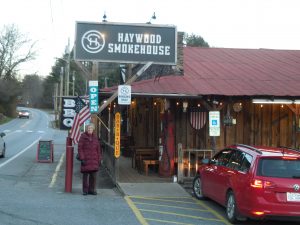 After snacks and naps we dressed up a bit and headed to Haywood's.  This is the third BBQ in Franklin that we missed in September.  They have three branches and one happened to be in nearby Dillsboro.  We had heard good things about it and were not disappointed.  We walked in at 1745 (5:45 pm) on a Wednesday and they had just sold out of St. Louis ribs.  We went for the brisket.  Our servings were at least a half pound each, plus collards and coleslaw (Mary Ann got fries instead of the slaw).  Oh, my, but it was good.  Mary Ann took a box home, Larry ate every morsel.  They had a choice of 9 original sauces – Sweet Carolina (mustard-style), Georgia Fire (mustard-style, Larry's favorite of the group), Sweet Red, Hot Red, East Carolina (vinegar ; used it on the collards), Strawberry Chipotle, S.O.B. (habanero-jalapeno), Japple (Sweet Red with added apples and jalapenos) and Chipotle Ranch.  It was a hole in the wall, which is to say it really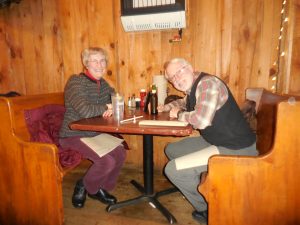 was authentic.  They used no sauce on the meat while smoking it and served it naked as well – the test of real BBQ is the moistness of the meat without the sauce.  OK, that's enough on BBQ – getting hungry just typing about it.
Back at the cabin we had dessert and then played a match of Catan, the two-handed card game, which Mary Ann won (she nearly always does).  After planning tomorrow's excursion we hit the sack.
Day 7 – Wednesday, January 29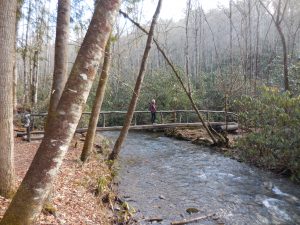 We are now in Day 1 of Year 50 together.  We'll see how it goes.
Sent an email to the Voisins, our Cajun friends from church in Pigeon Forge, letting them know why we hadn't rented their place this year and found out that they had sold it.  After the initial shock and reading Kent's reply further we learned that they were retained as manager and for maintenance.  So that really is no change and we plan to return for a visit with them.
Today was supposed to be warm-ish, if you like mid-30's in the morning with a high of 50° for the day, and a chance of afternoon rain.  So we planned to return to Deep Creek and finish the hikes we didn't get to earlier this week.  Now that we are warmed up we can expand our range a bit as well.  We got an earlier start and with the short drive were on the trails before 1000.  The temperature was a brisk 34°.  Just to record it for our reference later we hiked a 4.2 mile loop on the Deep Creek – Indian Creek – Stone Pile Gap – Thomas Divide – Galbraith Creek Road trails back to the car.  Since the temperature had risen to 47° by then it was perfect for a picnic lunch at the Deep Creek picnic grounds.  Not feeling completely worn out yet we then returned the short distance to the trailhead and did the Juney Whank Falls Loop, thus completing our tour of all three falls in the area (Juney Whank, Indian Creek and Tom's Branch from Saturday). In all we tromped a respectable 4.8 miles.  We were greeted at Juney Whank by a park worker repairing the bridge that passes in front of the falls.  How they get their equipment and materials up to and then down into the ravines in these places is fascinating, plus the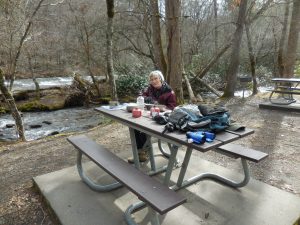 construction skills they have is equally impressive.  They had apparently hauled the entire old bridge railing up using a cable between two large trees and a winch.  The bridge was closed but the trail also went over the creek above the falls so we were able to complete this loop as planned
On the hike down the Thomas Divide trail we came upon a small cemetery that caught our eye because of the flowers on many of the graves.  The families included mainly Watsons and Wiggins with some Clines, Snyders, and Keeners.  One grave had the Watson husband deceased in 1967 but his wife born in 1922 was still living at 98.  There was the grave of 6 year old Carrie Keener who died on this date in 1911.  We prayed for them all.
It was a short trip back to the cabin after that and the usual routine – unpack the dirty lunch dishes, change from the hiking togs, take naps and get ready for supper.  It was on Larry's mind to return to Haywood's again, but he wasn't trying to push it, and then Mary Ann let the cat out of the bag by asking and indicating she would be willing to go again.  She said that he had brought it up (only) three times.  So off we went.  We called ahead to see what the ribs situation was since they had sold out yesterday.  It sounded promising but we decided to go a bit earlier just in case.  Got there just after 1700 (5 pm) and knew it was going to work because there were open spots in the small parking lot.  Sure enough Larry got his ribs and Mary Ann her pulled pork.  Both were equally as outstanding as the brisket from last night.  So a big two thumbs up for Haywoods.  Heck US-23 when it comes into town is named after the restaurant – Haywood Road – how good is that!
Day 8 – Thursday, January 30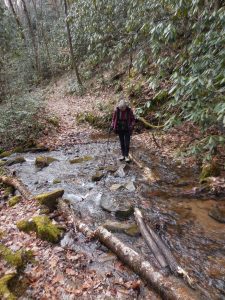 A foggy dawn that developed into mostly cloudy skies with sunshine.  The temperatures were higher, with a high of 57°.  When we set out on Lake View Drive a bit before 1000 it was 43°.  On the way as we rounded a bend we were surprised by a  gobbler in the middle of the road, and typically the camera was buried in Larry's pocket, too deep to get it out in time for the picture.  He was rather curious but didn't dally around long enough.  He had a long beard but didn't look to be that old.
The hike today was in the shape of a deflated balloon.  Starting at the parking area at the bridge on Lake View Drive over Noland Creek we hiked the balloon string down to the trail, then south on the road width trail toward Fontana Lake to Campsite 66, then back up the trail (on the other side of the road width trail, making it a very skinny loop) and back under the Lake View Drive bridge to Campsite 65, 1.3 miles further up, then back down the skinny loop and up the balloon string to the car.  Larry can be really obsessed with loop hikes.  It was perfect weather for a hike.  We carried our lunch to Campsite 65, and came to another dicey ford over Bearpen Branch Creek in sight of the campsite.  We were not to be denied our lunch spot a second time.  While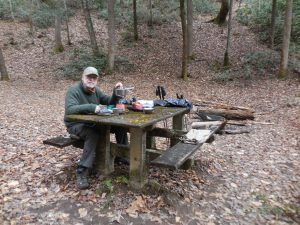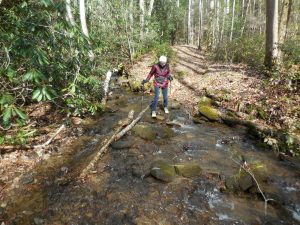 getting the lunch ready Larry rounded up a few logs which he tossed across the stream for the return crossing.  It was improved but Mary Ann started with the wrong foot and in the middle nearly went in.  She said later, "I shouldn't have listened to you and just picked my own route."  This backcountry campsite is the first we've come upon with picnic tables – there were 3 of them.  The sun was out and toasty.  Lunch was great and the return crossing of the creek much less treacherous than the first.  Back at the car we returned to base camp and took a break (read "naps").  Then we began to get our minds around the idea that we will have to go home tomorrow.  Rats.
Dinner was high end leftovers – bits of brisket and pulled pork from Haywoods, a piece of grilled orange Dijon chicken from Monday, some coleslaw, some green beans and some broccoli.  Mary Ann added some pork tenderloin brought from home.  We were eating high on the hog, even with leftovers.
After dinner, Larry finished up the Google photo album and the family blog, then wrote our comments in the guest book, which were glowing.  Then came dessert – leftover, of course, blueberry crisp.
The trip actually ends after an overnight with the Dieringers in Avon tomorrow.  So now it's tidy up the packing and hit the sack.
Day 9 January 31 – Travel Day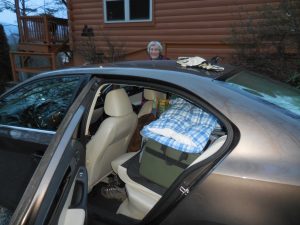 Up and at'em a bit earlier today.  We appear to have outsmarted the weather as there is only rain predicted for part of the way and just wintry mix for Cincinnati early that should be done, melted if necessary and gone when we pass through.  No rain in the Bryson City area.  This is the annual Goetta Run when we pick up the goetta  sausage in Cincinnati for Anna , Emma and ourselves.  Added to that we also get a stock of leona sausage.  Skyline (aka Cincinnati) chili we can get in South Bend but these other two delicacies we have to get in the Queen City itself.
With the fair weather and low traffic we had no problem getting to the Richmond KY Cracker Barrel by lunch and were at the Harrison OH Kroger by 1500.  Thirteen 1# rolls of goetta today – 6 for us, 5 for Anna and 2 for Emma – and 2# of leona at Langens Meats.
Traffic to Naptown was not bad, even though it was rush hour, and we were at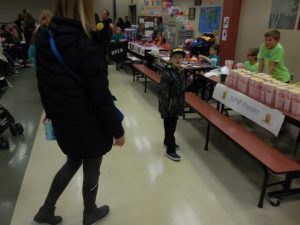 Jon & Anna's by around 1715.  Not much happening there.   We had corned beef and cabbage for dinner (like they knew we were coming) and afterward went with Thomas and Anna to River Birch school to experience their annual Kid's Town 3rd Grade fundraiser.  It was cute, with many food booths and carnival games created from the student's ideas.  Money went to fund their overnight at the library.
After that it was a game of cards (Trash) with Sarah, that she won, some screen time and then bedtime.   It was a hockey night, first Pens game after the All-Star break and we were able to watch it on the big TV.  Pens won in OT on a typical Crosby goal, after being ahead 3-1 early.
Day 10 – Saturday, February 1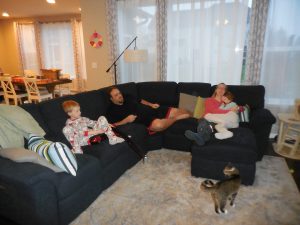 Another up earlier day.  We fixed breakfast, packed up, gave out the hugs and were homeward bound by 0900.  Stopped for the restroom and coffee at the Peru Gallaghan's and were in our driveway by 1145.  A misty rain but no snow or freezing stuff.  Temperature on arrival was 35°.  Unpacked, started the fire, ate lunch and that was it for this episode.