Introduction
Since 2002 when my friend Rich Preuss organized the first Troop 325 high adventure on the Appalachian Trail at Erwin TN I have been infatuated with the mystery of this trail.  With its beginnings as a series of unconnected hiking club trails in the eastern seaboard states at the turn of the 20th century, through the visionary energy of Benton McKaye that linked these clubs into what is now the Appalachian Trail Conservancy this trail captures my imagination.  Currently 2,190 miles long, from Springer Mountain GA to Mt. Katadin ME, when I step on it there is always the trail stretching before me, seemingly without beginning or end.  I am in awe of Earl Schaffer, who in 1948 was the first person to hike it continuously from end to end , and who did it a third time at age 83.  Heck, if ol' Earl could do it at age 83 then I can do it a section at a time as a youngster at 71-1/2 
The first hikes were always for the Scouts, partly because Mary Ann was willing to let me go to serve them rather than just to do it for myself, and there was more security in numbers.  Spivey Gay near Erwin TN to US-19E near Elk Park NC/Mountain Harbor TN (2002), Reed's Gap to the James River VA (2005) and the southern half of Shenandoah NP VA (2012) were great Scouting adventures,  Then I started filling in the gaps by on my own – northern half of Shenandoah NP (2012), Rockfish Gap to Reed's Gap (2013), trans-Smoky Mountain NP (2014), Allen Gap to Davenport Gap (GSMNP northern boundary with Anna, 2018), Spivey Gap to Allen Gap (2018) – and now Damascus VA to Mountain Harbor TN (2019).
Except for that first Spivey Gap – US 19E in 2002 run all the others have been north to south.  This has become my preferred direction fro two reasons.  First, only 10% of through hikers go this direction so it is less crowded at campsites normally.  And secondly, I pass more people and so am more likely to find help if I get in trouble.  The trail seems to be easier in this direction, but this may be a misconception.
Since the adventure on the edge of Hurricane Michael in October 2018, we have upgraded our tracking capability by adding the Life360 app to our cellphones.  Experience has shown that only in the deepest, most forested hollows do we lose connection.  This is a comfort for both of us and an additional safety feature when hiking alone.  To date my experience has been that on the AT ridge in eastern Tennessee cellphone connectivity is not as issue.  Corollary to this I have carried a  recharge unit for the phone with a 3-day capacity beginning with the Allen Gap – Davenport Gap hike with Anna in 2018.
Day 1 – Sunday, June 9, 2019
After the PoP meeting we drove to Avon for an overnight with Jon & Anna.  This always shortens the trip south.  We tried to eat at KFC in Plymouth but they didn't have the grilled style so we ended up at Jimmy Johns for a lunch dinner.  We rolled into Avon around 2000 and hung out.
Day 2 – Monday, June 10, 2019
Up good and early for breakfast and no complications with the trip to Damascus.  Decided to take the route suggested by Goggle Maps SE from Lexington KY on I-64 toward Winchester and KY-15, the Mountain Parkway and US-58 to Damascus.  Ate lunch at Yawnie Burton's Cozy Corner Cafe in Jackson KY.  Got to the Dancing Bear B&B in Damascus around 1500 in the rain.  We were upgraded to the Mama Bear suite upstairs because some hikers in the Papa Bear suite wanted to stay over an extra day, likely because of the predicted rain.  This worked out fine for us – a bigger place at the same cost.  Got unpacked, situated and then to the Cracker Barrel in Abingdon VA for dinner.  Made one last check on gear and packed up for an early start.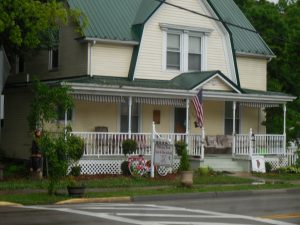 Day 3 – Tuesday, June 11, 2019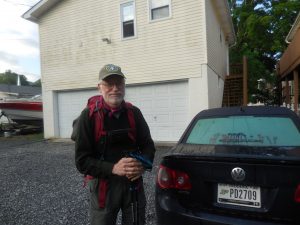 Up at 0600.  Had an egg & bacon breakfast, prayer time together and walked out on the trail down Main Street.  The rain had ceased overnight but things were a bit moist, and Beaver Dam Creek was full.  The stroll down Main Street reminded me of Hot Springs last fall.  The trail crossed Beaver Dam Creek on the highway bridge and then departed town through the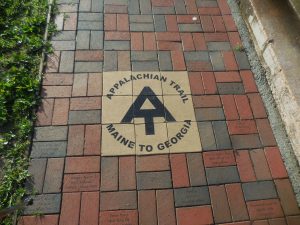 City park under a welcome arch built as a Troop 23 Eagle Scout project.  I thought it fitting.  I was braced for a 6 mile 1,880′ climb to the crest of Holston Mountain.  But as is usually the case on Day 1 my adrenaline was high and the climb didn't really faze me.  I was on the trail at 0738.  It was a beautiful day for a hike as well.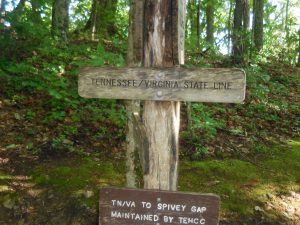 As bad as the weather was on last October 10 on the edge of Hurricane Michael it was the exact opposite today.  It was so good in fact that I got to the Abingdon shelter at 1220 and realized I had already covered 10.6 miles.  OMG !  This changed my plans for the rest of the day.  Somewhere after lunch I realized that I broke through the "wall" referred to by marathoners and I was in a groove.  When I stopped for the day at around 1700 I had gone 16.0 miles, about two miles further than I had planned.  I camped about 1 mile west of Low Gap (US 421).  It so happened that US 421 was the local motorcycle racetrack.  Thanks be to God they quit at sundown.  Had chicken and rice with green beans and coffee and a Larabar for dinner.  Yum.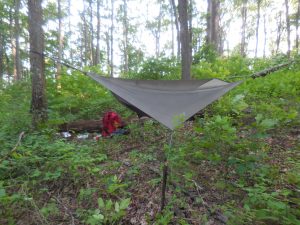 I never found the campsite shown on the trail map and my experience with the accuracy of this aspect of these maps has been mixed.  So I gave up my search and backtracked on the trail to a level spot with the least undergrowth, particularly no nettles.  It had plenty of ferns and stickers.  After a bit of first day confusion getting ready for the night I got settled down by the 2045 sunset.  The bear bag is set up using the Pacific Crest Trail (PCT) method.  It works pretty well except you can only get it as high as you can reach.  Ended up having to get out of the hammock, traipse across through the stickers and bring the bag back down so I could wash the bug repellent off of my lips.   My shins and ankles got pretty beat up.  A positive is that I could lean out of the hammock and get into my pack to retrieve my beanie and this notebook.  Now I'm all set.  My day ends snug in my hammock listening to the Reds play the Indians.  There should be no rain overnight.
Another weird phenomenon – No mosquitoes.  Plenty of pesky gnats but no mosquitoes.  I'm not complaining.
Day 4 – Wednesday, June 12, 2019
The day started with prayer at daybreak (0608) and then fetching down the bear bag.  Had warm granola, fruit and coffee for breakfast.  On the trail by maybe 0810.  I'm still not organized.  And right off the bat I hiked maybe 4 minutes and came to the campsite I was searching for last night.  Rats.  It would have been so much more comfy.  I need to learn how to translate this map.
This was a momentous day for prayer.  A 59 year old northbound through hiker with trail name "Wild Doc" (he's an EMT carrying a full 1st Aid kit) and I met.  We talked about what a great day it was for hiking and he said it would be even better if he wasn't having trouble with his knees.  He was a believer and so we prayed and parted ways.  This was somewhere south of Double Springs shelter.
I met a number of through hikers today.  I passed a total of 18 people.  Besides Wild Doc there was "Chuck Wagon", "Christian", "Wandering Kilt", "Gronk" (from the BC comic strip), "Unc" and "Kodachrome".   Each has a story.  The craziest one for the day, however, was "Indiana Jones". I laughed and said, "I'm from Indiana, too."  He asked, "Where?"  I said, "South Bend."  He said, "You're kidding.  I'm from South Bend, too, and I teach at St. Adelbert's."  I said, "then you know Lou Gionfriddo."  He was blown away by that.  He gave me his email, Kevin Hite,  and I emailed Louie from the trail.  It's a small world.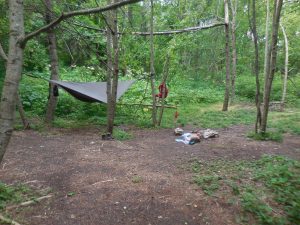 I pressed on toward Turkeypen Gap for the night and of course with all the rain last week the intermittent spring across the trail from the campsite was flowing gobs.  13.5 miles today, up over Holston Mountain, past the Grindstaff Monument.  The Monument is the gravesite of Nick Grindstaff with the fireplace as the headstone.  He was orphaned at 3 years old.  Later  traveling further west he was robbed and beaten.  He decided to retreat to this spot where he spent his last 45 years with his dog companions.  The epitaph reads, "Uncle Nick Grindstaff, born December 26, 1851…died July 22, 1923 – lived alone, suffered alone, died alone".  Pretty somber and sad in a way.  Ate lunch there.
Rain was due at about 2000 so kept moving.  Got to the campsite at 1615 and was set up and had eaten dinner before anything happened.  Ended up at a campsite about 1.5 miles beyond (west of) my planned stopping point, near Turkeypen Gap.
The greatest thing about today was that granddaughter Sophia Mae Barnes was born while I was having dinner at 1841 Texas time.  Got a picture shortly thereafter.  What a cutie.  Emma and Zach conceiving was one of my three major prayers during last October's hike.  Only fitting that the birth should happen while I was on the trail again.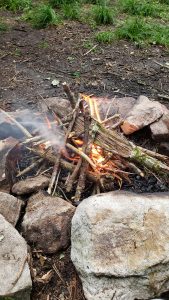 Learning from past failures I brought a few candle stubs along for fire starters.  Candles have the advantage of burning for a long time after you light them so that even mediocre tinder will eventually dry and ignite, and they also give you time to get the tinder and next larger twigs onto the flame.  In this case I was able to get my fire going after a week of rain with very little trouble and only one try.  Learn something new every hike.
During the night I was serenaded by a pair of hoot owls.  They sounded to be right in the campsite.  I have never heard many of their call variations before, and they were actually serenading each other.  It went on for 10 minutes or more.  13.5 miles today.
Day 5 – Thursday, June 13, 2019
Well it had to happen.  I woke up to rain that started just before daybreak but didn't stop as I hoped so that I could break camp in the dry.  It wasn't a driving rain, just a steady drizzle, but with gusty wind.  I hate waking up to rain.  I stalled things as much as I could by finishing my prayers and waiting for it to subside.  I got dressed under the hammock fly, got the rainsuit on and retrieved the bear bag.  Then went right to it with breakfast.  It was instant scrambled eggs with bacon, one I've done before and like.  But today my 1 cup of boiling water measure was a bit long and what I got was a fairly soupy result.  Ate what I could and drank the rest.  Gotta keep hydrated ya'know.  The hot coffee made up for most of the freeze dried failure.  Broke camp at 0820 in my rainsuit with the hammock as the last item.  I've done this before complete with the hammock being blown out sideways by the wind when I took out the moorings, like last October.  Will have a bit more weight in the pack today.  The good news is that Mary Ann picks me up for the night at the end of the day and I can dry everything out.  All my clothes were already in ziplocs so I had no real wet clothes problem.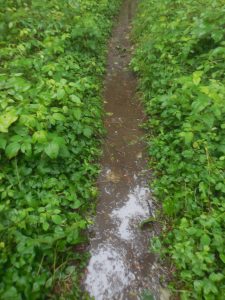 So off I slogged mostly downhill toward Vandeventer shelter.  The rain was coming as a series of scattered showers with high wind punctuated by sunlight.  All the undergrowth was thus dripping wet, as were my rainpants from the knees down and my socks.  These boots are not goretex-ing well at all.  And my heels are still painful.  Met some hearty northbound souls along the way – "Doright", "Missmatch", "Jellybean", "Nickels" and "Stray Cat".  Got to Vandeventer shelter at around 1015 where I ran into an outward bound group of girls and their guides.  Must have been 10 all together.  Once they left I had the place to myself.  Took off my rain gear as the sun had come out just  before I arrived.  This turned out to be a bad idea because I got caught by a flash shower with my sweater and wool shirt hanging in a tree to dry in the sun.  So I was a little bit wetter.  Ate my morning snack then packed back up and hiked a bit further, where I stopped in between showers to doctor my heels.  They are not doing well.  I abandoned my rain pants about then and decided wet lower pant legs were no problem since my boots were soggy anyway.  Then it started raining again and I was really wet below.  Stopped for water  in the rain at a sag about 2 miles beyond the shelter.  Took off my lower pant legs and put my rainpants back on.  Then encountered a northbound dude at the spring that had decided to abandon rainsuits altogether.  I thought, well that's OK as long as the temperature stays high enough; but too risky for me.  By then I was only 7.5 miles from my rendezvous with Mary Ann and on he downhill.  The sun came out for good at 1300.  I stopped for lunch around then and northbound "Lupus" passed me.  We had a nice conversation.  There were still some rhododendrons in bloom.  So it was mostly downhill toward Watauga Dam and then the usual AT trick – a useless hike up and over a steep hump from one road to another that I could have hiked around on the road I think.  By now it was warm and sunny as I reached the dam on the access road.  I texted Mary Ann my adjusted arrival time, changed into some cooler clothes and crossed the dam.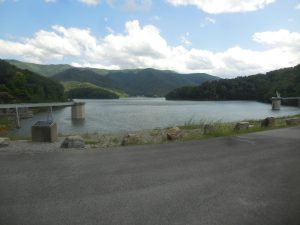 So I was following the lakeshore around toward US 321 and Mary Ann.  A gal northbound gave me a heads up that the trail ahead was underwater in a couple of spots and to look for the detours in the woods.  There were three.  The first two turned out to be short and easily navigated.   A last underwater section threw me because I couldn't find an obvious detour.  I backtracked to a fork in the trail and took the upper route.  This intersected Oliver Hollow Road, which paralleled the trail around to US 321.  I had a half mile hike then on US 321 down to the waiting  Mary Ann  at the junction with Shook Branch Road and reached her by 1630.  By 1730 we were settled into Cabin 12 at the Watauga Lakeshore Resort.  Didn't do any praying today with the rain and all.  The day ended sunny.  12.5 miles today.  
I unpacked my gear to get it dried out.  The wind was howling up from the lake, maybe 30 mph.  I strung the hammock on the balcony and it dried quickly.  Likewise the boots went on the deck table to dry.  The socks and underwear, once they were washed in the sink, went on the table in the sun and wind as well.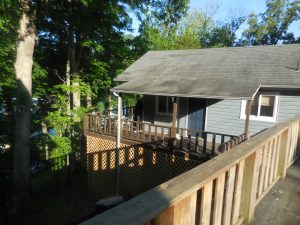 We grilled burgers for dinner and everything worked out to the good.  It was nice to have a bed to sleep in.  Spent the evening with showering, repacking all the dried out stuff and sharing stories.
My heals are becoming a mess because I changed to a "better" insole for the boots.  Unfortunately they raised my heals about 1/4″ and they are wearing raw.  My left foot is bad; right foot not so good.  So I spent some time after my shower re-bandaging them as best I could and using a little antibiotic cream.
Day 6 – Friday, June 14, 2019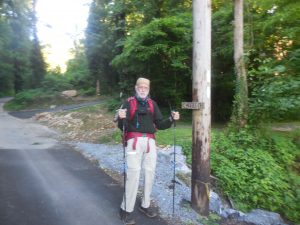 Back on the trail this morning after a wonderful evening with Mary Ann.  Rose
at 0600 and had a hearty breakfast of real eggs and bacon.  The drive back to Shook Branch road and the trailhead took 10 minutes.  She actually found the trailhead and got me going in the right direction.  I was 180° off.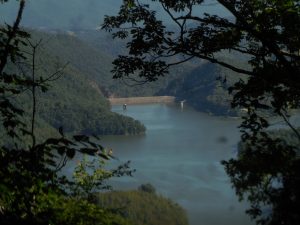 This is my hardest day for total vertical climb with two major uphills and a descent to Laurel Fork of the Watauga River in between.  I started to pace myself from the beginning for the first uphill to Pond Flats using my 376 – 72 – 110 pace intervals for each 1/10 mile.  My pace is 5′ roughly.  When it's really steep I switch to a  28 – 56 – 84 – 110 sequence.  It really works to take my mind off of the fatigue and if I know the distance to the crest I am encouraged knowing exactly how much remains.  So before I knew it I had crested Pond Flats.  And the top was indeed quite a stretch of flat.  The downhill was typical AT – the CCC didn't know much about switchbacks.  Only passed 4 people all morning.
At the bottom I merged with the local trail from US-321 to Laurel Fork Falls.  The falls as it turns out was spectacular what with all the rain but getting to it was an adventure.  The opening two miles were flat, broad and uneventful, and then there was a fork.  I knew from the trail guide that there is a lower trail along the river and an alternate upper trail for use during flood stage.  Was this the fork or not.  The river path was not blazed and after I had walked it for a distance I backtracked and took the left fork and found a white blaze.  This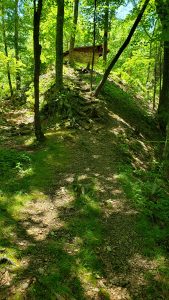 portion of the trail was incredibly bad.  It went up the backbone of a flinty rock ridge.  The trail guide described it as "narrow, ungraded, rock ribbed ".  You don't know the half of it.  In hindsight I guess my main mistake was wanting to get to the Laurel Fork Shelter and its spring for lunch.  In my defense the map and guide did not say which trail the shelter was on.  I had assumed it was the lower one.  Right in the middle of this narrow, ungraded, rock ribbed flinty ridge was a double blaze indicating a turn, and the trail descended rapidly back toward the river.  What I missed was the blue blaze on the fork at this turn leading steeply upward to the shelter.  I ran into a local photographer at this point who said that if I wanted to get to the shelter it would be better to backtrack to this fork instead of going forward to the junction above the falls.  If I would have ditched the shelter idea I would have gotten to the falls straight away, eaten lunch at its base,could have refilled my water from the stream and been on my way.  As it turned out I took a short but killer ascent to the shelter, found a wonderful spring fed stream for water, and then after another mile of edgy ridge side trail got to the top of the falls and had the privilege of climbing down the 100 or so rock stairs to its base and then back up again.  By the end of this I was really beat, and still had the second major climb head of me.  The falls were worth the climb, however.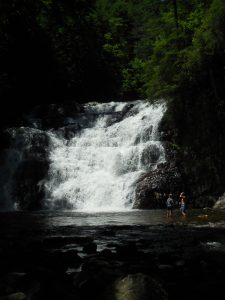 Now the Lord's purpose with all of this was revealed to me.  After climbing back up to the trail junction above the falls the trail eventually leveled out into a well worn, wide local access trail for the falls starting at Dennis Cove road.  But the further I went the more concerned I became about the absence of AT white blazes.  Finally I spied one on a post marking the Cherokee National Forest boundary.  I was so glad to see it that I hugged the post.  It was one of those days.  As I continued I noticed in the distance a small woman with that same puzzled look consulting her map.  When I got to her I told her about the post and reassured her she was on the AT.  She was short and looked to be Filipino or SE Asian.  With this as an opening we started talking and I learned she was a thru-hiker but had a pulled ligament in her right knee and had just gotten back on the trail, and it was giving her trouble.  I asked if we could pray over it and she agreed.  Her trail name was "Slip N' Slide".  We prayed and as we finished I had the idea to share with her that right after Jesus teaches the Lord's Prayer he teaches that for our prayers to be answered we must first forgive those who have wronged us.  She looked at me with wide eyes and said, "How did you know?"  Apparently she had someone to forgive and had been thinking about this as she was hiking.  And then off we went in our opposite directions again.  Had I not taken so much time finding my way at the Laurel Fork shelter I would have missed her altogether.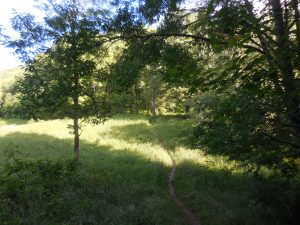 I continued on the Dennis Cove road and began my ascent of White Rocks Mountain.  I crested the front peak and camped at the bottom of the following downhill beside a dear browse field.  The campsite was full already with a father and son so I took a sight in the nearby woods 100 yards away.  The nearby spring was what I was really after.  A little later four 20-somethings arrive and added their tents to the main campsite.  I had gotten into camp about 1820 but had enough time to get set up and fed before dusk.  It was a long day.  12.8 tough miles today.
Hanging the bear bag was another adventure.  I broke off two limbs before finding one that would work.  When I had the bag up I realized it was adjacent to a dead 4″ tree leaning on a much larger tree.  So rather than move the bear bag again I chose to move the dead tree.  I had to pull it out of the ground and tug it by fits and jerks until its top fell out of the other tree.  By now it was dark and I didn't have much left in the tank.
Day 7 – Saturday, June 15, 2019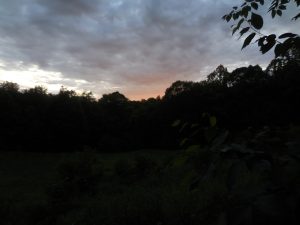 A beautiful sunrise on White Rocks Mountain.  No rain in sight and that's good.  Finished my prayers in the hammock.  Did my morning toilet and made breakfast.  Crept through the other campers to the spring.  Ate and broke camp by about 0730 and was off up White Rocks Mountain toward Moreland Gap shelter.  I stopped here for a snack and to get water.  This was a very well built trail to the spring with a 4″ pipe.  Glad I stopped.  Before leaving I checked the logbook for trail names I had forgotten.  Then off again upward.  Ran into St. Louis "Archie" near the crest.  He had a shin splint problem.  We prayed much like with "Slip N' Slide".  Then off we both went.  Up and over the last hump and down toward the Upper Laurel Fork.
The problem with the AT guidebook is that it will say, "cross small stream", which is fine but then there will  be multiple small streams.  So which one?  The one with the footbridge or the one without.  This one or the one before it?  Several times today I put myself at the wrong spot on the trail because of multiple footbridges and stream crossings when only one was listed in the guide.  Need to find a better guidebook.  Anyway, I ate lunch at what I thought was the Upper Laurel Fork crossing with the footbridge washed away (this does happen and goes unreported) but in hindsight I was really at Hardcore Cascade, which of course isn't even mentioned in the guide.  It was however, a nice place to stop.  I doctored my heels which were getting worse and then pressed on.  Only later did I realize that I was still east of FS293, putting me 1.5 miles behind my expected arrival at Elk River for the night.  Once back on track there were still guidebook problems.  My eventual anchor was the gap in the trees with a bench looking south toward Hump Mountain.  OK, great, this is in the guidebook and unmistakable.  The guidebook made no mention of the bench.  Then I came to Walnut Mtn. road (at least I figured so, but no sign of course) and after that I was really on the downhill toward  Mountaineer shelter and the Elk River. Took a picture and pressed on.
On this trip I had passed several hikers with dogs.  The dogs typically were carrying their own food in packs on their backs.  What was really impressive was how well they were trained.  No need for their masters to say, "don't worry he'll not bite", the dogs were not on leashes but didn't even acknowledge my presence as they passed and didn't bark.  That is until this stretch of trail down from Walnut Mountain.  First I heard barking from around the corner ahead, of more than one dog.  I thought, "O boy, here we go".  Around the corner rushed three mutts – a big one, a medium and a little one, like the Three Bears.  No leashes.  The big guy looked like he meant business, and so did my carbide tipped hiking poles.  I froze at the ready and they stopped just short of me.  The big fella was barking.  Behind came their mistress – full length skirt and no backpack, so I took her to be a local on a short excursion.  You can guess her introduction, "O they won't hurt you".  Sure, Lady.  And just as quickly they were past, well not before the big one came up behind me one more time.  I was glad that I was not packing heat and faced with the temptation to shoot.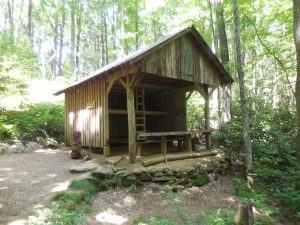 Now my adrenaline was flowing.  I got to Mountaineer Falls shelter looking for the spring.  A gaunt, weary thru hiker came in a little after me complaining about having a bad day and his lower back.  I mentioned that I could pray with him, but he said, "Nah, I'll be alright".  So not finding a blue blaze for the spring I headed back up to the main trail and continued on.  As it turned out Mountaineer Falls was the spring and it crossed the main trail just below the shelter.  I watered up.   Another hiker arrived, greeted me and asked asked how much further it was the Dennis Cove road.  It took me aback.  I told him I had gone through there yesterday just after lunch and it was about 15 miles.  He said that was not what he had figured as he was on a day hike and due to be picked up there that evening at about 1700.  It was  1600 already.  I showed him my map.  His appearance reminded me of comedian Will Farrell with his headband wrapped around his tight curly hair.  Then I said, "let's pray".  I recommended that he hike up to Walnut Mtn. road to get to a high point for better cellphone reception, seeing as we had none where we were standing, and call in for help.  I noted that he crossed himself when we finished the prayer.  As we parted I asked his trail name.  He said "Weathervane", gave me a wry smile and said, "and today apparently I'm only fair".
On toward the Elk River campsite.  I arrived at by about 1730 and was set up for the night and had eaten by 1930.  This is my last night on the trail for this excursion.  The bear bag was a bit of an adventure but I didn't have to tear down any trees for it.  Successfully lit another trash fire to lighten my load.  There was a large dead leaning tree that creaked in the wind against its supporting tree, but it was facing away from the hammock and fire ring, so only a bit annoying.
There had been no rain today but it had been getting steadily warmer all day.  I could hear but not see the river from the .  The campsite  campsite was above the trail and on the opposite side of the trail from the river.  And keeping with the trail guide and map problem theme, two campsites were shown on the topo map, only one on the elevation profile and none were listed in the guide.   There is a brilliant full moon tonight.  14.1 miles today.
Day 8 – Sunday, June 16, 2019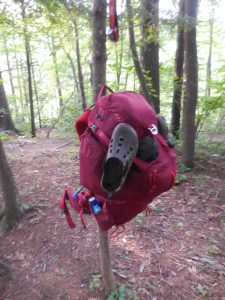 Last day on the trail and last miles in Tennessee.  Also Father's Day and I was exchanging blessings on the trail with the children and sons-in-law through the day.  Even heard from Geoff Kelleher.  It was hotter overnight and I slept with in my long johns outside the mummy bag.  Two nights ago up on White Rocks Mountain was very brisk.  Also down here by the river it was very damp in the morning.  This was my most organized day yet for breaking camp.  No rain helped.  Rose at daybreak, did my business, dressed, retrieved the bear bag and fixed breakfast.  There are nice blue skies and it's supposed to be in the 80's.
So out on the trail with my feet doctored one last time.  I had left them unbandaged with antibiotic ointment and liner socks on them last night while I slept to let them air and dry out.  This had a very beneficial effect.  With new bandages it will be OK on downward slopes with the trail benched (draining) to my right as this will keep my left heel, which is the worst, away from the sides of the foot cup.  Today has its crest on Buck Mountain around 2/3rds of the 6.5 miles back to Mary Ann.  Starting out the trail followed the river nice and flat for a mile or so.  Then a sharp right hand turn and up toward Jones Falls.  In this stretch I was actually in North Carolina for approximately 2/10ths of a mile.  This will be important whenever I  decide to finish my last 88 miles of North Carolina south of the Smokies.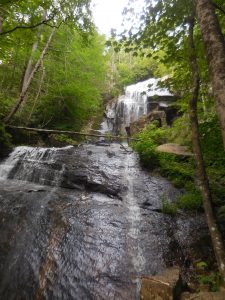 Jones Falls was well worth the 0.1 mile side hike, as I'd been told by northbound hikers.  It was in its own way more beautiful than the Laurel Fork Falls,very delicate and tall.  I had dropped my pack at the trail junction.
Then back upward on switchbacks toward the crest.  I went up and down over the ridge at Campbell Hollow and met "Father Time" and his 12 year old son "Tesla".  They were section hiking and had covered the trail from Springer Mountain.  We prayed together for "Father Time's" knees.  Wished them a blessed Sunday and they told me there was a Baptist church up on Buck Mountain road near the trail crossing.  When I got to Buck Mountain road I checked it out but they were not in session.  Do I pressed on past their cemetery, then up one of those classic, steep AT no-switchback trails (still not as steep as the one up to the Laurel Fork shelter) to the crest.  It opened onto a grassy field looking south.  It was lovely.  By now it was lunch time.  I quipped to the Lord that it would be nice to have a log to sit on looking down this field to the valley, as I hadn't seen one, then turned around took two paces further down the trail and there it was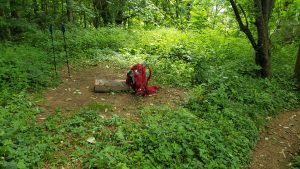 – a 4′ long good sized diameter log in a shady little grassy spot.  He is too good to me.  I enjoyed a leisurely lunch greeting several hikers as they passed.    I read some of my St. Augustine.  I gave Mary Ann an update on my location and  arrival time, which I judged to be 50 minutes for the remaining 2.5 miles downhill, and off I went.  Down through long grass in sunny fields, then through a section of   woods and then back out into another sunny field.  You never seem to get there but I was moving quickly.  But of course I intersected Buck Branch road and another of those useless humps into the section trailhead.  Wanted to take the road left down to US-19E which I could hear but the purist in me made me hike the last half mile of the trail.  I was a tad late to my rendezvous at 1215.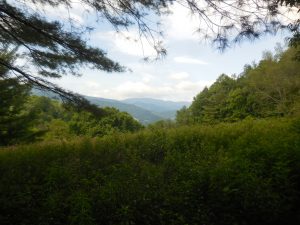 We drove the 20 minutes or so back to the resort, spent some time unloading and unpacking the gear.  It being time to celebrate I was looking for a beer.  It being a Sunday in Tennessee this was highly unlikely.  I decided to Google the alcohol sales laws  and to my delight learned that last April the Governor had signed into law a new law allowing beer and wine sales on Sundays, with some restrictons.  So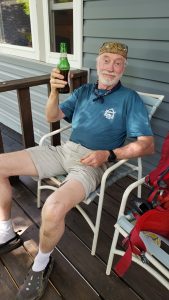 down to the corner Shell gas station for some Yuengling.  On the way we drove up to the Boots Off hostel on Shook Branch road and the proprietor kindly stamped my AT Passport even though I hadn't stayed there.  I told him that folks on the trail spoke highly of his establishment and that I would certainly give him some free advertising.  This was a bit weird thinking back on it, but Mary Ann had already gotten one from the outfitter in Damascus for me.
Then back to the cabin for a beer, shower, and  burgers on the deck.  Talked to Nate and Will for Father's Day, good sons that they both are.  Mary Ann and I then caught up with our separate adventures.  6.4 miles today in about 4.5 hours with stops.
Day 9 – Monday, June 17, 2019
Hoighlights of the trip tp Avon.  Stopped at Cracker Barrel in Johnson City for breakfast and for lunch at the Gold Star Chili in Berea KY for lunch.  Then the mandatory stop at the Harrison OH Kroger for goetta and Langen's Meats for leona sausage.  For dinner with Anna and the kids (Jon was away for work) we picked up City BBQ.
Day 10 – Tuesday, June 18, 2019
Nothing unusual.  We left at about 0800 and were home for lunch.  I have plenty of projects waiting to get done before leaving for BSA camp on Sunday.  Found the water softener broken on our arrival and that became my highest priority.