Introduction
As my good friend Geoff Kelleher said to me at breakfast this past week, "Well, I think you definitely qualify as a 'Trail Rat' now."  How true.   A hike is like one good golf shot in a poor round – one beautiful vista or one perfect morning keeps you coming back for more.
My AT goal has been expanded  by two recent occurrences.  First, upon finishing this 97 mile trek I realized I was only 69.5 miles from the southern terminus at Springer Mountain GA.  This is a 6-day trek similar to the  Damascus-Mountain Home route.  Definitely doable.  I was forewarned on the trail by a  Nobo (Northbound thru hiker) about Blood Mountain, GA but it looks to be no worse than what I've already passed through.  Second, Nathanael, my oldest, has just relocated to Falls Church VA, which is within striking distance of Harper's Ferry WVa, the halfway point in the trail, to use as a base of operations and an excuse to get over there.  So that is the new goal – finish GA and then finish WVa and VA.  I figure I have about 3 more years in my legs to get it done, and have 375 miles in VA left after GA.  We'll see how this plays out.
Day Minus 1 – Sunday, September 8, 2019
Every trip south from The Bend involves a stopover in Avon to visit Jon, Anna, Sarah and Tommy.  It cuts 2.5 hours off the trip and besides, we miss seeing them.  This stop it was furniture assembly mode – both grandkids were getting new bedroom furniture from IKEA.  The old stuff was still sitting everywhere.  Things were a bit more cluttered than normal.  We left after the People of Praise (PoP) meeting, ate dinner at the southside Wendy's on the way and arrived about 2045.  So we were only there a short time but helped them out with the project.  Retired for the night at 2230
I left town a bit bent out of shape because my 6-string developed a serious hum before the meeting started and eventually Roy Sommerville just muted my channel for the last song for the good of the cause.  Something else to stew about on the trail.  I isolated it to the guitar pickup.  Looks like I'll  be needing a new pickup.  To my credit I wasn't too distracted from the prayer; just cut the guitar out of the system between songs and it wasn't noticeable to me when we were all playing.
Day 0 – Monday, September 9
Ate breakfast with Anna and the crew and then drove to Robbinsville NC, arriving at about 1700 as expected.  I-65 was really torn up north of Louisville, which didn't speed us on our way.  For a ten mile stretch one whole side of the road had been torn out and it was one lane each way.  A consolation was that I knew that I-74 was just as torn up west of Cincinnati.
We ate lunch at the Jimmy John's on the east side of Lexington KY.  We've been there before.  Mary Ann is having trouble with her back; bad timing.  So after eating we found an AutoZone and got a DC/AC converter to plug in her heating pad in the car, plus I wanted to get new windshield wiper blades.  The store clerk, I took him to be the Manager, was very helpful, with the wiper blades especially.  It brightened our day considerably.
The route beyond Knoxville was new and different, going to the west of the Great Smoky Mountains National Park (the Smokies or GSMNP).  We stayed in a Quality Inn.  It was a small room but we crammed in and managed,  On recommendation from the desk clerk we walked uphill into town and ate at Lynn's Place (pronounced Lee-ins, y'all).  The food was good Americana and the place was packed.  The hostess said that was because it was a home HS volleyball night, a big deal for the town of about 1,500 souls.   Learned that Country Music singer/songwriter Ronnie Milsap is from Robbinsville.
Afterward it was back to the room to sort the food and double check the equipment.  I have 20 meals for the 8 days on the trail.  Mary Ann will pick me up at the end of Day 4 and of course Day 8, and I will be in a hostel overnight after Day 2, so this took away 3 dinners and 1 breakfast besides my Day 1 breakfast at the Quality Inn tomorrow.  Otherwise it would have been 24 meals.  Yeah, I know the math is difficult, and the story gets better later on.  Repacked the gear and went to bed around 2230 again.
Day 1 – Tuesday, September 10, 2019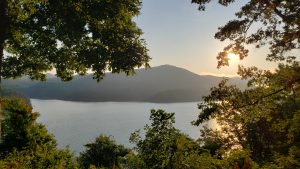 Up at 0600 and down for breakfast.  It was about a 30 minute drive to Fontana Dam and the trailhead at the picnic area/trail shelter.  We arrived at 0750 and had time for morning prayer before I set off.  Ran into a section hiker trail name Backhoe who was taking a shower. – a pretty nice set up from the usual shelter for sure with hot running water.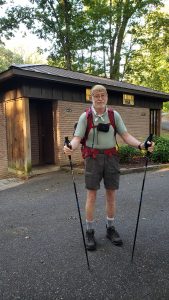 Gave Mary Ann a kiss and immediately went the wrong way to the trail – a steep downhill to the edge of the lake.  Backtracking I found the trailhead, but knew I would need that leg strength later on for sure.  Except for this I had an uneventful, but uphill, 3.5 mile jaunt up to Walker Gap and eventually to the Cable Gap shelter.  I noticed right off that I had poor Life360,  phone and text reception.   I  started putting times at the start of each text because they were being sent out of order whenever I got reception – the times kept them straight for the viewers.
By 0900 I had crossed through the Marina and, was headed up to Higton Ridge and had reached Black Gum Gap by 1130.   By now I had abandoned Life360 completely in favor of texting.  The weather was cool and clear, just like I ordered.  I ate lunch at the Cable Gap shelter at 1255.  Haven't seen one soul on the trail yet.  Crossed NC1242 at 1445 and went through Cody Gap at 1530.  A pop-up thundershower showed up, as predicted and told to me by Mary Ann yesterday, and the rain started falling just as I got to Brown's Fork Gap shelter at 1730 – perfect timing.  The storm was behind me and I heard the thunder as I crossed the highest points on the ridge;  it came from my right (west).  When it let up I went down for water.  This was about the slowest I've ever seen a spring flowing and it took 5 minutes or more to fill one 32oz bottle..  The rain passed quickly and didn't return.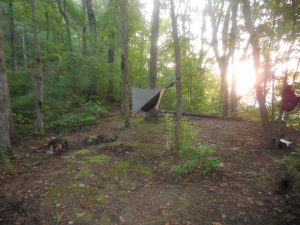 I then  headed to my planned destination of Sweetwater Gap.  It was a steep ascent and a steeper descent down, down, down to – what! –  no campsite..  So tired as I was I decided to push on and prayed for a flat campsite, expecting to take the next one that appeared.  I was ready for a dry (no water source) camp, so I had no restrictions in that regard.  There was a flat stretch on the profile map just above Stecoah Gap, and that's where I spent the night, about 0.7 miles above the Gap and NC143, arriving at 1908 with about 90 minutes of daylight left.  I decided to eat first and set up after.  Sundown was at 1950 and dusk 30 minutes later.  Had the hammock and beanbag setup  before dark.
I fell twice today but only one was my fault, if that matters.  And still no mosquitoes.  I have no bites, but maybe it's just my poor ears and very tough skin.  Things are dry and the springs show it.  Talked to Mary Ann for an extended time, so I had good connectivity here.  Her back is not cooperating but she is toughing it out.
Distance today – 14.6 miles
Day 2 – Wednesday, September 11, 2019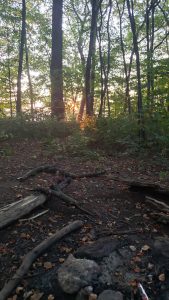 I had a fitful sleep, normal for the first night in the bag.  Leg cramps, imagine that, after 15 miles yesterday. Duh!  Walking by about 0800, ambling down to the road at Stecoah Gap.  This was followed by a monster 1,700′ /5.5 mile uphill to Cheoah Bald  including several intermediate smaller peaks.  Made it to Simp Gap by 0945 but the trail is poorly maintained, overgrown in spots and poorly/sparsely blazed from the north.  I was through Locust Cove Gap at 1022 and the spring was flowing – a small drizzle but bigger than the one at Brown's Fork yesterday.  Took a morning snack break.  I'm hearing warnings about no water but I think you just have to know how and where to find it.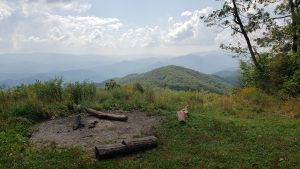 Crested Cheoah Bald at 1230 and ate lunch at a better spot 0,1 mile further on in the bald..  Met the first soul on the trail – Michael.  My lunch spot in the shade looking out on the bald was very pleasant.  The flies were very interested in the salt and perspiration  on my legs, so much so that it made them easy targets.  After i dispatched five or so no more came around.  I was so sweaty wet I could have rug my shorts out.  Got a water report from Michael and gave him mine.  I didn't really need any since I was headed downhill  to the hostel at the Nantahala Outdoor Center (NOC) for the night..
So then up and over Swim Bald and then what looked to be a stroll 6 miles down to the NOC.  But the trail continued to be poorly maintained.  The stretch never seemed to end.  By the time I got to Wright Gap I was ready to stop, unfortunately with two miles left to go.  The problem with this section was the frequent loose rock scree stretches under the the Nantahala gorges rock faces that made it like bouldering.  Talk about tedious.  It reminded me of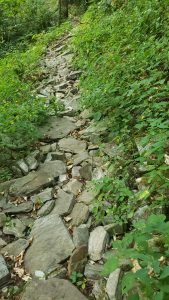 Cloud Peak (see that Blog) but on a mini boulder scale.  There were trip hazards galore but I didn't trip or fall.  It got to be mind numbing with the concentration required.    I finally did fall once, facedown in a pile of limbs off the side of the trail saving my left ankle from a sprain, but not in the rock scree.  The pile was so loose I couldn't find a way to push myself up and finally had to kind of roll and crawl back up to the trail with only minor scrapes on my left shin.  They could really use a stone mason like the gal that laid out the steps on Fire Scald Knob up in Tennessee.
My aforementioned fall was just before arriving at a clearing and saddle-looking area I took to be Grassy Gap, but there was no sign like in all the other gaps.  Thirty minutes later I got to Grassy Gap.  It was that kind of afternoon on the trail that never was going to end.
I had met a group of three hikers up at Sassafras Gap earlier with no trail names and another single guy wearing an Isle Royale hat that looked pretty wiped out by the uphill with a long way to go.  I had my afternoon snack at Wright Gap and to add insult to injury I was passed by a trail runner.  He was only doing a short section I told myself.
Soon after getting past Wright Gap I started hearing the traffic on the road (US19/74) and getting glimpses of the river but still the trail wound on downward.  And then they threw in a couple more rock jumbles for fun that succeeded in officially pissing me off.  But the end came and then there was a fork in the trail.  One went down into the NOC compound and the other continued straight and looked to go up to the hostel.  I chose to go down and across the Great Smoky Mountain Railroad (GSMRR) track into the parking area.  The Adventure Center building was closed since by now it was 1730.  So then I had to carry my tired butt back uphill toward what I surmised would be the hostel.  Thankfully I guessed correctly.  It was called the Basecamp.  I finally found someone to talk to.  He appeared to be a fellow hiker and I asked him where to sign up for a room.  He said, "Oh, that's back downhill and across the road at the General Store."  Crap.  I dropped off my pack and poles right there at the stairway and headed the 1/4 mile to the store.  They were friendly, and could afford to be with the $40 cost for the room (twice the going hostel rate), plus a rented towel for another $3.  But the Lord Jesus intervened when the older of the two gals said, "The Wesser (restaurant) is closed and the River's Edge will only be open until 7 so you should go there first before going to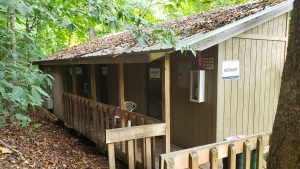 your room ."  I said, "Looking and smelling like this (I was rather a poor sight)?"  She said without hesitation, "Honey, they've served a lot worse lookin' folks than you."  So off I went straight away across he highway to the restaurant and they sat me no questions asked in the main room, even though I requested, with a smile,  someplace out of the way.  Then a small miracle that chokes me up as I type this – they had beer and it was Yuengling.  God's great mercy shows itself once again.  I was immediately in my happy place.  I washed up in the Men's Room – face, neck, arms – and combed my hair.  I order two entrees – a Greek salad and a Route 129 (Tail of the Dragon) burger and fries with sliced  jalapenos as the garnish .  I had no problem finishing both while I watched the Nantahala River bouncing by.  Got the burger without the bun of course.
About this time I remembered that my pack with maybe $500 of equipment was sitting out in the open back over at the hostel.  I said a quick Lord help me prayer and continued eating as quickly as I thought reasonable while I enjoyed sitting and watching the river.  It was nearly dusk when I walked over the rise ahead of the hostel and saw my gear sitting there just as I had left it.  Thank you Lord for honest folks.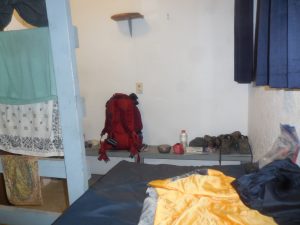 My room appropriately enough was in the Kephart building, the well known GSMNP naturalist whose writings were instrumental in getting the park created.  Kephart #4; it was down three flights of stairs from the common bathroom.  I had two electronic keys.  If I locked them accidentally inside the room I had a half mile walk roundtrip to the General Store that probably was closed by now. Instead of closing the door all the way I left it ajar.  And I needed a key to get into the common bathhouse, too.  I was stressed out about it.  My inspiration then was to take a shower and afterward just wash my clothes in the shower as well.  Since absolutely no one was around that's just what I did, hanging my shorts, shirt, socks and underwear on the hooks outside the shower stall.  The hot water felt very good.  I wrung everything out real good and toted all back to the room where I draped them over the A/C outlet and on the bunk bed ladder to dry.  The blessing of fast drying polypropylene and nylon fabrics was much appreciated.  Only the outer socks were wool and I had backups for those.
I settled into my room and had a cup of hot tea with a Larabar for desert  before bed.  The bed was a nice 3″ foam mattress on a plywood bottom.  It was a bunk bed arranged as an L in one corner of the room, with a full length bench seat on the facing wall and the A/C and door to the left.  It was clean and comfortable.  It was a hostel after all, albeit an expensive one.
Went to bed at 2200 and woke up at 0400.  I was too lazy to go up the three flights to the bathroom so I just peed over the railing into the woods and went back to bed.  No one will ever notice and it let me get back at the trail.  Two 14+ mile days in a row was not a good idea.  I was really wiped out by day's end.
Distance today:   14.1 miles
Day 3 – Thursday, September 12, 2019
Today was Matthew's 42 birthday.  Maybe he would have been my hiking buddy.  Nate's knees are already bad and he is working, Will doesn't like spider webs in the face and he is working,  and Anna, my one hope and earlier trailmate, is now working full-time.   What's with all the working, working, working?
My clothes were sufficiently dry to wear out in the morning.  Just the outer socks needed to be hung out on the pack to dry.  Another 15-mile day planned for today.  I was up and out of NOC like Sonic the Hedgehog this morning.  Knowing that the restaurants woulds not be open early enough to suit me I had already planned to eat breakfast  at the Rufus Morgan shelter a mile up the trail.  I was at the uphill across the road by 0715 and headed on, after dropping my keys off in the box as I passed the General Store (it was a gas station actually, operated by NOC).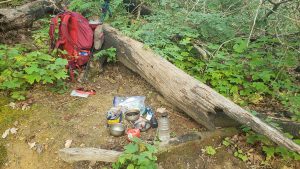 Unfortunately I hit a clearing at about 30 minutes uphill but didn't see any sign or blue blaze indicating the shelter and blew right past it.  What threw me was that every past shelter or gap clearing had a n obvious sign.  It was about another 30 minutes up the trail that I realized I had passed by the shelter so I found a flat spot on the trail as it crossed over the ridge with a good log seat and made my scrambled egg breakfast.  I was about 1/4 of the way between Rufus Morgan shelter and the Jump-Off.  I ascertained my location by the number of flat stretches I'd gone thru and the topo map contours, and for once I was right.  Once again low expectations – thinking I was not as far along as I was – turned out to be the key to happiness.  I had a different attitude today – no time line, took my time and enjoyed it.  Why else am I out here, anyway?  I was probably going 1.5 miles per hour uphill and averaging 2.5 mph overall through the day.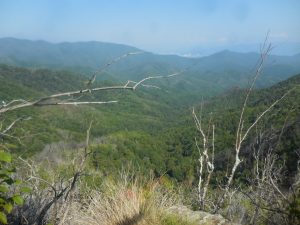 Below the Jump-Off had to navigate a major blowdown blocking the trail on the low side of the trail with a tough slope and poor footing in the loose dirt.  I  expended more time and energy than I wanted..  Got up to what is called the Jump-Off and indeed it was rocks and hand over hand in one short section, but it was different from what I expected as well.  It had its rocks but it also it had log retaining steps all the rest of the way, like a big stairway.  Met a Nobo named "999" who had just come down who said it was "a real bitch", but I got through it going uphill in better shape I think.  So I was encouraged that I had passed the worst this trail section had to offer.  After that things just got better and better all day.  Went through the Jump-Off at 1044 and was at the Wesser Bald shelter at 1145.   The shelter had a nice privy, which I didn't need, but I couldn't locate the water.  Then 1/10 up the trail at the first switchback was a sign for water 2′ off the ground (a bit strange) and the trail guide amazingly listed it just 75′ from the trail.  And there it was, the best spring on the trail.  It looked to have been an original CCC with a large poured concrete basin that had since settled and was leaning considerably forward separated from the pipe.  I  really need to get watered up.  It was perfect.  I ate lunch trailside at the crest of  on Wesser Bald shortly thereafter. at 1245 The bald looked to be rather small but I didn't take time to explore it.   It had some nice scenic views just the same.
Made it to Tellico Gap by 1400.   It is likely named for the large powerline that ran through it as in "Telecommunications" or "Telephone" Gap.  It was surely ugly and in a narrow strip of non-NFS public land.
Water on the trail has been a point of discussion  with those I've passed.  "999" said the water at Cold Spring Gap shelter was very good but said nothing about the spring at Wesser shelter..  I don't think he even saw it coming downhill.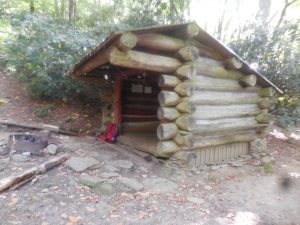 I was just taking my time.  The next major uphill of the day was going over Copper Ridge and Rocky Bald, another 500′ above the Wesser Bald.  Then downhill to Cold Spring Gap shelter.  Here there was a mileage sign at the gap but no indication of a side trail to the shelter.  So I went down the trail a couple 10ths and back up again looking around.  Finally after checking the topo map it was clear that the trail was at a bend in the trail on the left and I was still on the straight stretch, so I tenuously pressed ahead.  Heck, the shelter was on the trail an other few 10ths down.  And the spring was right in front of it going across the trail, pipe and all.  What a beautifully restored original 1933 shelter.  I filled up for the last 5 miles into camp, talked briefly with a Nobo, my third person of the day, and pressed on..  I had met a gal up towards Wesser Bald earlier.  Very few of these people have trail names, which I am continuing to find rather odd.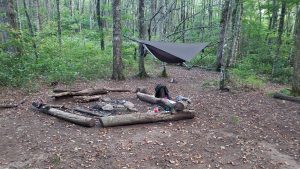 So one more sag down through Burningtown Gap and then a gentle up (by AT standards) and over into Licklog Gap for the night.  I pulled in at 1814, earlier than at Stecoah and about the same time as at NOC, and had plenty of time to get all set up and eat before dusk..  What a great campsite, with the possibility of water about 1/4 mile behind it through a field.   I was prepared for a dry camp and decided to check on the stream in the morning.  Had my first fire to dispose of my trash and relax a bit.  The candle stubs and birch bark worked wonderfully to get it started.  It was a very flat, spacious site with two perfect hammock trees and a place to hang the pack.  Put the bearbag up across the trail.
Distance today:  15.0 miles
Day 4 – Friday, September 13, 2019
Day broke crisp, cool and clear.  Overnight there was a steady hailstorm of acorns from the oaks in the vicinity.  None hit the hammock canopy.  This will be a shorter day, as it will be for the remainder of the trip.  Not a day too soon for me.
My route for today took me up and over Wayah Bald, then another hump and down across FR69 to Wayah Gap, back up and over Siler Bald and past the Siler Bald shelter with water, then lastly down to Winding Stairs Gap at US64 for pickup by Mary Ann.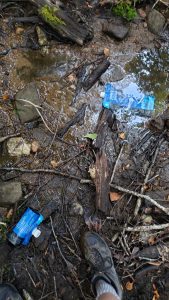 Today is pickup day and so the lightest breakfast is what remained – instant oatmeal with raisins, half & half and honey, and then dried fruit for later.  After breakfast and packing up I checked out the creek.  It was an easy hike down an old road lined with orange jewel weed in bloom.  It was flowing barely but sufficiently.   I had to dig a depression for the bottle so I could get the mouth of it into the flow.    This is where I decided to add a short piece of 3/4″ PVC to my pack so I can make my own spring pipe when needed.
I topped of my water and headed out toward  the Wayah  shelter and Wayah Bald beyond it with its observation tower.   It was steep but short.   Wayah in Cherokee means "wolf".  The trail continues to be better built, marked and maintained than on the other side of the Nantahala.
It's Friday and I passed many more people, as I had anticipated.  A couple of brothers reported that water ahead is a bit sparse so I was glad I tanked up at the creek.  Met "Dijon" and "Crachel", thru-hiking Nobos coming from Wayah shelter.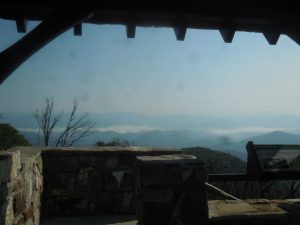 The Wayah tower, a former fire watch station, was neat.  It was made of stone
and had been restored.  The lower two floors were left but the top floor, which was the fire spotting deck had been removed.  Mary Ann was here yesterday by car.  The tower was dedicated to John D. Byrne, the youngest Nantahala Forest Superintendent when appointed in 1931 at age 35.  He died three years later of natural causes.  There was a great 180° view.  The William Bartram trail intersects and follows the AT to the south below the tower, named after the 18th century naturalist who explored much of what is now NC, SC, GA, FL, AL, LA, MS and TN from 1773 – 1777.
Crested Siler Bald at 1420.  There was a side trail leading to the shelter, which I decided not to take since i had enough water.  As it turned out this trail joined back into the main AT about 1/2 mile  further down so I could have seen the shelter; oh, well.  I reached Panther Gap at 1530 where I called Mary Ann with my pickup time of 1630.    Got down to Winding Stairs Gap about 10 minutes early.  I had been dreading this passage because the name gave me a picture of steep, winding rock stairs in my mind.  As it turned out there were indeed winding stairs in and out but they were long log erosion control steps that were not a problem at all.  I was greatly relieved.
Now the excitement for the day.  The weather was hot in the valleys and cool on the ridge where I was.  The forecast was for pop-up thundershowers caused by the moisture evaporating in the valley then rising to the ridge where it condenses and produces scattered showers with lightning.  This is really a problem when one is on a bare ridge, as mentioned earlier.  Thankfully today I was down off the higher ridge elevations by the afternoon when the rumblings began.  I didn't pay much mind to it because I was due to be picked up and how wet could I really get anyway?  At the gap there was a creek and maybe 100′ in from the road it had a nice waterfall.  I stopped and took a picture.  A drop of water hit me in the right arm.  Hmm, probably a splash from the falls. (you have already guessed where is is going.)  At the near edge of the road I stopped again and snapped a picture of the trail exiting the woods.  As I turned back to cross the road the rain started.  By the time I was across the road it was as if I had just walked under a bucket propped on top of a doorway.  It was coming down in buckets.  I made for the parking area 200′ ahead.  The rain was cold but was actually refreshing at the start.  I got to the lot, took down my pack, got the cover on it and was putting on my rain jacket when Mary Ann pulled in.  Gave her the high sign, she popped the trunk, I tossed the pack in and hopped into the passenger seat.  It gets better.  So we greeted each other and Mary Ann got back on the road toward  the motel in  Franklin NC where she had relocated.  We had gone not m ore than 1/2 mile and the pavement was dry.  It was a really scattered shower, just for me apparently.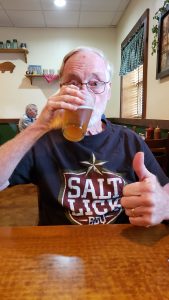 God bless Mary Ann.   I had sprung a leak in one of my Sawyer Squeeze water purification bottles, was wondering how to replace it and had mentioned it to her when calling in for my pickup.  Mary Ann said, "I've checked out the hiking stores in Franklin,  There are two, plus the Wal-Mart."  So we headed to Three Eagles Outfitters on the way into the motel.  All I needed was one collapsible 32oz bottle, not $30 for the whole setup.  Not only did Three Eagles have a single bottle for $5 but they also had an AT stamp for my passport.  Then we had an adventure putting air in the tires to cancel the low pressure warning light.  The adventure involved crossing a steep and busy 4-lane highway and getting change for the air machine.  After that it was on for a shower at the Comfort Inn.  And bless Mary Ann a second time. "I've checked out the BBQ restaurants in town, because I assumed you'd want that.  There are two, and one is walking distance from the motel on the same road."  Willies BBQ was good, and they had beer, which is not always a given in the formerly dry state of North Carolina.  I ate my full rack of St. Louis ribs, the two sides that came with it, a full order of fries and then proceeded to clean off any leftovers on Mary Ann's plate.  A perfect ending to a great hiking day.  Well, I think sleeping in a nice soft bed was really the perfect ending.  I also noticed that as the evening wore on I drank the 12oz beer and 16oz of ice water at the restaurant, 2-12oz Disani flavored waters and 2-8oz cups of decaf coffee before bed.  Apparently I was a bit under-hydrated.
Distance today:  12.3 miles
Day 5 – Saturday, September 14, 2019
Took some time last night to wash clothes in the bathtub, primarily socks, and restock the food for the last 4 days on the trail.  Let's see as I laid out the ziploc bagged meals on the bed – Meals 11, 12, 13, 14, 16, 17, 18, 19 and 20.  Where in the heck is Meal 15?  Rechecked the tiny refrigerator.  Nothing,  Checked the bags we moved them in.  Nothing.  Are you kidding me, we left it in Robbinsville?  How far away is it  Too far!  Now what?  Hey, we had an extra freeze dried meal, where is that?  OK, add a Larabar to it, put some cashews and raisins in a sandwich sized ziploc, pilfer some coffee from one of the others and I'm good to go.  Saved by the bell.  Now to pack up the clean(er) clothes and get to breakfast.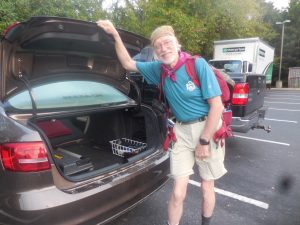 The day dawned overcast down in the valley.  After a peaceful breakfast of pre-cooked eggs and sausage patties at the motel and a final check of equipment Mary Ann dropped me back at the parking lot of Winding Stairs Gap.
Yesterday was a shorter distance day, and that was my plan for the next four.  It was definitely more enjoyable.  My plan was to add a little extra each day while keeping the distance below 14 miles and in so doing make sure I would finish at least by mid-afternoon on the last day.
So I eventually got above the clouds and had some really great vistas and got some great pictures.  The high point elevation-wise today was Albert Mountain at 5,200′ near the end of the day.  But first it was up and over Rocky Cove Knob and Glassmine Gap (funny name for a peak I thought but it had a sag of sorts).  There was plenty of water and many more hikers since it was the weekend.  At Wallace Gap cross Old 64 and met a couple in their car who were really excited to see me on the trail,  They were very encouraging, having done a thru-hike a few years back.  Thee was a major spring coming into Wallace Gap from the north that looked to be another CCC original.  I could only think that these pop-up showers were really good for my water supply.  I stopped at Rock Gap shelter for a snack break and watered up from a spring crossing the trail.  Bypassed the side trail to the  Long Branch shelter, which joined back in further up I discovered, but that was my plan as I was able to replenish my  water from an unmarked stream crossing the main trail.  I had noticed that Albert Mountain looked like a toothbrush in the profile map, meaning that the approach and descent were steeper than I cared to mess with, and I also noticed that there was a foul weather bypass around the summit.  That was a no-brainer after the Fire Scald Knob incident of last September and I took it.  It was about as flat as one gets out here and I joined back into the main trail at Bearpen Gap.  After that it was mostly downhill to camp for the night at Betty's Creek Gap.
As I said it was Saturday and a bit crowded.  Stopped for lunch on the Albert Mountain uphill at 1230 and was soon passed by a Georgia boy named "Buddy" who was out training for his second thru-hike.  He had done this section before.  There was another Nobo couple "SF" (Giants hat) and "Slim" (the gal) from Atlanta out for the weekend.  After lunch the trail was flat for about 3-miles that included the bypass with endless rhododendron tunnels.  A coed column of six 20-somethings also passed me as I was finishing lunch.  It didn't take me long to run up behind them and eventually passed them as they politely stood aside.  Once I took the bypass never saw them again.  It was also in this stretch at around 1300  that I came across bear scat in the trail.  It was full of berry seeds and such, so it was from a bear eating the right kind of diet and not acclimated to human trash.
Shortly after Bearpen Gap I had a spectacular, slow motion fall avoiding an ankle twister that only tired legs can produce.  It must have been pretty funny to watch.  Wait, if a hiker falls in the woods and no one else sees it, is it really a fall?  I was glad shortly afterward because the trail to Mooney Gap deteriorated into a boulder and rock scree hopping event along the eastward facing rock face.  Didn't want to lose my balance here.  It was tedious, treacherous and slow like Day 2.  Got to Mooney Gap, where the spring was dry and there wasn't much of a campsite, at 1450.  Passed a group of 4 preparing to go north.  This was my original intended stopping point but with the spring dried up I present on toward Betty's Creek Gap hoping that the key word was "creek" but prepared for a dry (i.e. no-water) camp.  Arrived at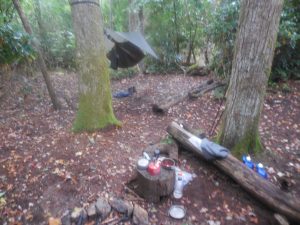 Betty's Creek Gap at 1520 and set up in the first campsite on the left midst rhododendrons.  A pop-up shower had been building all afternoon.  Now the wind was picking up and the thunder was closer, so I got to it getting the hammock up.  Got the pack hung on a limb and covered, slide my boots under the hammock and crawled inside just as the shower hit.  It was light, and attenuated by the thick rhododendron cover.   The rain left up at the right time, so I got out and made dinner – it doesn't really take very long to cook and eat freeze dried.  The rain started up during dinner but it was not heavy enough to penetrate the rhododendron cover and get me wet; I had my raincoat on.  Afterward, when the rain stopped, I took the water bags and hiked down to the creek.  The trail was flat (again, for out here) and not that long (it always seems twice as long going rather than returning).  And the  water was flowing well enough, so all was good.  Had another trash fire to lighten my load.
With my descent into Mooney and then Betty's Creek gaps my cell phone connectivity dropped out.  Down off the ridge in the rhododendron thicket I had no reception for the first time since leaving Fontana.
My new attitude is bearing good fruit.  I'm happier and enjoying the hike much more.  This was a very, very fine day, perfectly timed with the rain and only the comical slo-mo fall.  Pushing on to Betty's Creek Gap added 0.9 miles to my distance today, thus shortening the remainder of the hike.  I planned to do the same each of the next two days and get to Mary Ann by lunchtime Tuesday.
Distance today:  12.2 miles
Day 6 – Sunday, September 15, 2019
Went to bed last night at 2130 (9:30 pm), got up at 0430 and was eating by 0530.  With daytime highs in the high 70's and nighttime lows in the mid-50's  I was in the thicket with dew steadily dripping from the leaves overhead but not affecting me at all.  I ate my breakfast by moonlight.  
I should say more about the full moon that has been my constant companion the entire trek thus far.  But it was not just any full moon;  it was a once in 40 years full moon, with the Moon being closer than normal.   On these clear nights it was like a street lamp shining into the hammock.
On the trail by 0715, just light enough to see.  Today's hike didn't appear to have any serious challenges, just two steady climbs, one up Ridgepole Mountain and the other up and over Standing Indian Mountain with the /carter Gap in between.  Water did not appear to be a problem from the number of springs shown on my map.  As soon as I got up on the ridge a bit I texted my whereabouts to Mary Ann.  She had already figured that I had stopped at Betty's Creek.   Smart girl.  Right after the sidetrail to the Betty's Creek area I passed into the Southern Nantahala Wilderness Area.  Remember this for later.  
Yesterday at about lunchtime Mary Ann texted me that she had found Meal #15.  She found it in the fridge stuck under the shelf and above the lower drawer.  Why it didn't fall down when I pulled out that drawer I don't know.  The mystery was solved and I felt redeemed at not having left it behind in Robbinsville.  The problem was she didn't have the cooking instructions since I was reusing the pouch for one of my dinners.  So in a fit of High Tech prowess on Ridgepole Mountain  I accessed the Mountain House Foods website found the instructions, downloaded it to my phone and texted it to her.  That  in itself took a lot of the mystique away from being out in the wilderness incommunicado, as I was just the previous afternoon, evening and overnight.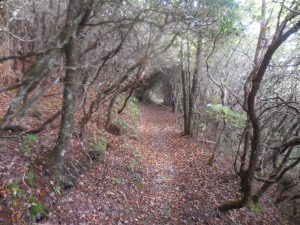 On the way up Ridgepole passed "Ted" with his two chocolate labs.  He finally explained that all the dead rhododendrons were from a forest fire a few years back. – killed the trees but didn't burn them up.  And after that thinking back down the trail and looking around I was saddened by the nearly continuous  rhododendron tunnel that was obviously here on this portion of the trail.  Also passed "Justin" a Nobo headed for Damascus VA finishing NC from south to north.

I reached the Carter Gap shelter at around 0915 and found a trickle of water sharply downhill across the trail at 0930.  It took some hunting because the pipe was so short.  I had to dig a depression below it to get the bottle at a fillable angle.  I had overshot the shelter and backtracked a bit to it for my morning snack.  Watered up for the climb over Standing Indian I was off again.  At this point the trail made a 90º bend to the west for the next 10 miles.  As I've mentioned earlier this tends to mess with the north-south orientation of the Trail Guide notes.  Pretty funny if it wasn't so ______ irritating.  Come on., people, get it right!  And coincident with the turn was a traverse of the ridge from the Nantahala Mountains to the Blue Ridge Mountains on Ridge pole Mountain.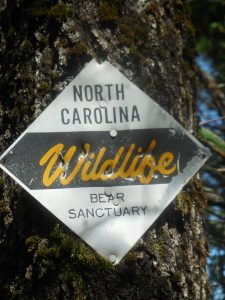 I was headed for the Standing Indian shelter, intermediate between the mountain crest and Deep Gap.  On the way up to the crest I passed a  diamond shaped sign posted on the side of the trail, "North Carolina Wildlife Bear Sanctuary".  That got my attention, especially after passing the bear scat on the trail yesterday afternoon.  My mistake was texting the picture to Mary Ann and all those following my thread.  A high anxiety shock for everyone.  So I was gonna be careful to hang the food away from my hammock and gonna put my clothes from the day that I ate in on the other side of camp, and sleep in my sleep only clothes.  Actually I was going to be setting up camp near the Standing Indian shelter and half expecting to find a bear bag hanging set up or bear-proof food bin to use.  All AT shelters are famous for being bear diners during the peak hiking season.
Had my lunch break at Beech Gap  around 1230.   Didn't see any beech trees and the spring was dry.  I ran into the aforementioned directionally challenged Trail Guide problem here in spades.  The trail ran south-north through here and the spring was on the east side (actually the west side) – I had my compass out.  Spent some time unwisely exploring for the spring that wasn't.  Passed "Mile Back and "Two Mile Back", the older of the two, at the crest and a bit later "Old School Moose", who was headed for Maryland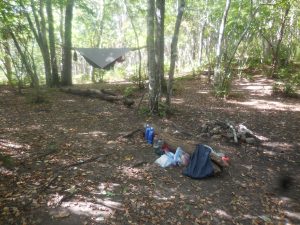 Well I crested Standing Indian and got to the shelter by 1515, which was very nice with a newer privy and all but no bear-proof food hanging or storage.  So I used my usual methods.  The food was hung to be raccoon , opossum and skunk proof but there for the taking by Brother Bear.  I stashed my clothes in my pack well away from the hammock and wore my sleep only clothes to bed, in this case my long johns since it was a bit brisk.  The spring was flowing and the sky was clear and I was loving every minute.
It was another beautiful evening with its fullish moon and another trash/camp fire.  The candle stubs with birch bark and a storm-prof match do the trick every time.  And so Day 6 ended well.
Distance today: 11.3 miles, now 1.5 miles ahead of schedule
Day 7 – Monday, September 16, 2019
No bears, just hoot owls and a whippoorwill overnight.  Awoke at 0500 and after prayer in the hammock walked over with my headlamp and used the two-hole composting privy.  One hole is open and the other was locked to allow an alternating use and a rest for composting in between.  You're supposed to throw a handful of dry leaves, which are in 5-gallon buckets for the purpose, in on top of your business to aid the composting process.  Maybe too much information for you.
I had been anticipating today's hike since last Saturday.  It has two peaks on it that look a bit like chimneys, similar to Albert Mountain, but no bypasses. – Courthouse Bald and Sharp Top.  The name of the latter is worrisome in itself.  Plus there was a very steep descent to the GA border near Bly Gap after them (yes, I'm that close now).  In the midst of my anxiety about this challenging section in morning prayer the opening psalm was the Canticle of Isaiah (40:10-31): "He gives strength to the fainting; for the weak he makes vigor abound; Though young men faint and grow weary and youths stagger and fall, they that hope in the Lord will renew their strength; they will soar as with eagles' wings; They will run and not grow weary, walk and not grow faint".  I cried as I read this and took much courage.
I was on the trail at 0740 and at Deep Gap at 0800.   This is where I found the "Wanted:  Yogi Bear" notice.  The Standing Indian shelter had been raided twice in May on successive nights, I think the 16th and 17th.  My take away was that the bears are smart enough to know when the pickins' are slim on the trail and when they are fat.  I saw and heard nothing except the owls and whippoorwill.
I stopped at Muskrat Creek shelter to water up at the creek that crossed the trail there before the ascent through Sassafras Gap,  Used the privy and got stuck with no TP; haven't had to use leaves for yeas but they still work.
Then with this psalm on my heart I headed up through Wateroak Gap and White Oak Stamp (didn't notice any bald there, however) past the Chunky Gal trail.  Met couple from Mobile there.  Chunky as reported in the guide is probably a gloss from the Cherokee term "chuckey" used like "place", i.e. Nolichuckey River.  On the approach to Courthouse Bald I ate the first half of my lunch to carb up.  I've found that when the hike is strenuous my stomach doesn't digest a heavy lunch well,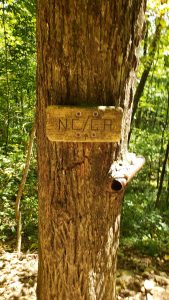 In the end the most challenging part of the hike was the downhill after Sharp Top into Bly Gap.  Earlier cautions about the trail being too overgrown to find and yellow jacket stings were unfounded by the time I got there.  I didn't bother to water up at Bl;y Gap, although I wasted a good 15 minutes on he blue blazed side trail (without my pack).  Once again the Trail Guide's use of the English language was found wanting.  The border was 0.1 mile beyond the gap, and marked, contradicting the Trail Guide yet again.  Met "Mike", a Nobo engineer from Lafayette IN – had a Purdue visor on but was a Rose-Hulman CHE grad.  Pressing on downhill I ate the remainder of my lunch at the campsite at Rich Cove Gap.  This was to be my original stopping point, and it would have been good, but it was too early with the extra distance from the last two days.  I pressed on downhill, more or less, to Plum Orchard Gap for the night.  Mary Ann and I were reading it Plumorchard Gap, some kind of French word, but the sign and the map on closer inspection both had it as two words.  we had a good laugh, and it has entered our vocabulary as "Plum Or'Chard".
I smelled campfire smoke on my way down to the Gap and fully expected to have to share my campsite for the first time.  But when I arrived I discovered it was far worse – the campfire was still smoldering from the previous night.  I knew how dry the weather had been and this was totally unacceptable.  It took me 10 minutes to finally get the smoldering wood out of the fire ring and stomped out.  Yes water is far away and hard to get, but preserving the forest comes first.  I had hiked through way too many dead rhododendrons yesterday.  And thinking back over who I had passed earlier I believe I knew who it was – a trio of folks that appeared to have fallen in together.  "Hardhat", an older woman wearing a bicycle helmet , "Greens" the woman spokesperson and "Prepper", a younger and not too outdoorsy looking fella.  Of course short first impressions can be way wrong.  But they were the last I'd met an d from what they said their rate of travel was about right for where I met them to this campsite.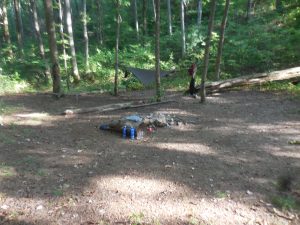 I arrived at the campsite close to 1600.  Dropping my pack I went exploring.  There was water steeply down from both sides of the trail at the gap.  On my side the trail went down sharply for what seemed to be 1/2 mile but was probably 1/4.  It crossed the creek and then sharply up a short distance to a double-decker shelter sleeping 20 according to the guide.  Evidence of the major traffic jam during the peak season this close to the southern terminus.  I got my water and by the time I made it back up to my campsite I was winded, even without my pack.  Man, I was tired.  But I made the mistake of checking for the water on the other side of the trail and it was equally as far and steep but the water access was not as good.  I'll never learn.  I set up camp and ate dinner at around 1730.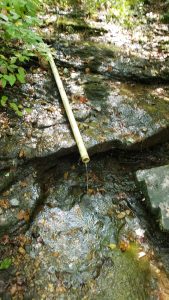 After dinner, a bit more life back in my legs I decided to hike back down to the creek with its spring pipe and take a bandana bath trusting no one was around.  I was au naturel only briefly and it felt so, so good.  Meeting my honey for lunch tomorrow, my friend.
Then perhaps because I was so tired I couldn't find two items – my comb and the bearbag rope.  I really was bummed by this because I try to be very careful looking over a campsite for unpacked items before I leave.  And now my hair was all tangly, although clean, and I needed to get my last two meals into the air..  I solved the bearbag problem with a length of cord I had added to my  hammock fly ridge cord.  The two trees were close enough together that I didn't need it added to this line.  I just bent a tall sapling down to my outstretched hand and tied the bag to it.  The food bag was very light by this point.  But the comb presented a harder solution.  Then I solved them both.  The comb was in my toiletries stuff sack and the bearbag rope was on the ground under my pack when I moved the pack under the hammock for the night.  So then I was totally redeemed having not forgotten anything in the first place.  It was too late.  I combed my hair but left the bearbag as is – it was good enough.
With the extra distance each day I was now only 4.5 miles away from Dick's Creek Gap and lunch with Mary Ann..
Distance today: 12.2 miles (2.5 miles ahead of schedule)
Day 8 – Tuesday, September 17, 2019
It's pickup day.  Always bittersweet.  There always a chance that I may not be able to hike again.  Remote, but possible.  It's a short hike today but uphills are still uphills.  Up at 0500 for the toilet then back into the hammock for prayer.  Don't want to start too early.  At my established pace of 2.5 mph I only needed 2 hours max to the end.  I was back up at 0600 getting things packed up.  I slept really well finally (it's always this way on the last day it seems)  with no leg spasms.  Another perfect morning and really, really quiet without the katydids.  Not in any hurry I hiked back down to the creek for a supply of water to put out the fire correctly.  For only 4.5 miles I didn't need a full supply of water, either.  Again it was the last and lightest breakfast – oatmeal and coffee.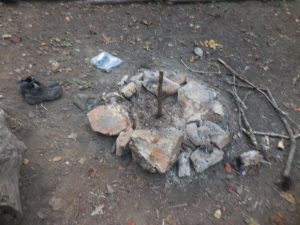 After a leisurely morning and dowsing the fire I was on the trail by 0830.  I left the signature Boy Scout dead fire indicator – a limb jabbed into the ground in the center of the fire ring.  In case there is a fire the portion of the stick in the ground remains unburned, if indeed the fire was dead out.
Yesterday I went over As Gap and Bull Gap.  Bull Gap caught my interest because it looked like two cheeks with a crack between them.  So with some minor editing I thought it was more likely (you guessed it)  Ass Knob and Butt Gap.  I was out here too long I guess.  As Knob, really?  Looked like a typo to me.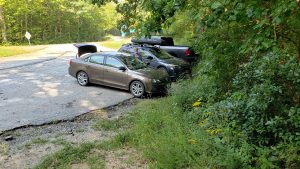 Hit Tom Cowart Gap at 0940.  The trail rose 350′ coming out of this gap in 0.4 tenths mile – saving the worst for last.  It was nearly all log steps, with varying heights.  I suppose it was better than an eroded trail.  That's a 16.5′ per 100′ slope, nearly twice that of any trail section to this point and for that long of a stretch.  And I was indeed stretched.  Awful steep in my book.  And of course another 1/10 of steep before sliding down steeply into Dick's Creek Gap.  Glad I only had 4.5 miles of this.   Got there 5 minutes early.
Had a wonderful lunch with Mary Ann and then ended up in Hiawassee GA at an outfitter called Trailful  to get my AT passport stamped.  Bought a waterproof spiral notebook for next time, some boot laces and some nylon cord to replace my present fly ridge line.  Then back to Franklin, the Comfort Inn and more BBQ.  Only 69.5 miles to the end at Springer Mountain GA and 77.5 miles to the access point at Amicalola Falls SP GA.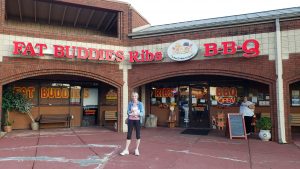 Back in town got cleaned up at the Comfort Inn and sorted out my equipment before dinner.  We went to the other BBQ place – Fat Buddies.  Liked it better than Willies and the prices and bear selection were the same.  Mary Ann had really done her homework on places to get the passport stamped and places to eat.
Distance today:  4.5 miles     Total for the hike:  96.2 miles
Day 9 – Wednesday, September 18, 2019
This was a bonus day to pay Mary Ann back for her love and dedication.  We took an excursion on the Great Smoky Mountains Railroad from Bryson City through the Nantahala Gorge, with a layover at the Nantahala Outdoor Center where of course six days ago I had stayed overnight and hiked through.  We chose the middle cost passage, which is our normal style, in the open air car with bench seats and a box lunch.  We didn't know what one did if it was raining and blowing since there was no glass in the windows of the converted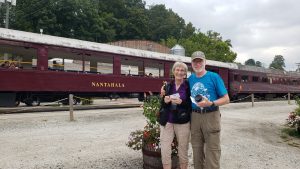 baggage cars.  But we got more than we expected when a very talented claw hammer banjoist got aboard and entertained for a good portion of the ride.  At the end of the line past the NOC they disconnected the dual engines and rand them down the spur past us and hooked up at the opposite end for the return trip.  On the return we had an hour layover at the NOC.  Had we to do this again we would skip the lunch on the train and eat at one of the NOC restaurants.  I enjoyed showing Mary Ann my hostel berth and how the trail ran through the place.  She was not thrilled by the up and down, no more than I was on upon my arrival during the hike.  But I did manage to get my passport stamped at the Outfitters Store and got a nice AT logo ceramic mug to remember the trip.
I learned from the Car Attendants monologue that the Kudzu Vine, the "Vime that Ate the South", was brought from Japan forv eroision control but soon discovered to have no natural predators in North America and overran everything.  The solution – bring over its nemesis the  balsam woolly adelgid to control it.  And of course in the process kill all the balsam fir trees in the southern Appalachians.  How sad.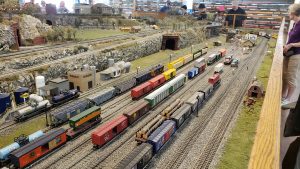 At the end of the ride back at the Depot we had free -passes to the Lionel Train museum.  Could easily have been the world's largest.  What a marvelous layout.  The Engineer said that besides the engines and roiling stock on display lining all four walls floor to ceiling and that on the display there were another 2,000 units in the attic with no room to display them.  Ah, if only I had a giant outbuilding back home.
Our return trip to Franklin from Bryson City was livened up by missing a turn and having to backtrack, plus two attempts to fuel the Jetta, the first with the diesel pumps out of order and the second with the wrong size nozzle.  We haed plenty of fuel but the prices were attractive.  Once back in Franklin we returned to Fat Buddies for a second round.  I tried their brisket, always the measure of a good BBQ restaurant, and it was excellent.  We bought some of there Georgia Mustard style BBQ sauce as a treat.
Day 10/11 – Thursday & Friday, September 19/20, 2019
It was an uneventful trip back up I-75 through Cincinnati to Avon.  We made our normal stop at Kroger and Langen's Meats in Harrison for goetta and leona sausage.  I made a blunder and got half hot goetta and half regular.  But Jon was happy to take half of it and I was happy to take the rest.
We left after breakfast Friday for the last leg, as I had a Scout hike the next morning and we had the PoP Celebration Lord's Day that Saturday evening.  We were gone a long time.  We returned refreshed.